The EC Magazine Lounge Brings Another Year of Entertainment to Digital Graffiti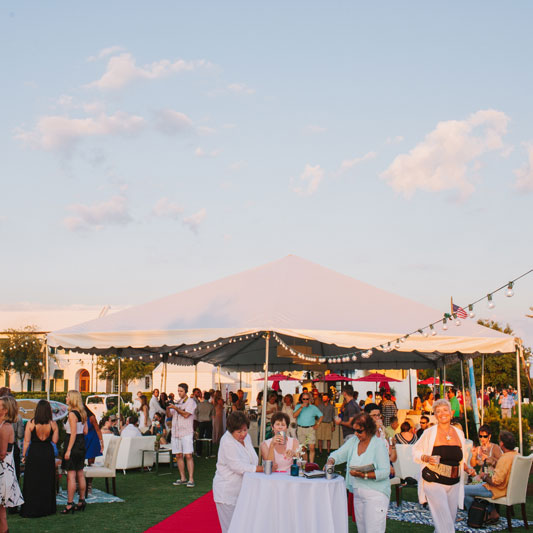 Beautiful, dynamic images and colors beam, beat and bounce. Lights flash and move to their own beat. Voices murmur, fingers point, heads nod. One of the most magical, awe-inspiring art events returns to Alys Beach on Scenic Highway 30A for another year and Emerald Coast Magazine brings with it another vibrant EC Magazine Lounge kick-off party to the final evening of the festival.
The EC Magazine Lounge brings South Beach flair to the Emerald Coast tent, which boasts extra perks for VIP guests, including entertainment by local performers, fresh sounds by local DJ Lady Muse and locally produced signature cocktails by Cathead Vodka & craft beer by Idyll Hounds Brewing Co. The tent is designed and furnished by Fishers Flowers and Events, accented by various eye-catching BOTE paddle boards.
Last year, artwork wasn't limited to the white walls of Alys Beach either, as attendees of the EC Magazine Lounge lined up to have intricate and stylish white designs hand painted on their faces and down their arms and hands. The EC Magazine Lounge has been known as the ultimate locals bash place for guests of Digital Graffiti to mix, mingle, sip and linger while being entertained before the Saturday evening Digital Graffiti show kicks off. To enter the lounge and receive two complimentary drink tickets, guests are asked to text "EC" to 20673 to opt in to Emerald Coast Magazine's text messaging program, to receive news, giveaways, special deals and more. Be sure to smile for the talented face behind the camera, local photographer Jacqueline Ward, capturing photos for EC Magazine's Digital Graffiti recap feature in the August/September issue of the magazine.
Emerald Coast Magazine has been entertaining area residents and visitors for more than 15 years. Their mission is to capture the essence of the region by giving readers a blend of provocative features, stories and columns that provide insight to the people of the Emerald Coast. Along with the EC Lounge at Digital Graffiti, Emerald Coast Magazine hosts Top Salon and the Best of the Emerald Coast events each year.