Women of Distinction Honored
Rowland Publishing celebrates Pinnacle Award winners for 2021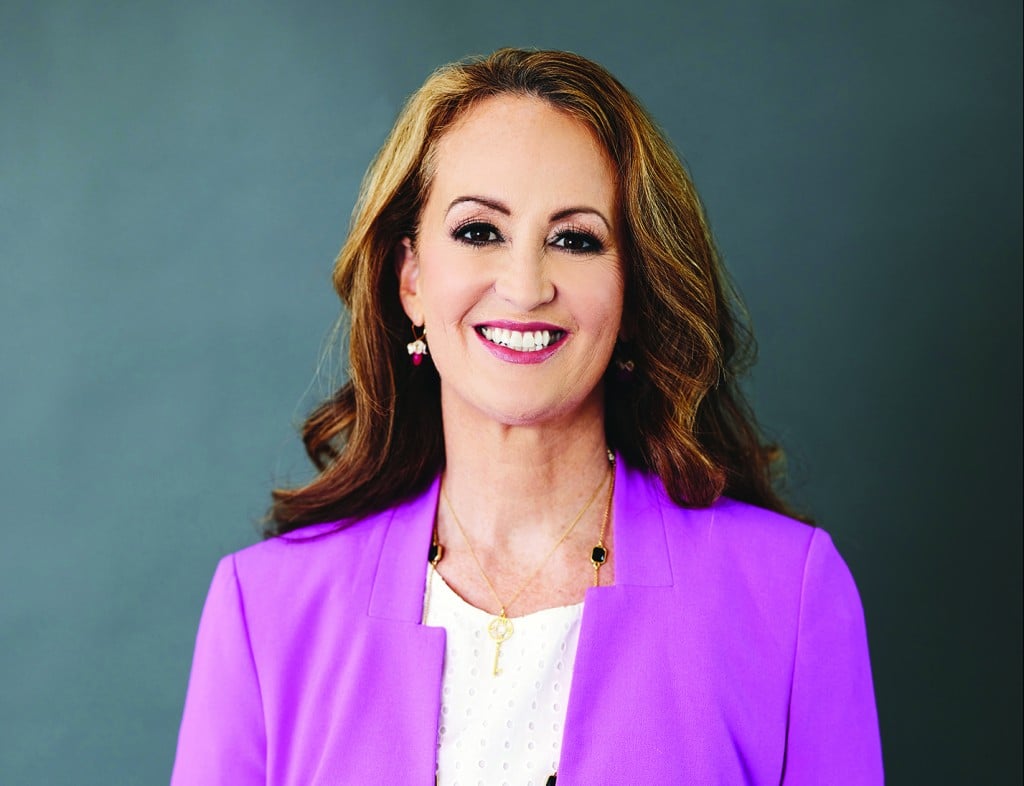 Rowland Publishing's Pinnacle Awards program has celebrated scores of women of influence and distinction in the years since it was established in 2014. Honorees unfailingly have both excelled professionally and as women unselfishly committed to community betterment. They are givers, not takers; optimists, not defeatists; visionary, not complacent. The Pinnacle Awards Class of 2021 includes four highly consequential women from Emerald Coast communities. They are profiled here.
Rachael Gillette, Pensacola
Once a British barrister, she helps businesses raise the bar
Rachael Gillette, in her role as the president of the Studer Community Institute, gets to do what she loves to do every day.
"I am on a mission to improve the quality of life for people," she said. "I love to help others be the best they can be, and I have the honor of working alongside Quint Studer and have him as my leader, mentor, role model and coach."
The nonprofit SCI offers programs, events and trainings designed to improve school readiness; raise what Studer likes to call the civic IQ; and furnish people with skills training to enable them to launch and grow businesses. It is the latter "lane" where Gillette spends her time.
More particularly, she is focused on leadership.
Leadership is a big umbrella, she concedes, one that includes communication, time management, teamwork and more. And leadership must be exercised to navigate a wide range of issues, some resulting from external factors and others that develop internally.
Businesses do well, Gillette said, by being proactive and agile.
"Suddenly last year, businesses had to adapt to operating remotely," she said, "and had to figure out how to keep a company culture strong when people are not in the same building. Now, we are struggling to reopen our businesses and hire people and rebuild."
For Gillette and for many, the pandemic was a teacher.
"We learned that we have to be resilient to survive," Gillette said, noting efforts by SCI to provide businesses with coaching and resources they needed to carry on. "We were reminded about the importance of investing in relationships. We have to have resources, we have to have money, but at the end of the day, it's all about people. Authenticity in relationships is a huge key to both personal growth and the growth of businesses."
Today, many businesses are populated by employees from multiple generations, a circumstance that presents its own set of communication challenges.
"We all thought the boomers were going to retire and leave the workforce, but no, 60 is the new 30, and people are staying in their jobs longer," Gillette said. "We may have five different generations in a workplace. I love helping people communicate more effectively because poor communication can be a huge source of stress. Misunderstandings occur — especially in intergenerational communication."
Gillette grew up in Liverpool, England, and for nine years worked as a barrister — black robe, white wig. She studied law and American studies at Keele University and completed bar vocational studies at the Inns of Court School of Law in London.
But a passion for competitive sailing led her to cross the pond. She met her future husband at a regatta in the British Virgin Islands and moved to Pensacola in 2002. In the years since, she has continued to sail, earning honors as the Pensacola Yacht Club's "Offshore Sailor of the Year" and "Sportswoman of the Year."
"Pensacola has become home to me," Gillette said. "I love the sense of community here and the slower pace of life. Things are very different than they were in Manchester where I had been living."
Gillette quickly started volunteering as a way to get to know Pensacola at the Ronald McDonald House and then as a member of Pensacola Young Professionals.
It was while working to establish a leadership institute at Pensacola Young Professionals that Gillette met Studer, whose help the group had enlisted.
"I got to know the way in which Quint was running his organization," she said. "I began to understand his ethos and vision. I loved the emphasis at the Studer Group on culture and values and mission and valuing people."
She counts businessman, entrepreneur, consultant, author, speaker and baseball team owner Studer as a chief influence in her life and said she has been inspired, too, by Carol Carlan, the president of the Ascension Sacred Heart Foundation; consultant and business strategist Debbie Ritchie; and Bert Thornton, the retired longtime president of Waffle House and a past keynote speaker at EntreCon, an SCI business, leadership and entrepreneurship conference.
She is grateful for the steady encouragement that she received from her father — "He always told me, 'You can do this.' " — and for the example provided by her mother, who founded a preschool in England.
Gillette, to be sure, is a lifelong learner.
"We should always be mindful of what can we learn from each other," she said. "The older generation has a lot of intellectual capital to share, and younger generations have their own valuable insights and perspectives. It can be like a cultural exchange."
---
Kathleen Hudon, Pensacola
Cheerfully, she helps college students reach the next rung
To understand Dr. Kathleen Hudon, it may be helpful to think about Tigger, the beloved character from Winnie the Pooh.
Tigger, breezy and outgoing, is always on the go, ricocheting from one place to the next to lend a helping hand, boost morale or provide a much-needed laugh when a forlorn Eeyore misplaces his tail or Pooh is honeyless.
Equipped with eight degrees and experience in fields including journalism, banking, law and higher education, Hudon has done her fair share of bouncing around. And, in a literal sense, she always has.
"I loved gymnastics when I was a kid," Hudon said. "I would physically cartwheel and twirl into whatever seemed exciting or interesting. So, I suppose my approach to life has always been to just … start tumbling."
Of course, that is easier said than done. Hudon recalls a time when she took on a mountainous hill at a relative's home in North Carolina. It wasn't until she reached the bottom that she realized she'd somersaulted through some freshly "baked" cow pies on the way down.
"I've found that not every pursuit is going to be positive," Hudon said. "We might come out a little more begrimed than we started, but whatever the wear and tear, it helps us learn. It helps us teach others so that we can elevate them to places we'll never reach ourselves."
As an attorney, Hudon found that most of her dealings with clients were not happy. Adoptions could be. But divorces, lawsuits, bankruptcies and probating wills, not so much.
"I wanted to be able to help people but help them to a cheerier place," said Hudon.
Her current role as director of student affairs at Pensacola State College (PSC) allows her to do just that. Hudon assists students with financial needs and oversees admissions, advising and student engagement and activities.
In the past year, Hudon helped coordinate two community COVID-19 vaccination clinics at PSC. She worked with CARES grant administrators to distribute funding to students in need; created virtual activities for children of busy student-parents; and advocated for greater attention to the mental health needs of students and staff.
When the pandemic released its grip on everything, she oversaw the creation of a PSC pantry to combat food insecurity. Recently, she joined the Pensacola Women's Alliance, which helps distribute scholarships to local women who may not otherwise be able to attend school.
Hudon is also involved in the Lion's Club, a humanitarian organization that, among other things, aids the visually impaired. It's a cause near and dear to Hudon's heart. Macular degeneration runs in her family and affects one of her biggest inspirations, her maternal grandmother "MawMaw."
"Three women have molded me: my mom, my dad's mom (Grandma) and MawMaw," she said. "All three have inspired me to be fearless, adventuresome, creative and a lifelong learner."
While attending school in Michigan, Hudon remembers a visit from MawMaw. The pair went sledding, and MawMaw gladly sat in the front seat. In that position, she ate some snow, but "MawMaw charged down the slopes like any excited 12-year-old would do," Hudon laughed.
Thrill-seeking runs in the family. Though Hudon has a serious fear of heights, she's summoned the courage to rappel down a waterfall, bungee jump off a cliff and conquer some of the highest zip lines and rollercoasters in the world.
She refuses to miss out on all life has to offer.
"I just want to raise others up to that next plane," Hudon said. "While he was in hospice, one of my high school English teachers told me I was in a place in my career that he had aspired to but was never able to achieve. I feel like it's my duty to be that next rung on the ladder for people, or at least be a part of making others' lives more satisfying and meaningful."
---
Dr. Lisa R. Williamson Plano, Fort Walton Beach
Her cribside manner is making a big difference in infant health
For many years, Dr. Lisa R. Williamson Plano had been engaged in academic medicine doing funded research at the University of Miami.
But the funding hustle had become difficult and her work less satisfying. Plano confided in her daughter's stepfather, an attorney who represents a hospital in Birmingham, Alabama, telling him that she would like to manage a small in-hospital unit where she could implement new standards of care and employ evidence-based medicine as an attending physician and coach.
With that conversation in mind, the attorney forwarded to Plano a job posting he had come across. Needed was a director for a neonatal intensive care unit at the Fort Walton Beach Medical Center.
Plano discussed the possibility with her husband Greg who, like her, is a University of Miami faculty member.
Plano grew up in Gadsden, Alabama, and vacationed as a child in Destin. She and Greg had talked about one day making the Emerald Coast their retirement destination.
"You should apply for it," Greg said.
Plano, who holds a doctorate in microbiology in addition to her medical degree, was the top candidate for the job, but interviewers wanted to be sure that she was prepared to trade Miami for the Panhandle. She assured them that she knew what she would be getting into.
On this day, Plano is off from work, sort of. That is, she is at home but is awaiting a call from an infectious disease specialist in connection with a case involving a child born to a woman with a drug problem.
"I really don't have days off," Plano said. "There are some days where things pause for a little bit."
Plano, in any event, doesn't report to a job. She answers a calling.
"I tell the parents of the children I care for that they don't have to thank me," said Plano, who is employed by Envision Healthcare, which is under contract to cover the neonatal ICU that she directs. "I love what I do. I have a unit where I can feel that I am really making an impact."
Plano's work is not confined to the ICU. She and a partner see more than 95 percent of the roughly 900 children born in a year at the Fort Walton Beach Medical Center.
"You won't hear a neonatologist refer to a 'typical' birth," she said. "Every newborn has a little something going on, and if you can reassure the parents and educate the parents so that they know what to look for, that makes a big difference. The things that can go wrong are often very subtle."
Plano was attracted to the job in Fort Walton in part because the need for her services there was so great.
"We have so many babies who are born with a special need," Plano said. "They may be pre-term, but not so extremely pre-term that they cannot stay locally. The value of our hospital and our little intensive care unit is that it serves this community and has the capability of keeping these kids close to their home when they otherwise would have to go to Pensacola or Panama City."
Plano grew up with a desire to become a marine biologist. She was on that track as a graduate student at the University of South Alabama when a hurricane prevented planned field study at Dauphin Island. Plano drifted into microbiology. She and her husband met in grad school, and both have doctorates in that field.
In Fort Walton Beach, Plano has been instrumental in dramatically reducing the number of newborns with neonatal abstinence syndrome who require admission to the ICU. The condition occurs when a baby withdraws from certain drugs (most often opioids) that he is exposed to in the womb.
NAS kids can be especially hard to soothe, and the withdrawal process is a taxing one.
Plano had instituted a cuddler program at FWBMC that recruits volunteers to help hold babies. She has established protocols whereby babies may remain with their mothers or primary caregiver for as long as they are eating and sleeping sufficiently and are consolable.
The benefits have been dramatic.
In the two years since Plano's initiatives were put in place, the hospital has seen a 63 percent decrease in the number of NAS babies requiring admission to the NICU. The average length of hospital stays among those infants has declined by 65 percent. The percentage of NAS cases requiring pharmaceutical treatment has dropped by 63 percent. And, NAS kids now account for just 6 percent of NICU admissions versus a high a few years ago of 22 percent.
Cuddling matters.
"Our area has been hard hit by the opioid crisis," Plano said. "It's not just in Appalachia. It's in our backyard. I didn't have a lot of experience with it before coming to Fort Walton Beach, but I am making myself an expert."
Plano recalls especially well the case of an especially tiny premie. For years after he left the hospital, his parents would bring him by to see Plano and drop off donations of baby clothes. He has reached the age now where Plano and the boy carry on conversations during his visits.
When she gets the chance, Plano loves to cook.
"And I like what I cook," she said. "I have a recipe in a Junior League cookbook for a mango daiquiri."
In Miami, she said, mangos grow on trees.
---
Pamela Dru Sutton, Panama City
She fights for fairness from within the court system
Pamela Dru Sutton, working for the Public Defender's Office in Florida's 14th Judicial Circuit, was scheduled to represent three defendants in a week.
She had a cold and laryngitis, and because she was sick, she requested continuances. She was also 7½ months pregnant.
The judge in the cases chose to believe that her pregnancy and not her illness accounted for the requests, which he denied.
"OK," Sutton said, her voice soft and raspy. "But I have to go to the bathroom every hour." The judge was "totally freaked out," she recalled. "He told me to raise my hand."
In the first case, the defendant was acquitted of some of the charges he faced, a result that Sutton counted as a victory. The second defendant was found not guilty.
"The third guy was an aggravated assault and battery case," Sutton said. "I worked very hard on that case because I was convinced that he was innocent. While the jury was out deliberating, the judge looked at the prosecutor and said, 'She's beaten us both down.' I was motivated by women I had seen in the Northeast who were treated like crap because they were pregnant."
Sutton was born in New York City and grew up on Long Island. Her mother was an educator who graduated college a few months shy of her 15th birthday. Sutton attended Harvard University, where she would meet the man who would become her husband and law partner, Michel Stone.
Sutton wanted to become a film director and filled out applications to film schools. She never mailed them. She took the LSAT instead.
She would earn her law degree at Brooklyn Law School and Stone at New York University Law School.
Stone was working for a firm in New York City that dissolved and had an offer to go to work for a firm in Panama City, Florida. He had grown up in Panama City, graduating from Bay High School. His parents were still there.
"I kinda agreed to come down," Sutton said. "For six months. I took the New York bar exam before I passed the Florida bar because I was sure I wasn't going to stay."
Sutton went to work for Legal Services of Northwest Florida when its Panama City office was opened. Her first case involved restoring parental rights to a cognitively challenged mother whose baby had been taken from her by the state and given to someone who was not even licensed as a foster parent.
"I had a lot of help," Sutton said. "You don't do this alone."
Louise Gruner Gans, then the managing attorney for legal services programs in New York City, was a powerful force in her life. A Holocaust survivor who later became a judge, Gans presided when Sutton and Stone were married.
"She inspired me to fight for people who couldn't afford a lawyer and were basically defenseless against a system that is often arbitrary and would rather interfere than help out," Sutton said.
Sutton was among the first women ever to practice law in Bay County. She didn't have a career path, she said. "It was more like making my way through the undergrowth."
For a time, she made court appearances in woolen suits that she had worn in New York.
"Suits and stockings, I was dying in the heat," Sutton said. "So I bought a bunch of linen skirts and tops. It was the '80s, and melon colors were in. I looked like a fruit salad."
She would find that opposing counsel found the contrast between "girlie" dress and her strong voice to be unsettling. About her colorful couture, a bailiff once told her, "People just assume that's what lawyers wear in New York."
Pam joined with Mike in founding their law firm, Stone & Sutton, P.A., after leaving Legal Services. They continued to work part time for the Public Defender's Office and for years handled all of the capital murder cases locally.
Together, they represented a teenager charged with murdering his father.
"We took the case pro bono after leaving the public defender's office," Sutton explained. "We put on a self-defense case that relied on explaining child abuse and what it does to your mindset."
The defendant was found not guilty. The case was later featured on CBS-TV's 48 Hours program and prompted a community conversation about child abuse.
Indeed, it is fair to say that Sutton has been an agent of cultural change in Bay County.
She was president of the local chapter of the National Organization for Women when it dissuaded Gov. Lawton Chiles from attending a meeting of the exclusively male Econfina Men's Club in Bay County. She joined forces opposed to a school superintendent's book ban. She has taught enrichment classes at Bay High School and has long been associated with Panama City's Martin Theatre, which she has served as a Shakespeare expert.
She would like to resume her theater involvement, which was disrupted by Hurricane Michael, but the Martin was heavily damaged by the storm, and efforts to bring it back have proceeded in fits and starts. Her daughter Elizabeth, who lives in New York where she works in theater and as a tutor, had helped her out at the Martin during visits home.
"If an organization needed help, I have helped them," Sutton said. "I read a murder mystery once, and it was said about one of the characters that she forgot to get old. I have made that my motto."