The Boys & Girls Clubs of the Emerald Coast Celebrates 50 Years
Guest speaker Hulk Hogan will highlight 2018 Stake & Burger Dinner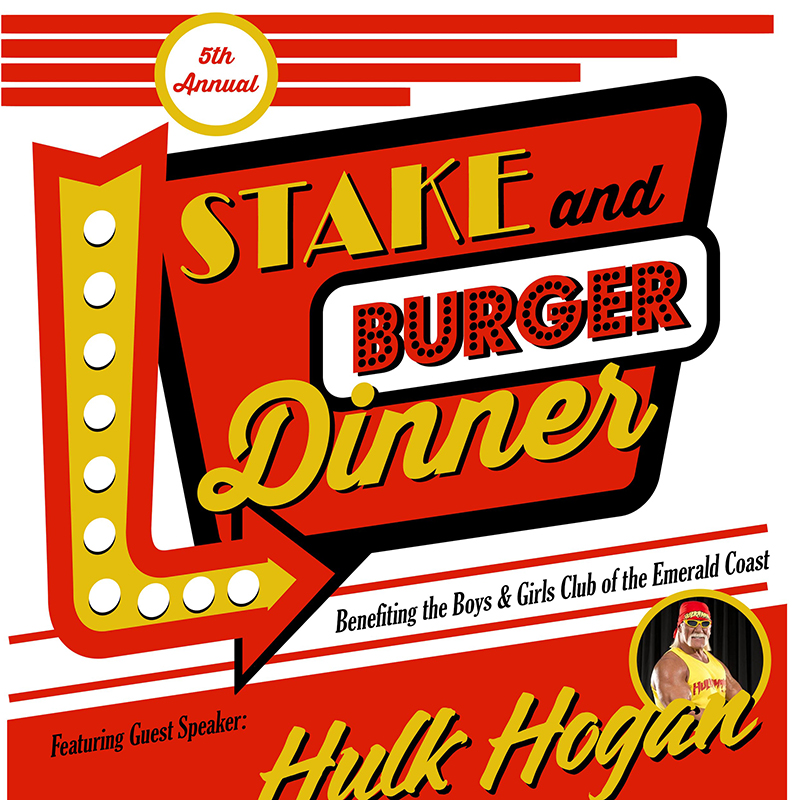 sponsored content
The Boys & Girls Clubs of the Emerald Coast is celebrating its 50th anniversary in a monumental way at its fifth annual Stake & Burger Dinner on Nov. 8 from 6:30–9 p.m. at the Hilton Sandestin.
This year's event will have a retro theme as a nod to the Clubs' success for 50 years.
The evening will proceed with a build-your-own burger bar, raffles, a silent auction and an inspirational message from special guest Hulk Hogan.
"Having a world-renowned Club alumnus like Hulk Hogan as our guest speaker is monumental for our organization," said Shervin Rassa, CEO of the Boys & Girls Clubs of the Emerald Coast.
"Hearing about how the Club shaped his life as a young person in Tampa will be a treat for all attendees."
Terry Bollea, aka Hulk Hogan, is a 12-time world champion wrestler. Before his influential WWE career, he spent his formative years at the Interbay Club of the Boys & Girls Clubs of Tampa Bay and was inducted into the Boys & Girls Club of America Hall of Fame on May 3, 2018.
General admission tickets are $125. VIP tickets are $175 and include admission to the VIP reception, food service at your table, champagne and priority seating during the program.
The VIP reception at 5 p.m. allows guests to meet the Hulkster.
All proceeds will benefit the Boys & Girls Clubs of the Emerald Coast, which works within our community to promote and enhance the development of boys and girls by instilling a sense of competence, usefulness, belonging and influence through its programs focused on academic success, healthy lifestyles, good character and citizenship.
"I am proud that we are able to utilize alumni like Hulk Hogan to help us deepen the impact we will have on children we serve along the Emerald Coast," said Rassa. "All funds raised through this event will go back into enhancing the programming we provide the children we serve each week."
Sponsorship opportunities are available.
To learn how you can be involved, please contact info@thehivecreativeconsulting.com.
To learn more about this event and to purchase tickets, visit EmeraldCoastBGC.org.