The Birth of a Woman
Linda Habib's novel celebrates audacity, persistence and success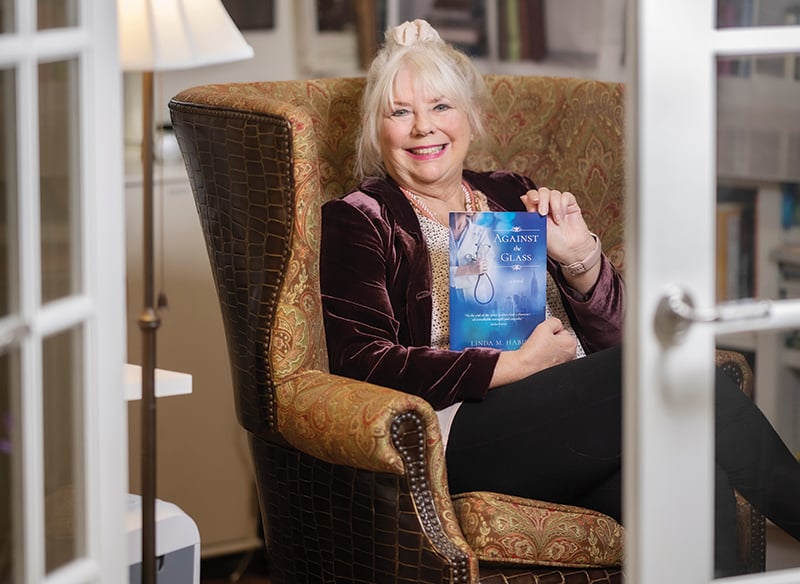 A physician escorts a medical student to a diner where he buys several rounds of drinks. Together that day, mentor and mentee had turned and delivered a breech baby and terminated an unwanted pregnancy. For the future gynecologist, both were firsts, and she had accepted the doctor's invitation to celebrate and to discuss a preceptorship.
The conversation is at first professional — it is intended as an off-site "get to know you better" session — but soon turns personal as the couple's selections play from a tabletop jukebox and martinis take hold. Candy, the student, grows uncomfortable and gulps her third Stoli. As the pair leaves the diner, Candy's wooziness is noticeable, and Dr. Walker propositions her. She refuses his advances, and the relationship dissolves.
Not for the first time, it appears that Candy Krzyzanowski's progress toward securing a career and realizing a purpose has been stymied. But she has conquered barriers and doors before, and she carries on with undiminished determination.
Linda Habib's first novel, Against the Glass, traverses one woman's representative struggle to achieve a lasting sense of self-worth and absolve herself of the guilt she feels for departing from traditional female roles and not living up to her mother's expectations. Serially violated by men, Krzyzanowski immerses herself in her work and grows cloistered. When, metaphorically, she emerges from her scallop shell, she fights the inclination to immediately duck back in.
Habib's book is at once powerful and familiar; her protagonist, wounded and heroic.
Krzyzanowski is impregnated — by a high school quarterback. She eventually finds lasting love — in Paris. But even as Candy escapes traps that ensnare many, if not most, women, Against the Glass rises above frayed conventions and devices. We know that Krzyzanowski will triumph but marvel at the difficulty of her path to success and the depths of the crassness of men.
Habib is at her best when she leaves the country. Her setting of scenes across the pond and in the Caribbean is precise and exquisite.
The quarterback's coach makes arrangements for his star player, Wayne, and Candy to travel to an abortion mill in Isla Verde in Puerto Rico. The coach has sent players and girls in trouble there before. Conditions at the clinic are abhorrent and the callousness of the practitioner there is appalling. The procedure is botched. Upon their return to the U.S., Wayne delivers Candy to a Staten Island emergency room. She will wake up to the discovery that she has undergone a hysterectomy, performed to save her life.
Influenced by her doctor, Candy sets aside her interest in entomology and resolves to study medicine at a time, 1968, when doctors were almost exclusively male and Valley of the Dolls topped the list of best sellers.
Habib, a member of the South Walton Writer's Group, retired to the Emerald Coast following a 33-year career as an educator in New York City. She obtained a bachelor's degree in English and a master's degree in literature from Hunter College, part of the City University of New York, and started teaching at a 300-student, all-girls public high school in Manhattan. She would become an assistant principal at one of the largest public schools in the Bronx. Among her favorite books to teach — Jane Eyre (Charlotte Bronte); Ethan Frome (Edith Wharton); Their Eyes Were Watching God (Zora Neale Hurston); The Bluest Eye (Toni Morrison); The House on Mango Street (Sandra Cisneros); and Things Fall Apart (Chinua Achebe) — only one was written by a man.
It is easy to picture Habib, a genuine and engaging woman with a gentle aspect and bobbed hair, teaching her book to high schoolers. Thereby, they would learn that an impulsive decision may have lifelong consequences, but scars do fade; that opportunities awarded to some are hard-earned by others; and that art informs life and the natural world informs art. They would learn about the significance of scallop shells and Botticelli's The Birth of Venus to their teacher. Students, if reading the book while embarking on their sex lives, might go more carefully. And, were the book taught today, they would learn, too, that history and progress sometimes reverse themselves.
Habib wrote her book at a time when a constitutional right to an abortion was in place in the United States.
"I repair more abortions than you might think," Krzyzanowski's ER doctor fumes to her friend Brenda. "I wish the damned things were legal again as they were in the mid-19th century."
The novel, which Habib regards as historical fiction, addresses the development of in vitro fertilization. Krzyzanowski, mentored by a pioneer of that science, carries on his work after he is bounced from academia, and eventually she opens her own fertility clinic, making possible for women something that was not possible for her — motherhood.
Against the Glass, published by Feme Press, is "Dedicated to women everywhere," but it could as well have been dedicated to love, for it is that which finally liberates the book's heroine. Love of her work; the unconditional love she receives from a widower, turned playboy, turned her adoring husband; love of possibility. Love of life.
---
In Her Own Words
Ginger Rogers, Fred Astaire's dance partner, famously said that women do everything men do, but backwards and in high heels. While I don't believe women are victims, I do believe the world is harder on them. So much is expected of them, and they achieve in so many ways. They are not bound to be pregnant and barefoot in the kitchen. They can be agents of their own autonomy, whatever that is for each of them. — Linda Habib
---