The Birdhouse Cobbler
Meeting another character from Vernon was a joy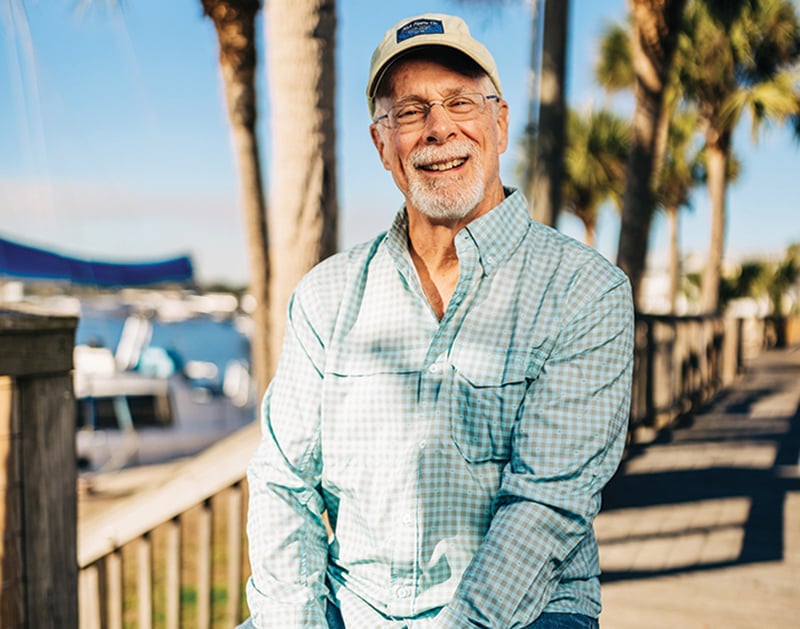 Hanging from rigging made of PVC pipe, rubber bungee cords and spring clamps were vertically oriented lengths of cypress, some of which reached the body of his old and gray pickup. It was as if the truck, parked at a Publix store, may have been fitted at one time with a wooden camper shell that had grown dilapidated.
As I neared the truck, however, it became clear that the unhewn cypress formed the faces of birdhouses screwed to the backs of the boards. Some boards fronted one house, others two.
"Sir, are they big enough for bluebirds?" I asked, startling the man behind the steering wheel. Sun streaming through the windshield had warmed the old boy, and he had been napping as still as a gator on a hill.
"They make great gifts," Doug Hertkorn said, then furnished me with pricing. The birdhouses ranged from $50 to $75. Cash or check, only.
"A friend of mine has a portable little machine that you can run credit cards through, and he said I should get one of those and get my birdhouses on the internet," Hertkorn said. "If I wanted to work that hard, I'd get a job."
Hertkorn, 80, lives in the Washington County community of Vernon, population 732 (2020 Census), up from 687 in 2010, and is eight months removed from quadruple bypass surgery.
"The doctor said one of my arteries was like that," Hertkorn explained, placing the tips of a thumb and a forefinger together. "Completely collapsed. He didn't know how any blood was getting through. I guess I'm lucky. Dr. (James) Cook put my first stent in at Bay Medical Center in 1996."
Hertkorn struggles to get to his feet and cannot remain standing for long. He was a tile setter for more than 50 years.
"Knees are shot, but I don't want the surgery," he said. "Don't trust it."
I ask him if he is familiar with the Errol Morris documentary, "Vernon, Florida," released in 1981. (You can find it on YouTube.) He is and said he used to see some of the characters from the film around town — the turkey hunter, perhaps, or the couple that grows sand in a jar or the man fattening a possum in anticipation of Wausau Fun Day.
I like Hertkorn. He reminds me through his face of my late mother-in-law. Like him and like me, she was German. I admire him for the effort he makes in supplementing his Social Security by selling birdhouses he cobbles together himself. He personifies an old-timey hardware store with a creaky wood floor and a rusty scale for weighing nails.
He moved to Florida from New Jersey after serving in the Army and purchased adjoining 8-acre and 7-acre plots.
"I had enough land that I could get naked and walk around in the yard," Hertkorn said.
He recently sold 7 acres for $55,000. There is an open sinkhole on that parcel that he planned one day to line with clay and turn into a bass pond, but he never got around to it. That's all right. He prefers catfishing on the Choctawhatchee, anyway.
"Are they big enough for bluebirds?"
"The hole is an inch and five-eighths, perfect for bluebirds. I sold a house to a lady and her husband put it up, and she had birds in it just a couple of hours later."
I parted with 50 beans and left with a one-holer. I was pleased with my purchase and pleased to have been reminded that simple times are not gone forever.
One need only head north to Vernon.
Take it easy,
Steve Bornhoft, Executive Editor
sbornhoft@rowlandpublishing.com
---