The Associate Dean's List
Irvin Clark has ambitious goals in mind for FSUPC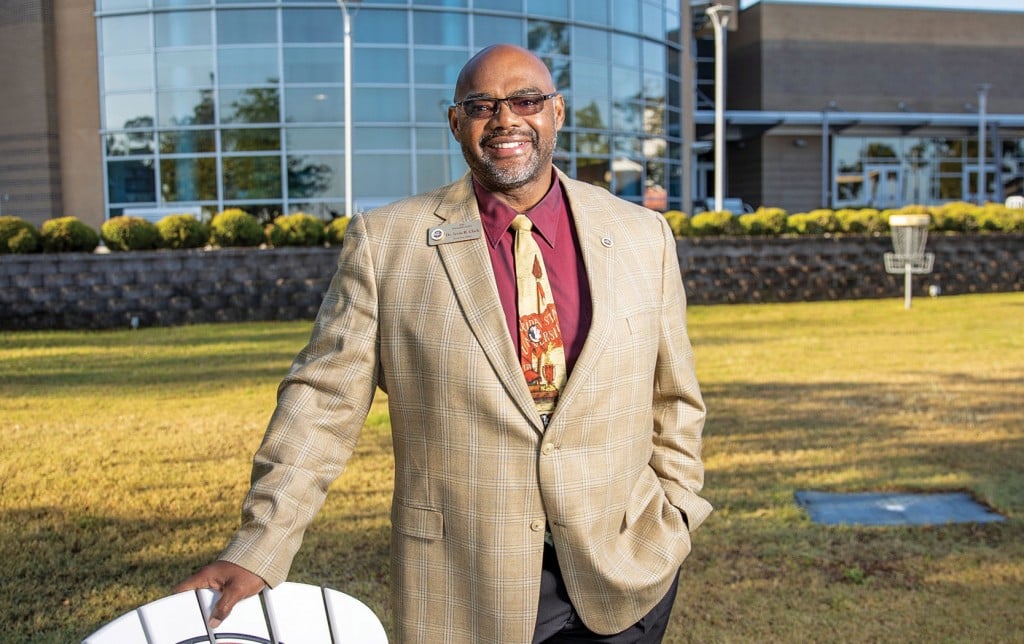 When Irvin Clark played football for Greensboro High School, Coach Robert Jackson dressed 16 players for games.
Clark was among the team's many two-way players.
"First time I left the field, the game was over," he said.
Thirty-seven years later, Clark is still that guy who never takes a play off. As the associate dean for student and strategic initiatives at the Panama City campus of Florida State University, Clark touches anything related to the welfare of students, from admission to academic advising and financial aid to student government. He chaired the panel that developed the campus's current strategic plan. He is part of campus dean Randy Hanna's diversity task force. He is responsible for FSU PC's web pages, social media and marketing efforts.
Off campus, he travels a 10-county area from Santa Rosa to Gadsden, forging relationships with school superintendents and other local government officials, community organizations, even the state Department of Corrections.
In some of those counties, only about 10 percent of high school graduates move on to post-secondary programs.
"If you don't expose students in, say, Washington and Gadsden counties to a college environment while they are in elementary school, you may be too late," Clark said. Worst case, they may wind up incarcerated.
Ah, but Clark is there, too.
"I was in prison for four hours," he said of a trip he made to the Northwest Florida Reception Center in Greenhead, near Chipley. "I spoke to 168 inmates who were due to be released in 24 months or less. We've got a long way to go, but we're talking about establishing a prison-to-college program that would award certificates in entrepreneurship."
Clark was in the third grade when his teacher sent a permission slip home with him for his parents' signature. Planned was a field trip to Tallahassee, in the course of which students were introduced, even if briefly, to FSU, Florida A&M University, Tallahassee Community College and what was then known as the Tallahassee Junior Museum.
That experience stuck with Clark.
"The college scene was inviting to me and exciting," he recalls.
Clark, however, would not enroll in college directly after high school, choosing instead to enlist in the U.S. Navy. His grandfather grew tobacco and vegetables, and summers were brutal. The military was a ticket out of the fields. Clark graduated high school on June 7, 1983, and was in the Navy five days later.
He would serve four years before starting his studies at FAMU, where he would major in political science and play football. Post graduation, he played for a year in the NFL for the Tampa Bay Buccaneers as a defensive lineman and then worked as an assistant football coach at FAMU for a year. He is fairly described as a gentle giant and begins each day with an hour in a weight room.
Over 20 years at Savannah State University in Savannah, Georgia, he worked a series of jobs related to student housing and student affairs. He was the interim vice president for student affairs at Radford University in Radford, Virginia, when he accepted an offer to come to FSU PC. Along the way, he earned a master's degree from Savannah State and a doctorate of education from Fielding Graduate University in California.
"FSU PC liked me in part because of my experience with housing," said Clark, who is a co-leader of the public-private partnership that is bringing about the school's first on-campus housing project. Seminole Landings — 390 beds' worth — is scheduled to open in August. It will house students from both FSU PC and adjoining Gulf Coast State College and will increase the percentage of freshmen and sophomores among FSU PC students.
"That project will be a game-changer," Clark predicted. Already, it has given Clark issues to consider, including parking concerns and the anticipated need for more security and counseling services. Too, he is working to provide more on-campus activities to keep dorm residents occupied and entertained.
"If we don't provide activities for our students to be involved in, they're gonna find their own," Clark said.
He is proud of the Seminole-Commodore Alliance, a student activities/services collaborative agreement that unites FSU PC and GCSU in areas extending from clubs and organizations to wellness and fitness facilities and from intramural sports to student travel.
"Every semester things become more and more seamless between the two schools," Clark said. "In the minds of many, Gulf Coast State and FSU are like one campus."
Since Clark arrived in July 2017, campus enrollment has grown from about 700 to about 1,000, versus the student population of 10,000 at Radford.
"The opportunities here are vast; I know that I am just one person, but I love it," Clark said of FSU PC. In recent years, FSU PC has added degree programs in entrepreneurship, hospitality, mechanical engineering, law enforcement intelligence and systems engineering. Coming soon: a bachelor's degree program in public health and a doctoral nurse anesthetist program.
"We've been busy," Clark said.
In the community at large, he said, "The work is plentiful, but the workers are few. You can make a difference here." His list of civic involvements is the length of a CVS receipt.
Clark has two grown children, both of whom are students at colleges in Canada, where their mother was from. He lost his wife to ALS in October 2019.
He met his current girlfriend when she was visiting Bay County from her home in Springfield, Missouri.
"Everybody comes to Panama City Beach," Clark said. "They all love that green water."
Clark remains someone of and by the country. He's a sweet water guy whose high school no longer exists and who is acutely sensitive to the struggles of small towns.
In that, he has something in common with FSU PC Dean Randy Hanna, who grew up in Shepherd's Mill, a settlement much smaller even than Greensboro. Clark cane-pole fished there as a boy.
"The Jackson County Commission approved an internship program with FSU PC," Clark said. "I have met with the town manager in Sneads and the mayor of Chattahoochee and school superintendents in Gadsden, Washington and Jackson counties. I can get to (Bay District Schools Superintendent) Bill Husfelt anytime. In Jackson County, we're in conversations about the old Dozier School and the possibility of rehabbing it for use as a school for children with autism.
"Some people look at our rural communities and see decline," Clark said. "I see opportunity."