The Arts Must Go On
In Okaloosa County, Amy Baty-Herbert induces creativity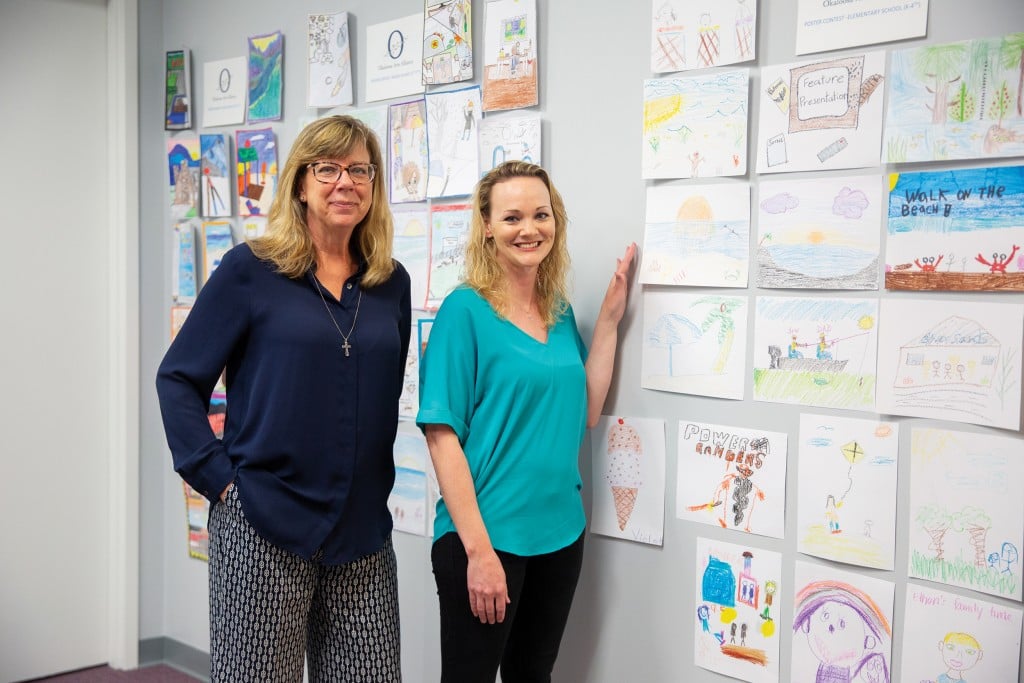 Each year, Amy Baty-Herbert, executive director of the Okaloosa Arts Alliance, invites students to depict summer fun with entries to a poster contest.
Last year's contest looked a bit different.
The usual 400 submissions dwindled to a mere 77. The once happy illustrations of park play dates, summer camp and soccer games were replaced with video game consoles, masked characters and longing views from bedroom windows.
But for Baty-Herbert, something beautiful was  happening.
"We got to see life amid a global pandemic from a child's perspective, and it wasn't all negative," she said of poster entries received from 20 schools. "Students were creating art about increased family time, learning new skills and helping others."
First place winner Alyssa Lilli Kleiser, a first-grader at Edge Elementary School, submitted a touching comic strip of her quarantined family watching a Gulf sunset. Fourth-grader Caden Crawly from Plew Elementary School sketched a disembodied hand passing out free groceries and heart-shaped reminders that "We're All in This Together."
Plew student Olivia Scopac's poster featured colorful dragons with scales shaped like lightning bolts and a block-lettered  statement, "I THINK ABOUT DRAGONS ALL THE TIME," hovering in the clouds.
"Providing a way for students to express their thoughts and feelings through art is what it's all about," Baty-Herbert said of the annual contest. "It is for the young artist, who may not be a future artist but is engaging his creativity. I love seeing what these children create and then showcasing it online."
But youth engagement is just one facet of OAA's mission to nurture, support and promote art, music and culture in Okaloosa County.
Baty-Herbert, who has served as the alliance's executive director since 2007, said stepping into the role was "ideal." She had graduated from Mercyhurst University in Pennsylvania in 2003 with bachelor's degrees in art and business and discovered the alliance soon after moving to Navarre.
"For me, art has always been a way to express yourself in a way you can't with words," she said. "A picture, a song or a dance allows a message to speak through us. I want people to learn about or find their passion through an art. I want the alliance to be the vehicle that gives people the opportunity to be part of the art happening here and one that informs them about classes, events and shows."
She likes to think of the OAA as an "umbrella," a sort of chamber of commerce for local art organizations and artists. Membership is available at three levels: for students, individuals and families; for artists, nonprofit organizations and schools; and for businesses.
Membership fees, ranging from $10 to $100, go toward the enrichment of culture in Okaloosa County, monetary awards for winners of events such as the annual poster contest and OAA grants to schools and nonprofit organizations.
Members receive monthly newsletters and brochures and are recognized on OAA's website. Artists have the opportunity to donate pieces or event tickets for use in OAA silent auctions and drawings.
Typically, the website, okaloosaarts.org, provides information about art education classes, concerts and theater performances, but it has been revised to keep local artists apprised of sources of COVID-19 assistance.
"We know the pandemic has impacted many of our artists who can no longer perform live at venues or attend shows," said Baty-Herbert. "It's been important for us to link them to the information provided to us by the Florida Department of Cultural Affairs and various grant opportunities to help get them back on their feet."
Too, the pandemic has led to the creation of the OAA's newest virtual event, Okaloosa County's Got Talent. Like the famous television show, the event will have vocal, dance, theater and visual arts categories.
The event, which was scheduled  for April 2021, had enlisted judges from HarborWalk Village, Emerald Coast Theatre Co., Mattie Kelly Arts Foundation, Destin Ballet Conservatory and the Dreamcatcher Vocal Performance Studio.
"We're hoping to make a virtual show of the winners or perhaps roll that into our annual music and wine event if we achieve some sense of normalcy this year," Baty-Herbert said.
Until then, the OAA encourages everyone to support the arts in any (safe) way they can.
"Even if you can't attend an event, the best thing you can do for our artists is to share their shows or art on social media and spread the word," said Baty-Herbert. "Let people know about fundraising opportunities, invite a friend to a class and if you can, consider donating to the OAA. Especially now, we're looking for better, smarter ways to support the Okaloosa arts community."