The Arts Live Here: Terry Galloway
This local multi-hyphenate has no shortage of talents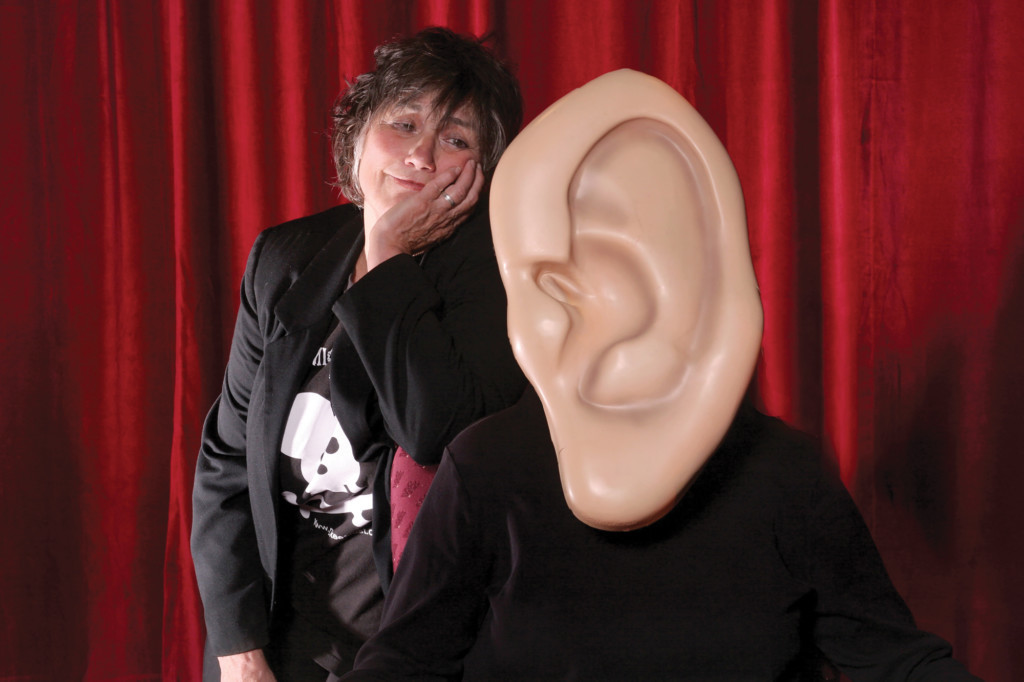 Born in Berlin, Germany, and raised in Austin, Texas, Terry Galloway is a deaf, lesbian activist, writer and performer who writes, agitates and performs.
In Tallahassee, she is known as the cigar-chomping rat who heads up the Mickee Faust Club, the community theater she co-founded with her wife Donna Marie Nudd.
In Austin, she is known for her solo performance work and her cross-dressing roles at Shakespeare-at-Winedale and at the Esther's Follies Cabaret.
You can find her memoir Mean Little Deaf Queer, about growing up deaf, queer and "just plain weird," in bookstores and on Amazon.com.
WHAT IS NECESSARY FOR YOUR CREATIVE PROCESS?
Boredom. And then as it worsens, the company of jolly, weird friends who say unexpectedly funny things. Finally, really expensive champagne.
WHAT FICTIONAL CHARACTER WOULD YOU LIKE TO BRING TO LIFE AND MEET?
Mary Poppins. From the book, not the movie. She reminds me of my "nanny" in Berlin. Scrawny, way too tricky and more than a tad scary.
WHAT MUSIC IS PLAYING IN YOUR CAR?
Well, now that I can hear again, I switch from channel to channel listening to anything and everything. I love listening to Sirius Willie's Roadhouse for country music and to the jazz/ blues channel.
Ray Price, Patsy Cline and Muddy Waters are favorites…and opera. Because they are making an opera out of one of my solo shows and I need to be prepared, I discovered I love opera — and hip hop and rap because of all those shared Shakespearean rhythms.
WHAT IS THE LAST BOOK YOU READ THAT HAD AN IMPACT ON YOU?
I've been re-reading a bunch of the old books that guided my life: Rebecca West's The Fountain Over Flows, Joyce Cary's The Horse's Mouth, and The Autobiography of Malcolm X.
But the one I just started reading that is really seducing my brain? Chess for Beginners.
IT'S TIME FOR DINNER; WHERE ARE WE GOING TO EAT?
Good old Cabo's. Or Sahara. Or Reang Thai, especially for their homemade ice cream. Or come to our house — my wife Donna Marie makes a great Vietnamese noodle dish, and I'll furnish the champagne!
IF YOU WERE TRAPPED IN A TV SHOW OR MOVIE FOR A MONTH, WHICH WOULD IT BE?
Killing Eve or Dr. Pimple Popper. I love murder and pimples.
WHAT SUPERPOWER WOULD YOU LIKE TO HAVE?
I have it! After most of a lifetime being deaf, I can hear again! I feel like I have dog ears. Every sound seems super keen.
WHAT HAVE YOU LEARNED FROM FAILURE?
That I hate failing. I HATE failing, and will do anything not to fail again. Including not doing anything ever again that remotely resembles what I've failed at.
WHAT DO YOU HOPE YOU WILL BE REMEMBERED FOR?
That I tried to stand up to bullies every chance I got.