Teching it Outside
New devices, conveniences leave the house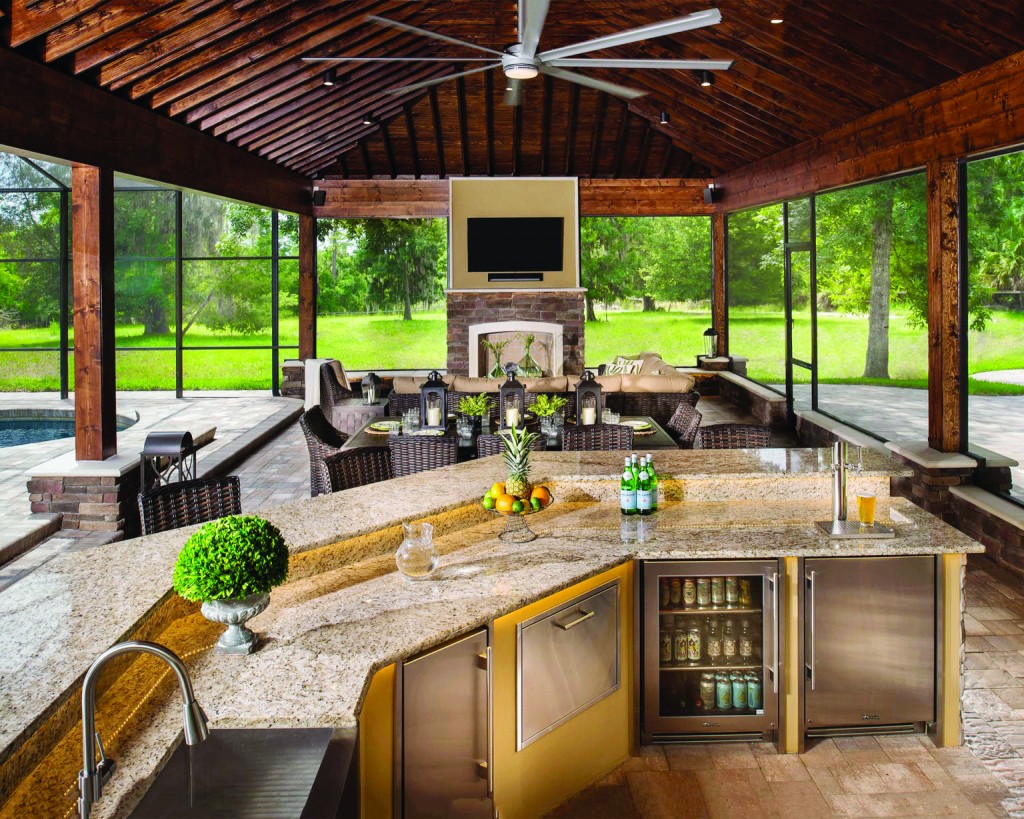 With smart tech invading every corner of the house, it was only a matter of time until it spilled outside. Tempting us is all sorts of gear to help us make the most of time off in the backyard. That includes fun stuff like Wi-Fi grills, TVs that can stand up to a hurricane and speakers that will keep us dancing, as well as practical stuff like robotic mowers and watering systems that cut down on drudgery.
The tech trend could have a lot to do with the fact that 82% of homeowners now say they want to update their outdoor living spaces. Along the Emerald Coast, that means a lot of action at Bay Breeze Patio in Destin, where Wayne Paul is the hero of grill master wannabes.
Paul, who presides over an armada of grills and outdoor kitchen appliances, likes to pass on his know-how. He stages Eggs on the Beach cooking competitions, for example, an idea that stems from his own love of grilling. He grills at home almost every day, and why not? His 1,400-square-foot outdoor kitchen would inspire anybody to get cooking. The kitchen boasts a large Fire Magic Gas Grill, a Big Green Egg and a Memphis Pellet Grill to accommodate all sorts of menus and cooking styles. Under the granite counters, there are three True refrigerators, an ice machine and a dishwasher.
There is also a vent-free outdoor propane fireplace, a 65-inch television, and enough dining and seating areas to host a crowd. In fact, Paul and his wife Susan host charity events in this space, including Destin Charity Wine Auctions.
Smart cooking gear
Paul is enthusiastic about technologically enhanced grills. "When a grill is armed with Wi-Fi, you're no longer tethered to it," he said. "You can be out on the golf course or at the office. Since these grills are controlled from a Smartphone, you can do the cooking from anywhere."
He declares himself a big fan of the Memphis Wood Fire Grill.
"Its versatility and state-of-the-art technology make it a superb choice for backyard chefs," he said. "It combines four separate cooking techniques: grilling, wood fire searing, low and slow smoking, and convection baking. So it has you covered, from pork chops to pies, from burgers to banana bread."
And then there's the Big Green Egg, a favorite along the Emerald Coast. "It'll do it all," Paul said. "From ribs to pizza, holiday dinners to desserts. It's versatile and simple to use, offering so many cooking options, all working remotely via an app."
Want to go further than a grill? Then you might consider a pizza oven. A wide range of pizza ovens, fired by wood or gas, are on the market. They can be pricey, costing thousands of dollars, but there are more affordable alternatives says the American Barbecue Association. Gozney's Roccbox pizza oven is one of those. It's portable and operates using either wood or gas, pumping temperatures way up to 900 degrees Fahrenheit, producing your favorite pie in about 60 seconds.
The Backyard Party
Want to go further than cooking? Then consider a beer dispenser to get the party going. Kegerators that will give your deck pub flair are made by companies like GE, KitchenAid and Frigidaire. They are small fridges that hold and dispense entire kegs of beer.
And what is a party without music? Built-in speakers controlled by a smartphone will do the trick.
You need lighting, too. Joseph Rey-Barreau of the American Lighting Association recommends high-tech lighting systems controlled by apps.
"They can add any kind of lighting, from functional to romantic," he said. "Think of creating special effects, such as highlighting a gorgeous tree or dialing up moonlight even on a cloudy night."
But probably the most wanted item on the backyard list is a TV. Techies rave about the SunBriteTV, which is designed to withstand rain, dust, humidity and extreme temperatures, all while offering images that are 50 percent to three times sharper than indoor TVs.
Drudgery busters
If taking care of a lawn isn't your idea of weekend fun, technology is here to help. A robotic mower could be the answer. Since they are battery-powered, they're so quiet they can work at night, and they'll do that automatically if that's the schedule you set. They cut the grass in random paths, but reviewers say they come close to 100% coverage.
Units that can handle a half-acre lawn runs about $2,400, and if that's too pricey, there are now Uber-inspired services. You create a profile on the apps of such services as Mowz or Green Pal and schedule a mowing.
You can also get your smartphone to handle the watering of the garden. The Hydrawise irrigation system, for example, is controlled by your phone and keeps an eye on the weather. An affordable option is Edyn's smart garden system, which monitors soil nutrients and features a plant database.
More tech is coming, of course, so keep the smartphone charged.
TAKE THE COURSE
Danver outdoor kitchens offers two online courses through the AEC Daily website, aecdaily.com. "Outdoor Kitchen Design with Stainless Steel Cabinetry" provides an overview of designing safe, functional outdoor kitchen and living spaces. It addresses types of cabinetry, kitchen components and outdoor kitchen design principles and considerations. "Outdoor Amenity Space Solutions for Hospitality, Commercial and Multi-Family Applications" reviews trends in outdoor amenity spaces in hospitality, commercial and multifamily developments with a focus on the use of stainless steel cabinetry in outdoor kitchen design. Included are discussions on outdoor kitchen components, mobile food and beverage service carts and the post and panel system developed for multifamily applications.