Taste of the Race
Walton County chefs dish on award-winning recipes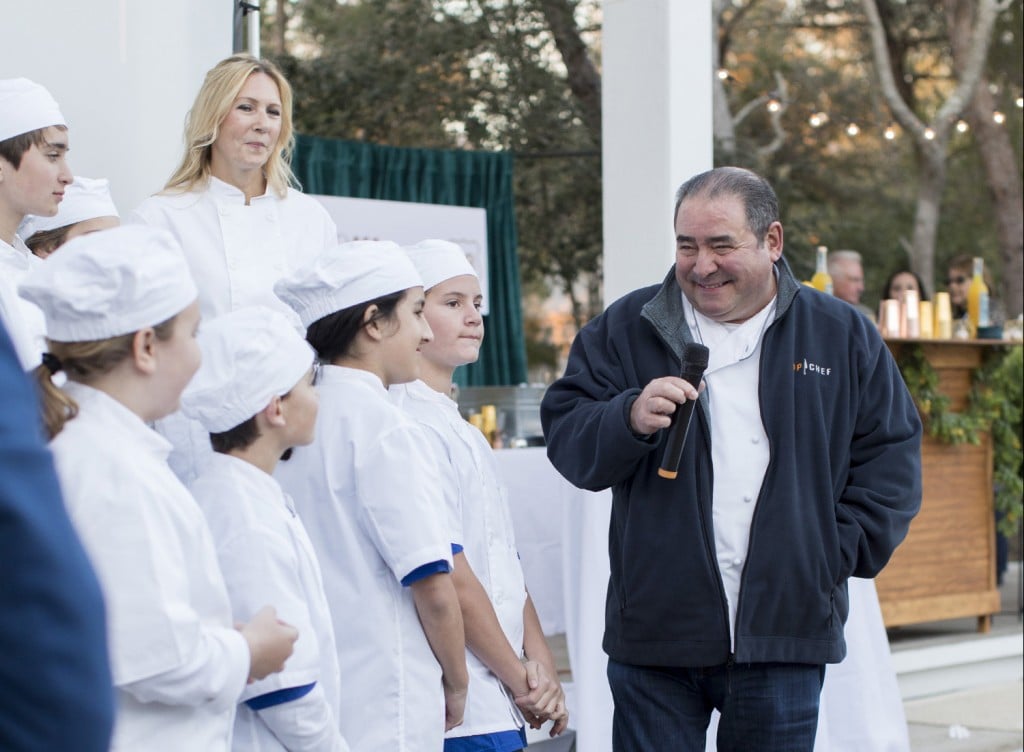 They huddled beneath patio heaters in February at the Taste of the Race pre-event party leading up to the 18th annual fundraising Seaside School Half Marathon and 5K. Despite the chill, 20 local chefs' hearts were warmed as the Seaside Neighborhood School conducted a "press conference" with one of their heroes, Emeril Lagasse.
Students from the school's culinary program passed around a microphone and peppered the Man of BAM! with prepared questions about sweet versus savory snacks, why frog legs as table fare are more acceptable than snake and, perhaps most importantly, "Should parents, like, maybe sometimes let their kids eat dessert first?"
"Why not?" Lagasse replied. "As long as you eat your main meal, I'm not opposed to it."
For the chefs, the student-Lagasse interaction was a welcome reprieve in the course of a frenzied day spent preparing hundreds of samples for consumption by tasters in the Taste of the Race awards competition, which was part of a race weekend that generated more than $600,000 in donations benefiting Seaside's two charter schools.
"Being a chef is a really fun job," Lagasse said in response to a question. "I love what I do. I wake up every day knowing that when I go to work, I'll be able to create and make people happy."
Partygoers made executive chef Todd Rogers of The Pearl Hotel a winner. His braised beef short ribs (see recipe at right) earned the People's Choice Award. Amici 30A Italian Kitchen's arancini and meatballs won the Chef's Choice honor.
"We're a very rustic, make-everything-from-scratch kind of Italian restaurant," said Amici 30A chef Manolack "Lock" Vongsouvanh, a Laotian native who, in his youth, immigrated to a Lebanese/Italian neighborhood in Utica, New York, and fell in love with international cuisine. "The meatballs are our No. 1 selling small plate at the restaurant."
The recipe, developed by Amici co-owner Amy Corchis, is so closely guarded that a written, in-house copy doesn't exist. But Vongsouvanh was willing to share a few pointers on how to make meatballs at home.
"When making meatballs, we always use day-old bread, as one always should," he said. "We grind our own cheese to the right size and consistency to ensure that it melts."
Choice meat and fresh herbs, onion and garlic are key.
"As a team, everyone from the front of the house to the back tastes our food and supplies their opinion," said Vongsouvanh. "They tell us if there's too much salt or not enough, if anything is missing. This honor was entirely a group effort and means everything to us."
"Our culinary community came together to make the 2020 Taste of the Race our best one yet," said Rick Helfand, chairman of the Seaside School Foundation, in a prepared statement. "The outpouring of donations and selfless participation from our local restaurants, chefs, sponsors and volunteers has a substantial and direct impact on the Seaside Neighborhood School's culinary program. We definitely have the most delicious event on 30A."
People's Choice Award Recipe
Braised Short Ribs with Truffle Oil – Executive Chef Todd Rogers, The Pearl Hotel/Havana Beach Bar & Grill
Ingredients
8 long bone thick beef short ribs

1 tablespoon kosher salt

1 tablespoon fresh cracked black pepper

3 ounces blended olive oil

1 large white sweet onion

3 carrots

4 ribs of celery

6 cloves of garlic

2 large sprigs of rosemary

1 bunch of thyme

4 fresh bay leaves

1 bottle red wine

1 quart demi-glace

3-4 ounces truffle oil
Instructions
Clean and dry the beef ribs, removing excess blood or fat; season well with salt and pepper. Using heavy duty cast iron, heat the oil to a smoking point, and sear fat side down. Using a spoon, baste the inside of the ribs with hot oil until caramelized. Remove short ribs from pot and rest, then add the mirepoix (onion, celery, carrots), deglaze with red wine, add demi-glace and add herbs. Place short ribs back in braising liquid, cover and place in oven at 250 degrees for six hours. Remove from oven and let cool in its own liquid until room temperature. Place ribs meat side down in a 3-inch deep pan, cover with braising liquid that has been strained and refrigerate overnight. Take the braising liquid and place in a pot. Reduce slowly by half; finish with a soft whole-butter swirl. Then taste. Serve the ribs on Yukon mashed potatoes, risotto, polenta or grits. Finish with a few drops of truffle oil on top of the ribs.