Swampy Tonk & Other Mud Music
You don't have to work on Maggie's farm no more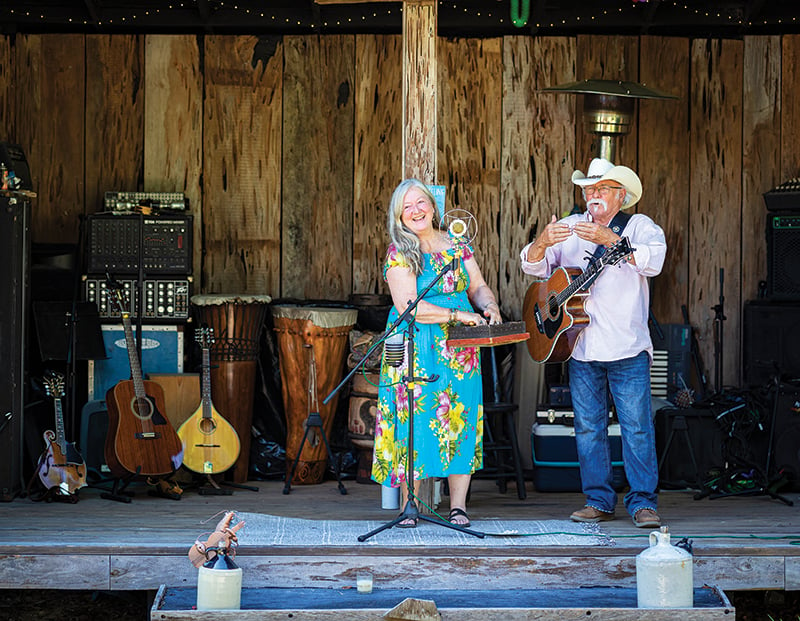 Maggie McKinney has tried growing just about everything on her Bay County farm. She's planted watermelon, cucumbers, tomatoes, peppers and even yin yang beans.
Located in the Sand Hills near Econfina Creek, the farm sits high on a limestone ridge where, McKinney said, the soil is too sandy to grow much of anything outside of a raised bed.
But on Maggie's Musical Farm, the crops that feed your soul are different.
"I always like to tell people that here we are growing musicians one song at a time," Maggie said with a laugh.
From a rustic stage adorned in pecky cypress, Maggie and her husband, Mike, have welcomed hundreds of musicians to their farm over the past five years for afternoon concerts they call "Americana Cafe Sundays." The stage is a short walk away from the 140-year-old farmhouse the McKinneys call home.
Accomplished musicians themselves, Maggie and Mike are better known as Lucky Mud. They play a mix of what they call Swampy Tonk and Folkabilly, music that worms its way out of the Florida soil and tells you a story. The duo has toured the country and played shows in Ireland, the British Isles and Nova Scotia. They have recorded 17 CDs.
"We have been playing music onstage for so long that if you walked in and heard us playing, you might say it's a country band, two songs later you would say it's a blues band or later a folk band. We change it up a lot; it's mud music," Mike said.
The duo is booked "in perpetuity" as Maggie describes it, at Patches Pub in Panama City Beach for St. Patrick's Day, given their repertoire of Irish folk music.
The Sunday sessions are informal and look more like a family reunion than a concert. The stage faces a pavilion called the Hotangle where a mix of chairs, loveseats, stools and one big couch await the audience. (Get there early if you want the couch.)
Rules are simple, but Maggie is pretty strict with them. You better silence your phone and shut your trap. Dogs are welcome, and donations are encouraged.
It's hard to get past Maggie without her giving you a hug. She's 70 and smiles at you like she has known you for years. Mike wears a cowboy hat and sounds a little like Willie Nelson with less twang. Together their voices blend as smooth as the Irish whiskey Mike likes to sip after a show.
The farm attracts musicians with a story to tell. Most are singer/songwriters, so you don't hear a lot of cover tunes. Many have made the rounds playing clubs and restaurants where their music can easily become lost in the background.
"I have bands from town who love to come out here because they know they can play their own music, and people will listen to it," Maggie said.
Panama City resident Andre Childers is one of those performers who played in teen clubs and bars on the beach in the past. At 71, he is a regular attendee and occasional performer on Maggie's stage. He's come a long way from the first guitar he got from his grandfather.
"It only had one string," he said.
On a Sunday in late spring, Childers belted out a couple of John Prine classics before he moved into an upbeat tune he called Longbranch. He wrote the song after watching an episode of "Gunsmoke" with fake gunslingers.
To Childers, having an audience that listens to your music is everything.
"This place is out in the boonies, but it's really unique and all about the people. Once you start coming out to the farm, you keep coming," he said.
Bob Bronar made the trip down from his family's farm in Alabama to play a set. He's played folk and music festivals for years and plays with a regular band where he is comfortable in the background playing guitar. Maggie says he is one of the best.
After three songs where he was out front and center, Bronar was relieved to be done and quick to describe what playing at the farm is like.
"It's intimate," he said. "You are really close to the audience, and you can see people's faces so you connect with them better."
Michael Roth moved from New Mexico to Panama City recently and calls Maggie and Mike his guardian angels.
"They took me under their wing when I got here," he said. Roth credits the couple with connecting him to the local music crowd.
Like the others, Roth is complimentary about what it's like to play at the farm. His set included a song he wrote called Homeless Sky. The audience seemed glued to every word.
"You are asking a lot of an audience like this," he said. "But that is what makes the farm so special."
Roth said that at Maggie's he has gotten to know the audience and is comfortable onstage even though he says he is "not a performer." He has played around Nashville, and sometimes that crowd can be like facing a firing squad, he said.
Maggie and Mike know a little about Nashville, as well. They spent seven years in Music City in the '70s with dreams of making it as songwriters. Mike worked a number of jobs, including groundskeeping. Maggie started out sorting fan mail for Country Music Hall of Fame artist Ronnie Milsap. Mike took care of his yard.
Maggie would eventually move up to become Milsap's personal secretary where she was witness to the inner workings of how the music business operates in Nashville. And it wasn't pretty.
"The business controls — it has to control," she said. "Independent music started because people wanted something different, and they didn't want to be told what they did and didn't like." For her, the control in Nashville was something "I just railed against," she said.
"Independent music is almost word of mouth; it's like an underground railroad," Maggie added. "The network being created has nothing to do with the business. It's one person passing on a favorite singer or songwriter to another person."
The couple left Nashville disillusioned and headed back to their native Florida. Their daughter, Sasha Sox, had just been born and the couple didn't want to raise her in Nashville.
Maggie had met Mike years earlier when he was stationed at Tyndall Air Force Base. Mike grew up in Dade City and a shared love of music, poetry and politics, which drew them closer together.
The two drifted apart for three years, and Maggie ended up selling flowers on the streets in New Orleans for a while before Mike came back into her life. She was 19 and he was 25 when they married.
The farm is not the couple's first music venture. They have organized shows at the Martin Theatre in Panama City and Roberts Hall in Lynn Haven. The shows at the farm started out as informal gatherings with friends like Lynn Haven resident Charlotte Moreau.
"We would just sit in a circle around a firepit sharing songs," she remembers. She would bring her dad who loved to join in the singing.
Mike will tell you the best thing about hosting shows at the farm is that he can just walk out his front door and be there. He built the stage with the help of several friends in 2018, and it took a hit from Hurricane Michael but never lost a board.
The shows at the farm are popular with snowbirds and a number of regular attendees who yearn for storytelling music. The farm also serves as a campground where spots can be booked through Hipcamp. Shows usually take place between September and May.
After finishing their set with Spring Yodel, Mike and Maggie make the rounds with hugs. Dean White, who claims to be the fan club president, makes sure he gets his hug from Maggie.
"I'm not saying Mike and Maggie are the king and queen of local music," he said. "But they are the fairy godmother and godfather for a lot of musicians around here."
---
» To get more information on Americana Cafe Sunday shows and other appearances by Lucky Mud, check out their website at LuckyMudMusic.com.