Summer Dishes Sizzle Into The Fall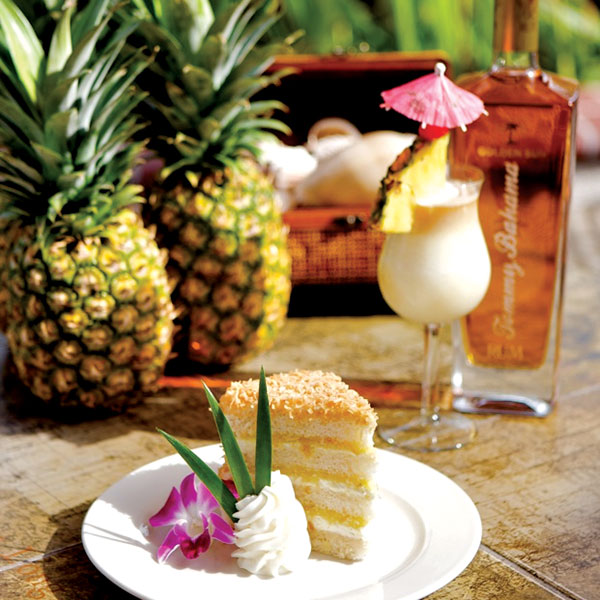 Summer may be fading, but thank goodness the menus along the Emerald Coast shine on. Try these tempting bites to liven up your fall season.
Piña Colada Cake
Courtesy ROMONA ROBBINS PHOTOGRAPHY
Appetizer 
Bubba Gump Shrimp Company Restaurant & Market, Destin
Run like Forest Gump to scoop up a bowl of Mama Blue's Shrimp Gumbo. This version has a rich buttery brown base filled with Andouille sausage, fish and shrimp over rice and fresh scallions. Life might be a box of chocolates to Forest, but it's certainly easier to deal with after a savory bowl of gumbo. $6.99.
Lunch 
Cheese Burger in Paradise, Destin 
If you love wings like we do, you can ease your calorie conscience with this Buffalo Chicken Salad. This delicious salad is packed with flavor, but won't pack on the pounds. It is served with crispy buffalo chicken on top of a fresh salad mix of cucumbers, celery, buffalo asiago cheese, wontons and grape tomatoes tossed in blue cheese dressing. Yes, this salad will take you to paradise. $9.99
Dinner 
Beach Walk at Henderson Park Inn, Destin
Once you stop drooling over the Gulf view, you can turn your attention to the mouth-watering menu. We enjoyed the Pepper Crusted Yellow Fin Tuna entrée. It features black crusted sushi-grade tuna steak, seared rare with braised baby spinach in a soy ginger sauce. Life tastes better at a beachfront restaurant for sure. $29
Dessert
Tommy Bahama's Restaurant & Bar, Miramar Beach 
Tommy Bahama's promotes its brand by saying "life is one long weekend." One taste of the restaurant's signature dessert and you'll feel like life is one long tropical vacation. The PiÑa Colada Cake is a light, moist vanilla layer cake with Myers Dark Rum, chopped pineapple, white chocolate mousse and toasted coconut. This is what a vacation should taste like. $10