Stitches in Line
Net builder outfits 'chunkers and throwers'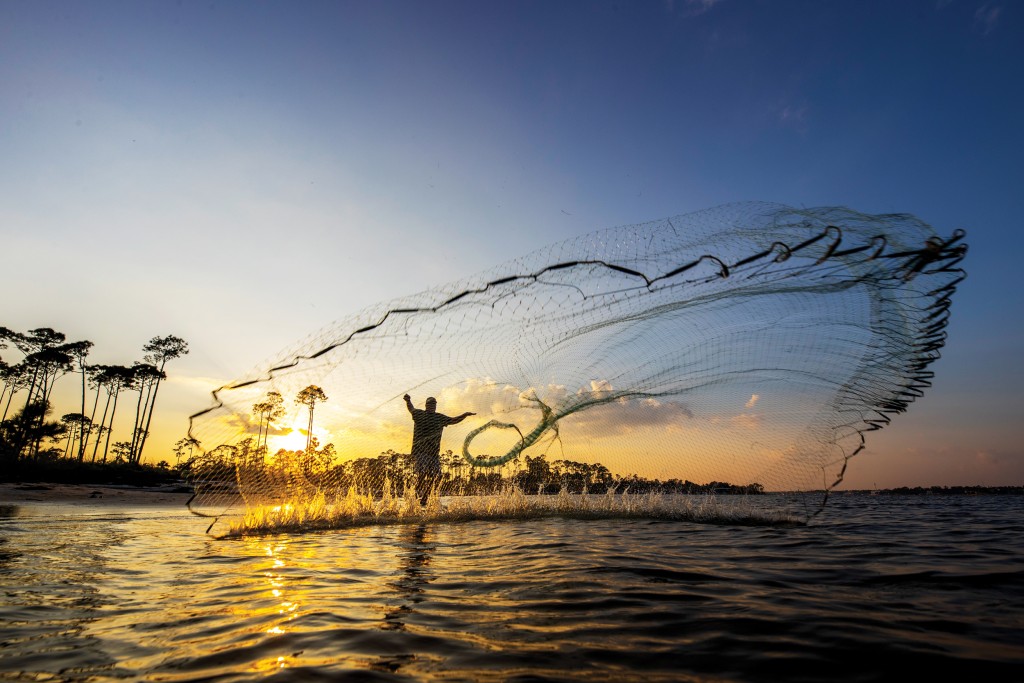 "I'll tell you why," he said. "You go out there and you work yourself to death, and you may catch a mess of fish and you may not. You take a cast net down to the bay, and you can for sure catch a mess."
McNeil, born during the Great Depression, grew up among people "who, if they hadn't had a cast net, wouldn't have had nothing to eat. They didn't have no chart telling them what was best to eat. They weren't counting calories. What they was looking for was anything that would stretch the wrinkles out of their bellies."
Crab, mullet, oysters, blue jay, it didn't matter.
McNeil recalls sitting on his grandfather's lap and snacking on chicken feet and pig's tails. His great grandfather died of pneumonia in a Pensacola jail after being charged with murdering U.S. marshals who destroyed his moonshine stills. As pre-teens, McNeil and his older brother Walter bought their school clothes with money made from selling minnows at the St. Andrews Marina for 35 cents a dozen. Tough times.
"Today is the good old days," he said.
Willie McNeil Jr. learned how to throw a cast net by his father's side. As Daddy's namesake, he was the favorite son. In decades since, cast netting has been for McNeil a recreation, an avocation and the means to a delicious end.
"Ain't but one fish that is better eating than a mullet," McNeil said. "Ain't but one."
He paused for effect and said, "And that's another mullet. Right time of year, your tongue will come out of your face trying to eat 'em. They're goooood."
In that assessment, McNeil has good company. Bob Jones of Tallahassee, the retired long-term director of the Southeastern Fisheries Association, would rather dine on mullet than grouper. Offered Isaac Holmes of Callaway, "I'll make you some mullet, and you'll be throwing rocks at red snapper."
McNeil, of Panama City, prefers his mullet fried.
"Some people like 'em smoked or they put 'em on the grill, but that doesn't do it for me," he said. "Smoked fish can be good, but a mullet don't make the best smoked fish. Most people don't know it, but the best smoked fish is bluefish."
No fish is more closely tied to a cast net than the mullet, seen by a New York Times correspondent in 1876 to be the "staple article of the diet of the crackers."
In late September, great anticipation among cast netters about the annual mullet migration to the Gulf begins to build. Each year, Andy Poole of Panama City is among the afflicted. Poole, known to close friends as "The Cobra," joined in a cracker-barrel style conversation with McNeil and a writer in McNeil's net-building workshop.
"I have a friend who is a charter boat captain, and he says they are starting to bunch up in Grand Lagoon," Poole said with excitement in his voice days before this year's run started. Too, Poole had heard from another friend, a game warden, that massive numbers of freshwater-tolerant mullet were concentrated near the headwaters of the Choctawhatchee River in Alabama. He theorized that they were pushed up there by storms Sally and Laura.
To breed, mullet must exit bays or sweet water and enter the Gulf of Mexico. At sufficient depth, water pressure makes it possible for them to expel roe, something they could not do in the shallows.
"A mullet can't just lay an egg," McNeil said.
Strictly vegetarian mullet fatten themselves before they head offshore and then suspend eating about two weeks before departing the shallows; they do not resume eating until they return.
"When they get back, they'll be as skinny as a tent peg," McNeil said. "A head and not much else."
"In late summer and early fall, a mullet will be as best as he'll be to eat because he has fat and oil in him," Poole said. "By the time they get back, the oil goes out of the meat."
About the desirability of mullet roe, opinions vary. McNeil finds that red roe tastes like a "mouthful of sawdust," and he has never sampled white roe.
"But there are some who dearly love roe," he said. "My son who works with me in the shop loves red roe. And my mama did. When you fry it, a roe sack will pop and you need to be careful that the oil doesn't burn you. I've seen sacks fly right out onto the stove."
As a young man, McNeil found that he was highly particular about his cast nets, so he began to make his own. Fine tutors were at his disposal. He grew up around nets. Uncle Asa was a seine boat captain. His father Willie was a weekend netfisherman who worked at Arizona Chemical, where Willie Jr. also would work for 42 years.
"Difference was, Daddy would catch little dabbles of fish," McNeil said. "Asa wouldn't do that."
McNeil began making nets in the days before monofilament. Working with a mesh gauge and netting needles and proceeding one knot at a time, he knitted them from nylon. Building nets today involves cutting panels from bolts of monofilament material and stitching sections together.
"That way, you can make a pile of them in the time it takes you to knit one," McNeil said. He has made more than 3,000 nets in his lifetime, "and I build every net like I was building it for myself."
Nets purchased from large sporting goods outlets are machine-made overseas. They don't pass muster with McNeil or his customers.
"They don't throw as good," he said. "They don't spread as good. And they are bulkier than what I make. When you wade fish, you don't want a heavy net because you have to throw it a long ways. Standing on a seawall or a bridge, you use a heavy net because you want it to sink real fast."
McNeil and Poole divide cast netters into two categories: chunkers and throwers. A chunker, like a deer hunter in a tree stand, chooses a spot such as the Hathaway Bridge in Panama City, waits for mullet to pass by and then tosses a net on them. A thrower wades in after them.
McNeil is a thrower, as was Poole in his day.
"You don't have to have a boat to mullet fish," Poole said. "And you don't have to wander out into waist-deep water. Right along the shore is fine. I went to a spot in St. Andrew Bay called '21' after work the other day and caught enough for supper and some that I gave to Bill.
"You have to know what to look for and what they like. They like some beaches better than others. It's got to be calm enough so that you can see the fish. Sometimes, you'll see their tails like redfish, and sometimes all you see is their little white lips. You've got to have a good pair of polarized sunglasses."
And, Poole advises, be prepared to put your catch on ice immediately. The ice, he said, "pulls the oil into the meat."
There was a time when McNeil promoted his handmade nets on a fishing show hosted by Red Holland. He did not renew his advertising contract.
"Brought me too much business," McNeil said. "When I retired at 60, I was 40 nets backed up."
At 83, McNeil has begun to think about giving up netmaking. Pouring lead for the weights that pin the net to a bay bottom has become difficult. His son helps out with that.
Demand for nets, however, remains strong, McNeil said. There is an opportunity for someone with the patience for painstaking work, someone who will take care to make sure that weights are uniformly spaced along the lead line and that the net is balanced just so.
I asked McNeil if he thinks eating a lot of mullet is a key to longevity.
"Well, I don't know," he said, and added, laughing, "My brothers ate a lot of mullet and they're all dead."
McNeil's movements are limited these days. In the morning, he may let his wife know that he is headed to the "Far East" — by that he means the eastern wall of his shop. He fell a few years back, breaking ribs and damaging internal organs.
"They went to failing," McNeil said. "One night, they didn't think I was going to make it through 'til morning, but of course they didn't tell me that. I remember that night well. I was hallucinating. Every time I would start to go to sleep, I would be looking at a blank wall and my daddy would walk out of that wall and reach his hand out, and just as I would almost touch his hand, I would pop awake."
He knows that one day, Willie and Willie will join hands.
Until then, he is sure to keep messing with nets and offer the best of fishing stories to anyone visiting his place.