Stewby's Seafood Shanty Opens New Location on Okaloosa Island
Stewart Taylor dishes up fresh local fare and continues father's legacy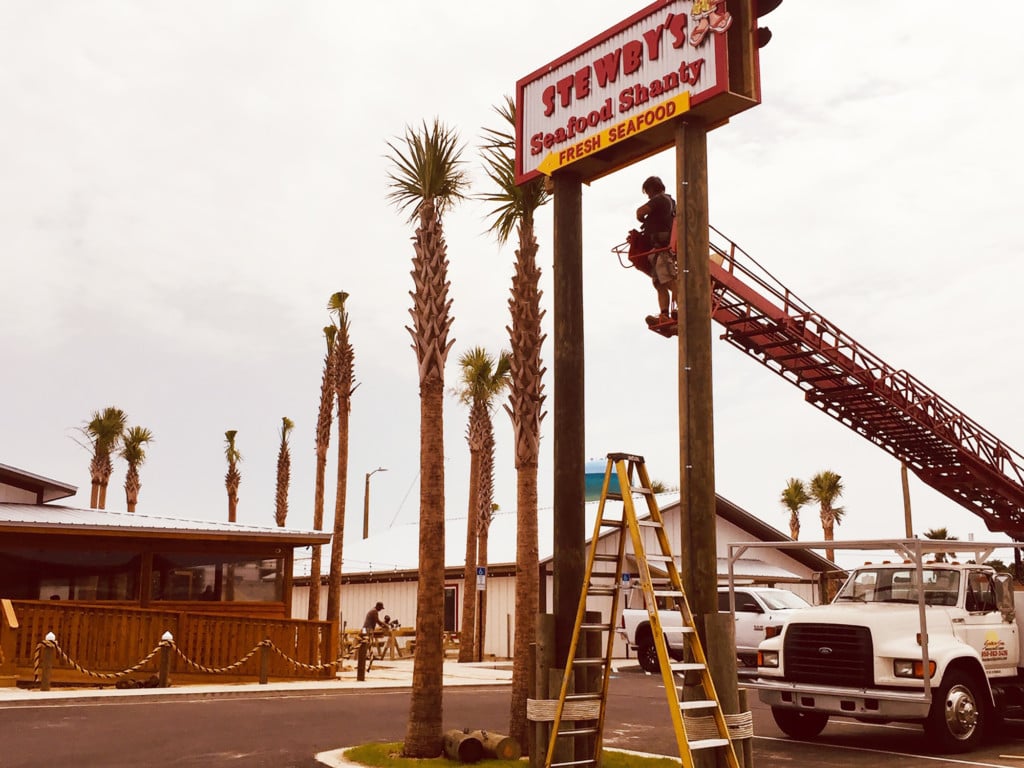 Nothing says beach town like a seafood shanty. Every beach town worth their (sea) salt should have one.
Soon, Okaloosa Island in Fort Walton Beach, Fla., will boast one more when Stewby's Seafood Shanty opens its doors Fourth of July weekend.
"Our owner, Stewart Taylor's vision is to take what we what we have at our original location (427 Racetrack Road N.W.) and expand it with a fresh look," general manager Trey Brixey says.
The shanty is painted a crisp white with red trim, a silver metal roof and wooden decks. There will be 18 tables offering both indoor and courtyard dining while seating approximately 150.
That's nearly double the size of the original location, which means 35 to 40 new local jobs.
Next to the restaurant, a second building will house a fresh seafood market to the left and a gift shop to the right.
Local and visiting seafood lovers can purchase Stewby's-branded sauces, grilling seasonings, merchandise and "grab-and-go" prepared meals, such as shrimp and pasta salad.
The restaurant is modeled after a former family restaurant called Sam's Oyster House, established in the 1960s by local Sam Taylor, which was originally located at the foot of the Brooks Bridge under large live oak trees (where the Paradise Shopping Center is now).
At the time, it was the "go-to" seafood restaurant in town for locals and visitors alike.
You could argue that Sam's paved the way for most of the seafood restaurants in Fort Walton and Destin today. "Most are modeled after Sam's casual atmosphere and menu, however these restaurants don't have what I have, and that is my father's vision — and most importantly his recipes," Stewart Taylor says.
Stewby's is a casual, takeout and dine-in seafood restaurant concept that offers affordable, local seafood. This continues the tradition set by Taylor's father, Sam.
"We are going for a laid-back, island-friendly vibe," Brixey says. "It's OK if you are in your swimsuit, you are welcome to enjoy a great meal and then head back across the street to the beach."
Stewby's serves up Sam's recipes, including seafood gumbo (clearly a fan favorite) and Brixey's personal favorite the shrimp "Sam-wich" — fried shrimp on a sesame roll with coleslaw, tartar sauce and a side of fresh cut battered fries.
And thanks to relationships fostered by Taylor over many years, Stewby's sources its fish from local docks in Destin and other neighboring counties.
What you won't find at Stewby's is alcohol. But that is fine with Brixey. "We don't serve alcoholic beverages, but that just means that we are even more family friendly. It's always family first with us," he says.
Stewby's is not just another new beginning for the Taylor family.
Brixey, 36 and a trained chef who worked on the opening culinary teams for Ruth's Chris in Destin and PF Chang's in Miramar Beach, is looking forward to relocating back to the Emerald Coast from the Dallas area to raise his 12-year-old daughter and put his 20-year food & beverage industry experience to work.
"I wanted to a job that allowed me to focus more on my family," Brixey says. "Stewart is an unbelievable person in how he is as an owner, how he treats his staff, his vision and carrying on his dad's legacy. It's a great story all the way around, and I'm excited to be a part of it."
But don't expect this former chef to stay out of the kitchen. "I'll still be in the kitchen, because I'm not a clipboard-style manager," he says. "I'll be hip to hip with my team making sure our customers have the best experience they can."
Brixey is hopeful the new location will open its doors for a soft preview by the July 4 holiday weekend.