Stay Cool, Look Cool
McNeill Palm specializes in shading solutions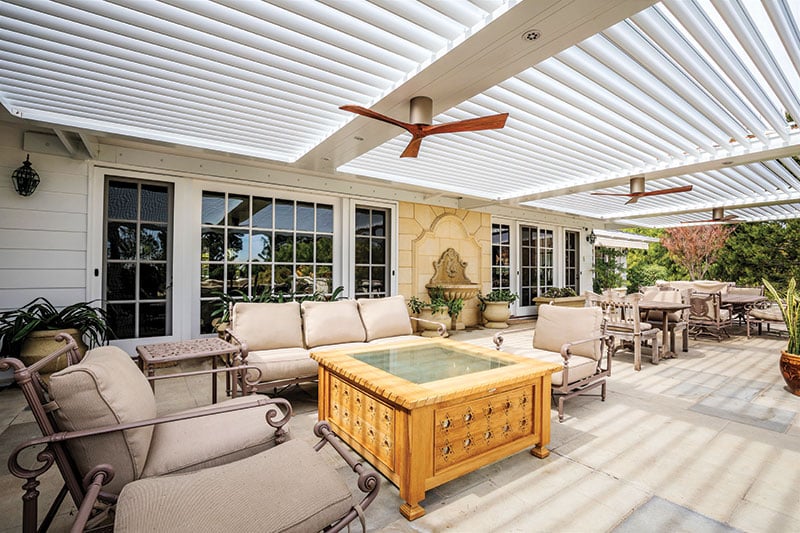 In Florida, we have a sunshine state of mind. Yet sometimes the sun's rays can interfere, creating harsh light and too much heat. For over 45 years, McNeill Palm has specialized in shading solutions for both your indoor and outdoor lifestyle.
McNeill Palm's priority is your  enjoyment and comfort of living, whether that be controlling the light in your den when watching a movie or providing shaded spaces to enjoy your morning coffee or evenings with friends. The products and installations available through McNeill Palm put you in control of light, heat and glare all in great style.
To maintain indoor comfort, they offer customized shades, panels, shutters and draperies with limitless options of design and functionality. For outdoor appeal and purpose, shutters, shades and motorized pergolas are their specialization.
Managing director of McNeill Palm, Brenda Hamrick, is uniquely qualified to create both indoor and outdoor solutions. As a skilled interior designer and licensed general contractor, she merges her knowledge of design and construction to produce options that are aesthetically pleasing, functional and align with each customer's needs. 
Pergolas are particularly popular, but these are not the wooden structures that let in heat and weather. They are motorized louvered pergolas that keep the elements out in a multitude of ways. Once rain is sensed, the louvers automatically close while the drainage system carries the water away. Meanwhile, the wind sensor opens the louvers when the wind reaches a certain mph, allowing protection to the StruXure in high wind conditions. Add the automated weather screens, and you have the perfect outdoor environment for family enjoyment and entertaining.
"Pergolas allow you to create an expanded living space that can be a shaded or enclosed area — available for a variety of activities — to be used 365 days a year," said Hamrick.
Each pergola can be designed to integrate with the architecture of your home and can be customized with features such as embedded LED lights, fans, heaters or air conditioning. All of their products have exemplary warranties.
"Our desire is satisfied customers who return again and again," said Hamrick. "We do this through our expertise in customization, proper installation, products that are well suited to the project and wonderful service even after installation."
McNeill Palm