Spread the Word
Butter boards stake claim as the new charcuterie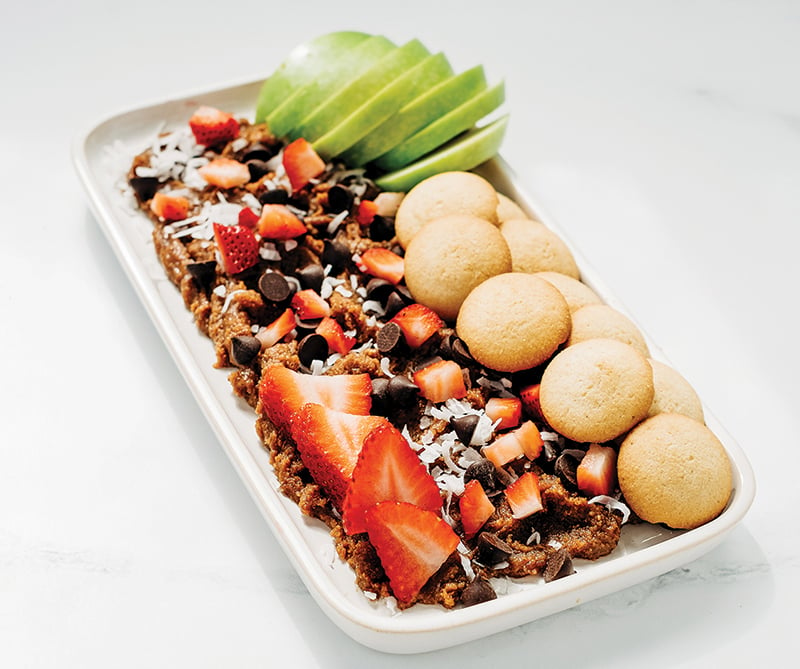 While reading a review for one of my favorite horror author's latest works, I came across the word "wynorrific."
Google failed me as I researched the word's etymology, but unfailingly, the Urban Dictionary was there to save the day.
Its entry describes the adjective as suitable for something both lovely or pleasurable, yet simultaneously horrifying. "You can say something is 'wynorrific' when something is visually beautiful, but you are scared of that very thing," it reads. "You are scared not because of its scale or size, but simply due to its horrific characteristic."
An erupting volcano, for example, is wynorrific. The macabre works of early 19th-century painter Francisco Goya often depict wynorrific, nightmarish scenes.
And then there's the butter board. The internet's latest take on the party platter, butter boards replace the cured meats, artisanal cheeses and the often-neglected dried fruit of a traditional charcuterie board with — you guessed it — calorific slabs of butter.
But butter is just the pallid yellow canvas for elaborate smatterings of verdant herbs and veggies and bright jams and seasonings designed to elevate your next bite of bread into art.
The craze took off shortly after TikTok user and recipe connoisseur Justine Doiron (@Justine_Snacks) posted a clip of herself in what she called "a silly, goofy butter mood," as she spread two sticks of butter across a small wooden slab. Doiron then accents the spread with "tons" of flakey sea salt, lemon zest, slivers of shallot and bright pops of pink and purple edible flowers.
A finishing drizzle of coriander-infused honey made it almost too pretty to eat, but the influencer shamelessly dunked a hunk of warm rye into her creation and claimed, "I love it … it just feels, like, really communal."
The butter board is, undoubtedly, the conversation piece you'll want at your next get-together. For once your guests are over the initial shock and horror of god-knows-how-much lard spread across a plank, they'll take that first bite and bond over their heightened cholesterol and the vacation their taste buds are taking to Flavortown.
Of course, I had to try this phenomenon for myself. But, as a consequence of "going viral," butter board recipes are a dime a dozen, with hundreds of would-be chefs determined to put their own spin on the trend.
One formula spices things up with Sichuan peppercorns, chili oil, scallions and crunchy bits of fried garlic and nuts for texture. Another is suited to the sweet tooth, with rivulets of honey, maple syrup, brown sugar and cinnamon.
Then, there's the best of both worlds: trays featuring figgy jam, goat cheese and freshly chopped sprigs of mint and basil.
I opted for that happy medium, combining several methods for the sweet 'n spicy spread of my dreams with garlic, red pepper flakes, Parmesan and honey, then pulled out all the stops for this one and splurged on two sticks of Kerrygold Pure Irish Salted Butter.
Before you get to sculpting, you'll want to make sure your butter is soft and malleable. My extensive research suggested the best way to lay the foundation was by cutting off around a tablespoon at a time. Then, using a cheese knife or the back of a spoon, smoosh little "petals" across your board. It's aesthetically pleasing, and your accoutrements can pool into the little craters you created to bring on that dip factor.
I heated a thin layer of olive oil on the stove and sauteed my garlic, red pepper flakes, honey and cheese into a thick sauce. Finishing my board was as simple as distributing the blend across the butter, sprinkling an extra layer of Parmesan over the top for good measure and toasting a pre-baked French baguette until it was nice and crunchy.
Remember, whether you choose pita chips, naan, crusty bread or crackers to accompany your masterpiece, it is only a vehicle for that sweet, sweet butter.
It was upon grabbing my third slice of bread that I conceded, "Maybe TikTok was right this time."
Partly disgusted, but mostly delighted, I embraced the wynorrific.
---
Coconut Almond Butter Dessert Board (pictured; top)
A sweet treat for 2–4 people
Ingredients
» ½ cup almond butter
» ¼ cup powdered sugar
» ¼ cup heavy coconut cream
» 2 tablespoons coconut flakes
» strawberries
» apple slices
» vanilla wafers or favorite cookie
Instructions
Combine almond butter, powdered sugar and heavy coconut cream until smooth. Spread onto board like frosting on a cake. Top with shredded coconut, chocolate chips and diced strawberries. Serve with your choice of sliced apples and crunchy cookies such as vanilla wafers.
---
Hot Honey Garlic Butter Board
Serves 1–6, depending on how self-destructive you're feeling
Ingredients
» 2 sticks salted butter
» 2 tablespoons olive oil
» 2 to 3 tablespoons minced garlic
» 1 to 2 tablespoons red pepper flakes
» 2 tablespoons grated Parmesan cheese
» 2 tablespoons honey
» 1 spring onion, green tops finely chopped (optional)
» 2 tablespoons roasted peanuts, crushed (optional)
» Crusty bread or crackers
Instructions
Allow butter to soften to room temperature. Distribute, one tablespoon at a time, into even "petals" across a standard wood cutting board or mini charcuterie board. Heat skillet of olive oil over medium heat. Add garlic, and saute for a minute, then add crushed red pepper, Parmesan and honey. Mix until thickened and saucy. Drizzle mixture over butter. Top with more Parmesan, roasted peanuts and scallions if desired. Serve with choice of bread, crostini or artisanal cracker. Enjoy!
---