Sonder Project Reaches Out to Storm-Ravaged Neighborhoods
Volunteers help in strengthening communities and foraging relationships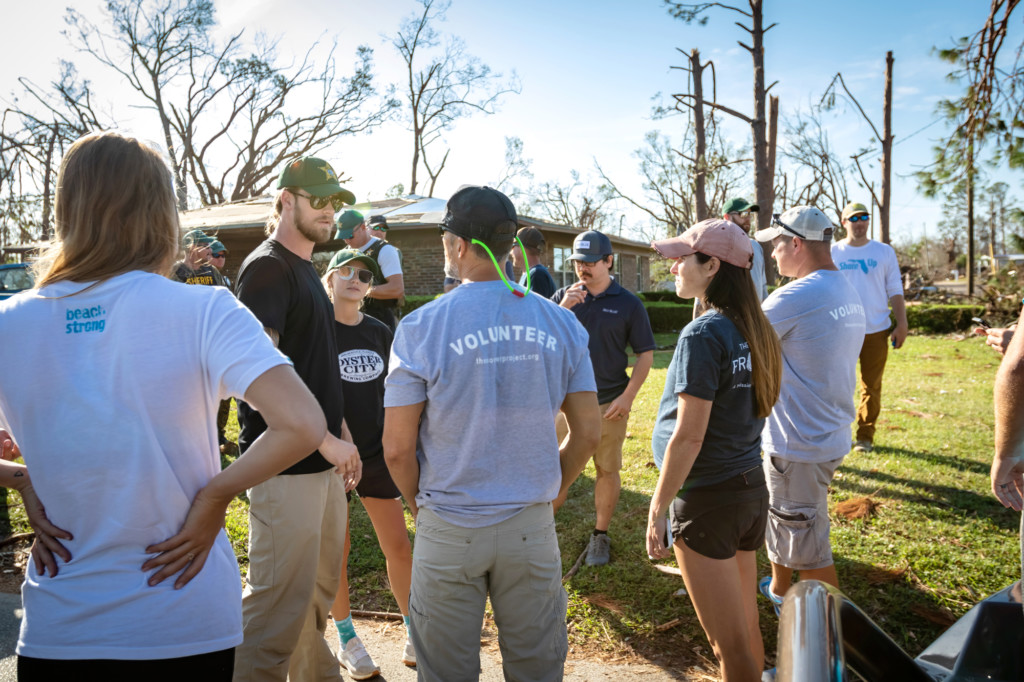 The starfish parable is one that Ashley Horsley, co-founder of the Sonder Project and the CEO of 360 Blue Properties in Santa Rosa Beach, had often reflected upon when overwhelmed, be it in poverty-stricken West Africa, or the impoverished American cities in which she volunteers.
Then, last Oct. 19, nine days after Hurricane Michael transformed the Northwest Florida landscape, Horsley, in her own backyard, felt like a grain of sand in a sea of destruction as she surveyed what the storm had wrought and tried to lend a helping hand.
"As we moved further and further east, I kept thinking, is this the worst of it?" Horsley wrote in a Sonder Project blog entry. "Could it possibly get any worse? It did. It looked like an atomic bomb had gone off or like tornadoes had come through and torn everything up. Entire state forests were flattened. Signage and entire businesses destroyed. I couldn't help but think that recovery was going to take years and years."
At the end of the day, Horsley and 25 other volunteers tarped roofs and cleared the yards of eight homes in the Springfield and Millville areas of Bay County while also engaging in more personal gestures. They witnessed a woman reunite with her lost cat, Feisty, and furnished her with food for her pet. Horsely paused to spend time with an elderly woman who was in her car seeking refuge from the sun.
"It was so overwhelming, I just had to remind myself that for those eight people, our effort was life-altering," Horsley said. "I know we're not going to be able to go in and fix everything, but I think if we take it one step at a time, we have the ability to effect change."
Horsley has been working to make a difference in the lives of others since since 2014, when she and her business partners, brothers Jeremy and Jason Sprenkle, and employees of YOLO Board and The 30A Company, formed a committee that makes contributions to deserving organizations.
"As things began to evolve, we only grew more passionate," Horsley recounted. "We started writing books together, and we really wanted to ensure we were making an impact that strengthened communities, whether they were ones just outside our own, or on the other side of the world."
As for the latter, the Sonder Project has focused efforts in Burkina Faso, one of the poorest countries in West Africa. Though initially focused on building schools, the Sonder Project soon realized that, without access to clean water or food, no one could focus on getting an education.
"We started a community farm initiative where we take 11 acres of land, install an irrigation system, drill wells and put major agricultural plots into villages," Horsley explained. "We have food available for consumption in the village, available for resale into the market and to provide nutrition for the schools. It's a long-term, sustainable investment."
Back at home, Sonder's community garden projects combine with organizations such as Food for Thought to make fresh produce available to financially strapped families and improve their eating habits.
Given its history of supplying food, water and shelter, the Sonder Project was inundated with calls for help post-Michael. It helped that 360 Blue, a vacation rental company, has ready access to maintenance materials, trucks, trailers and all the required waivers.
"We immediately started asking the EOC (Emergency Operations Center), Bay County commissioners and first responders what they needed," Horsley said. "And those needs have evolved, as they often do in emergencies such as these. We've been very fluid as far as our approach goes."
At this writing, Sonder Project teams are traveling to Bay County Monday through Friday. Some days are devoted to distributing fuel and personal hygiene products. Others may involve serving thousands of hot meals from an impromptu soup kitchen. Country music star and Grayton Beach resident Brian Kelley of Florida Georgia Line has been an especially active volunteer.
Kelley, who operates a Santa Rosa Beach clothing store, the Tribe Kelley Surf Post, with his wife Brittney, also initiated the "Sonder Challenge," making a $5,000 contribution toward hurricane relief, and others to follow suit.
Many have. Businesses including Bontemps Interiors and The Henderson, as well as Jack's Beer and Burger Joint in Birmingham, Alabama, were quick to pay their $5,000 forward. The Destin Charity Wine Auction Foundation (DCWAF) donated $21,447 to the cause. The names of good Samaritans, both familiar and inconspicuous, appear on the growing list of donors at TheSonderProject.org.
As of November, the Sonder Project had collected $365,000 toward a $500,000 goal. The hurricane was estimated to have resulted in $4.5 billion in property damage, but the half million will make a real difference to the people the Sonder Project reaches.
"I don't think I've ever seen or experienced anything that has brought a community together quite like this," Horsley stated. "A lot of good has come out of something so awful."
In addition to dealing with the physical devastation, communities are mourning their lost sense of home and belonging. Horsley said the Sonder Project made it a priority to try to establish some normalcy.
It sponsored a Halloween party in Millville's Daffin Park, where children decorated pumpkins, enjoyed bouncy houses and danced the Monster Mash. Over 200 pies were donated by community bakeries and distributed door-to-door (and tent-to-tent) on Thanksgiving. And, in the spirit of an angel tree Christmas program, the Sonder Project adopted families victimized by the storm.
"My grandparents taught me to understand that everyone has a story," Horsley shared. "That's what sonder means — the realization that everybody is living a life as complicated as your own. All the donations from the community, the work that volunteers have put in and the wishes of support we have received make me want to be a better person and find more ways to give back."
So it is that Horsley and company will keep picking up starfish as best they know how.