So Much More than Co-workers
I am surrounded by people who inspire and guide me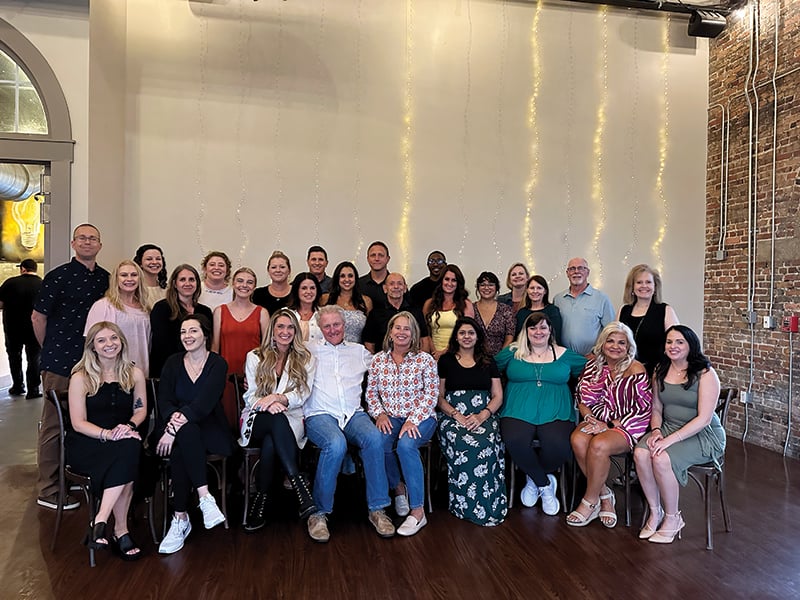 Butterfly theory embraces the notion that even a tiny action, such as a monarch flapping its wings, may set in motion a series of events that can affect the world at large — not as a matter of direct cause and effect, but instead, something like a ripple effect.
In our own lives, casual interactions or chance meetings lead to major changes affecting our paths and outlooks. It is impossible for us to know and appreciate fully the impact our relationships have on the course of events, but we can easily name the most influential people we have encountered.
At Emerald Coast Magazine and Rowland Publishing Inc., I am surrounded by beautifully impactful people. Our purpose is to inspire, educate and support the communities we serve. Professionally and personally, I strive to conduct myself in alignment with that goal.
In May, Rowland Publishing held its first in-person, full-staff meeting since before COVID-19 arrived to rock our world. Day to day, our employees, with few exceptions, work remotely. Four of them live outside Northwest Florida and three of them out of state, an option that permits them to live closer to family and see to the most important relationships they have.
Our recent gathering enabled some of our folks to meet fellow Rowland Publishing employees face to face for the first time. For others, it was a chance to reconnect with colleagues whom they had missed seeing for years. Going forward, we plan to hold such gatherings annually.
The meeting was intentionally focused on connection, strengthening relationships and conducting ourselves in ways that demonstrate our care and appreciation for one another.
As I looked around the meeting room, I was filled with pride and appreciation. I have been working at Rowland Publishing for over 16 years. More than half of our employees have worked for the company for 11 years or more. Melinda Lanigan is approaching her 24th employment anniversary, and Rhonda Murray celebrated her 21-year milestone this year.
These people are more than just co-workers. They have supported me, guided me, inspired me and, from time to time, have been brutally honest with me in ways that caused me to grow. I trust and honor their opinions and perspectives. We share our company's core values, which enable us to manifest our vision and conquer challenges.
Those values are:
We hold each other and ourselves
to high standards.
We are dependable.
We have a positive attitude.
We have a growth mindset.
We do the right thing.
We have flexibility when things
don't go as planned.
We are courteous and compassionate.
Consistently behaving in accordance with those values requires discipline and commitment, but honoring them always yields the best decisions in the long run. We are celebrating our 25th year of publishing Emerald Coast Magazine, and we look forward to 25 more years of serving you as a window into your community.
I dedicate this column to the people responsible for the great work you experience via our magazine, website, newsletters, social media platforms and events. These individuals get going when times are tough. They are leaders within our organization and in their families and communities.
In particular, I will single out our leader and visionary Brian Rowland. He had the guts and foresight to start a publishing company in 1990 and continues to evolve as a person and professional year after year.
He has the ability to see the big picture yet is not afraid to get his hands dirty with the small stuff. He has a heart for the people in this company and his community. He goes out of his way to make a stranger's day. I am grateful that 17-plus years ago, Lori Yeaton, who now serves as our eastern division sales manager, invited me to an event where I met Brian and the Rowland Publishing team. That invitation from Lori was the first in a continuing series of events that have profoundly affected my life's journey.
I am grateful for each of you, our readers, advertisers and supporters. We have big goals to meet and an exciting vision for the future. I thank you for trusting us and supporting us along the way.
Much love,
McKenzie Burleigh, Associate Publisher
mburleigh@rowlandpublishing.com
---
P.S. Please make plans to attend our signature event, the Best of the Emerald Coast Winners Soiree, on Oct. 12, 2023, at Grand Boulevard at Sandestin. Together, we will celebrate the businesses that you, our readers, voted as the "Best" our area has to offer. EmeraldCoastMagazine.com/bestofec