Skylar Capri becomes TikTok sensation
How a viral video jump-started her music career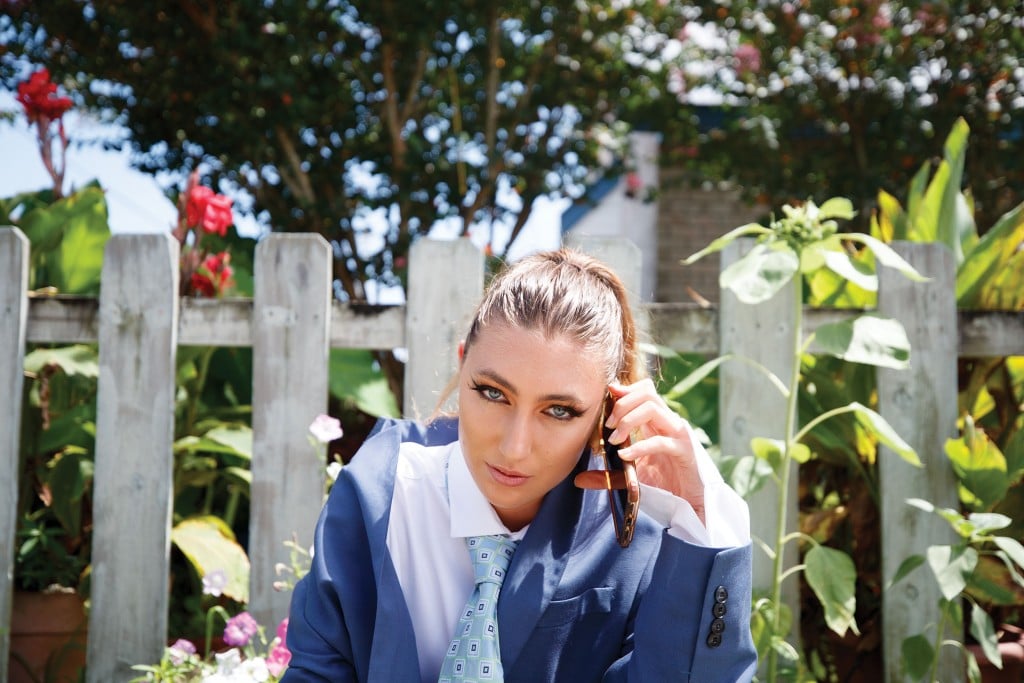 I
n her junior year at Niceville Senior High School, Skylar Capri made a promise with Keno Manuel.
Capri yearned for a career in music, while Manuel aspired toward professional videography. That day in art class, the friends swore if they ever seriously pursued their prospective fields, they would collaborate on projects.
Today, the dream has been realized. As of the summer of this year, the pair have produced video accompaniments for Capri's songs Wax Lips, Right About Us, Maybe We Should Run Away From Here and debut single Sway! — an endeavor witnessed by millions on the popular social media platform, TikTok.
The Sway! video, which includes dreamy, neon scenes from Destin diner Mary's Kitchen, also features Capri and friends dancing before a gradient wall collage made up of thousands of pastel paint chips.
"I woke up one day and opened TikTok's explore page to find this hashtag trending," Capri said. "People were posting about someone or something they'd never forget from these crazy scenarios. I thought, well, the weirdest thing I've ever done is make this giant, art wall collage of paint chips for Sway!, and I could never forget the Home Depot guy who made it possible."
Capri said she didn't think much of posting the behind-the-scenes footage, which included the solicitation of paint samples from said "Home Depot guy" and their later assembly. But, by the end of the day, the video had accumulated over half a million views. By the end of the week, seven million.
Now sitting at around 18 million views, the viral video has been a career booster in earning Capri a broader following. For Capri and other creators, views equal validation, a sign that people are taking one's craft more seriously.
But, Capri said, the notion of consistently showing up on social media every day was a bit daunting. "I only say that because, from a creator's perspective, I want to just create and do, but artists today are asked to do so much more than that," she said. "But I'm so happy for that because it's taught me so much about the fullness of the industry and how multifaceted we can be as artists."
Too, the experience taught Capri to appreciate social media as a vessel of opportunity. One of the more exciting things to come out of going viral, Capri said, was the exposure she gained from an interview with People magazine. With a new, built-in audience via TikTok and Instagram, she's been able to experiment with her sound and receive instant feedback.
Capri describes her genre as "alternative dream pop," but said many of her songs defy categorization. They live in their own worlds, but all retain a signature Skylar flair.
At this writing, Maybe We Should Run Away from Here is Capri's latest single. It's the upbeat, top-down convertible type of tune you'd belt out with your friends on a road trip.
Wax Lips, meanwhile, centers around a relationship dissolved by lies. Over poppy, synthetic keys and an alt-rock beat and bassline, Capri sings, "Rose-colored glasses down Fifth Avenue, you had wax lips, babe, I never had a clue."
"I grew up listening to '60s and '70s music from my parent's record collection, so people like David Bowie, John Lennon and The Beatles inspire me," she said. "I always admired the way they used their artistry to influence people and create these new spaces for people to love."
Today, she draws inspiration from any artist who's doing something different. She looks to pop singers such as Lorde and Olivia Rodrigo who are genre-disruptors, blurring the lines between radio-friendly fodder and indie works.
As Capri began releasing original music just last year, and she's still figuring herself out. Posting experimental song covers and snippets of raw, original works on TikTok, she said, has been a fun, yet challenging way of doing so.
"I think it takes a certain boldness to just be like, 'Hey guys, here's this unedited thing I came up with two seconds ago, what do you think?'" she said. "On TikTok, you never really know what's going to take off or totally bomb, and I think that's beautiful. It's all about experimentation."
While we can't expect an album just yet, Capri said to look out for more singles in the months to come. She's currently in "writing mode," taking trips to Nashville to record new music and likely visiting Manuel, who now lives there as a full-time videographer.
Capri plans to join him one day in moving to Music City, or perhaps she'll venture farther west to Los Angeles, she said.
"It's been the most thrilling adventure to see me and Keno grow into what we used to dream about as high school kids," Capri said. "This is really my job; I'm creating music and playing concerts at the venues I've always wanted to.
"I'm thankful for people like him and this whole community for believing in my dreams when they were nothing. Now it's becoming something, and I'm so grateful."
SWAY!
Skylar Capri's debut single, SWAY!, has amassed nearly 200,000 streams on Spotify alone since its release, having been featured on Spotify's editorial playlist, Soda. Her music unites and transcends pop and alternative pop, resulting in unique melodies with distinctive velvety vocals. SWAY! is accompanied by a choreographed, vintage-theme music video. Capri handled direction, casting, set design and costuming for the video production along with videographer Keno Manuel.