Sipping and Savoring in SEASIDE®
Town introduces five spots to try this summer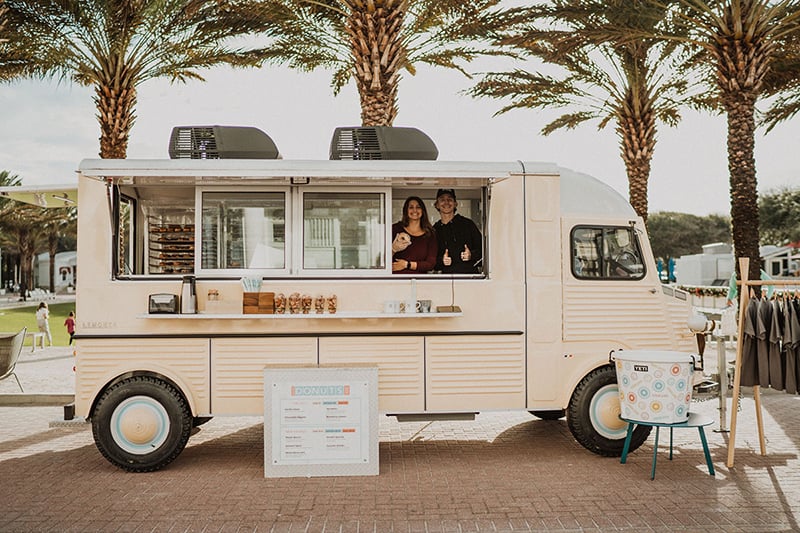 New to SEASIDE® are five dining and imbibing options that vacationers and locals alike would do well to place on their must-visit lists.
For 30 years, people have come off the beach at SEASIDE® to refuel and cool off at Pickle's Burgers & Shakes. Now, as an extension of Pickle's, Sandbar is offering handcrafted cocktails, wine, frozen drinks and ice-cold beer.
"Locals and guests can now enjoy the toes-in-the-sand, cocktail-in-hand beach bar experience that SEASIDE® has been missing," said Courtney Fields, operating manager for The Dawson Group, which owns Pickle's Sandbar and five additional SEASIDE® restaurants.
In less than a year, Sandbar went from concept to reality. It's a place where kids can play in the sand while adults order drinks from the bar, watch a game on TV and add a cheeseburger from Pickle's to a slice of paradise.
Another watering hole and dining addition is Daytrader, a tropical tiki bar featuring a Polynesian-inspired menu. Chef Nikhil Abuvala and SEASIDE® president Micah Davis envisioned a dining concept that would cause people to chill.
"We are hoping to give people a chance to slow down from their busy lives and to truly savor beautiful, clean, fresh and delicious food along with an incredible handcrafted cocktail made with freshly squeezed juices and beautiful garnishes while soaking up the vibe of thoughtfully selected tropical-themed music set against the stunning backdrop of the Gulf of Mexico and its breathtaking sunsets," Abuvala said.
Abuvala brought about some of the area's most frequented dining spots, including the award-winning Roux 30A and Nanbu Noodle Bar. He looks forward to taking your tastebuds on vacation and serving up libations in retro glassware.
Chef Jim Shirley has brought his love of Southern-style food, particularly fried chicken, to SEASIDE® with the addition of The Chicken Shack.
"Jim loves the opportunity to showcase Southern food culture in SEASIDE®, particularly as the geographic diversity of guests continues to grow every year, and some might not be as familiar with true Southern food," said Madison Shirley of Jim Shirley Enterprises.
The Chicken Shack features a walk-up window where families can order buckets of fried chicken with options ranging from original fried chicken to tenders to tikka masala.
The Container Bar, affectionately known as C-Bar, shares a seating area with The Chicken Shack and menu items from Great Southern Cafe are also available. The bar is housed in an upcycled shipping container that accounts for its name. It features a walk-up window making it possible for people to enjoy a drink in the dining area or take it on a stroll through town.
Seaside's® favorite coffee roaster, Amavida, has embarked on a new venture — doughnuts. Every Friday through Sunday, it serves up sweet treats and freshly brewed coffee from a can't-miss-it bus on Airstream row. The menu features the "OG" glazed doughnut and rotating flavors in vegan and gluten-free options.
With an assortment of new options for sipping and supping, summer at SEASIDE® has become all the more delicious.
---
---