Shine Bright Like a Diamond
Aqua Medical Spa offering shining new skin treatment — DiamondGlow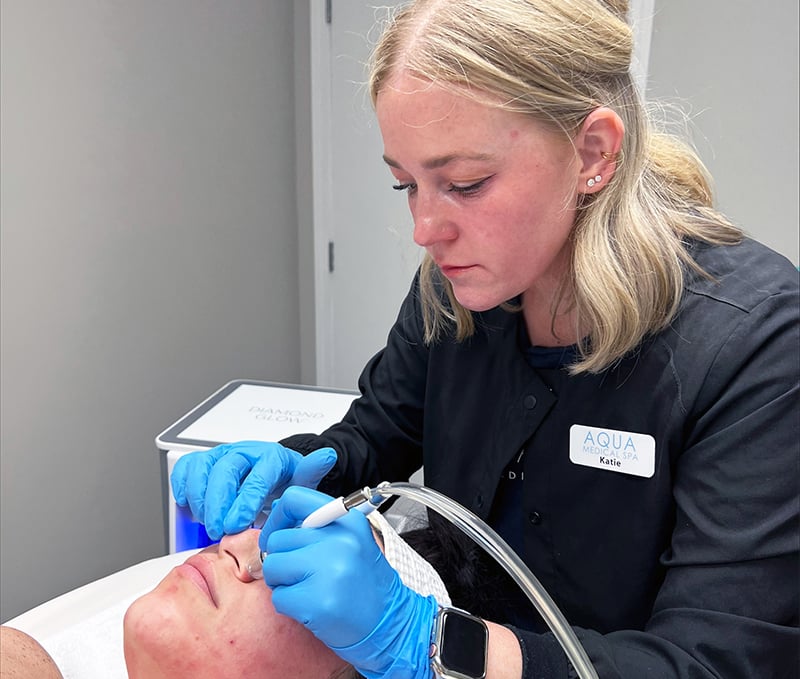 A diamond sparkles and shines, it catches and holds attention — Aqua Medical Spa's DiamondGlow treatment intends the same for your skin. This noninvasive three-in-one treatment simultaneously exfoliates, extracts, and infuses the skin offering immediate and long-lasting results.
Unlike the typical facial that relies on chemical exfoliation, DiamondGlow has a patented recessed diamond-tip wand. The triple-threat technology employs the DiamondGlow dermabrasion device to gently exfoliate to uncover new skin, extracts by removing debris from pores with a deep cleanse and infuses with SkinMedica Pro-Infusion serums that are customized to your skin type.
The SkinMedica TNS Advanced+ Serum enhances tone and texture by targeting wrinkles, fine lines and sagging. SkinMedica HA5 contains hyaluronic acid to plump skin and reduce wrinkles. SkinMedica Even & Correct Advanced Brightening corrects the appearance of hyperpigmentation and dark spots. The Vitamin C+E Complex Serum doses the skin with antioxidants to rejuvenate and protect. A pore clarifying treatment addresses imperfections and acne-prone skin.
At Aqua Medical Spa, a consultation is required to inquire about products used, medications, skin types, concerns and intended results. The aesthetician will help you determine the best serum for your skin.
The entire treatment can take anywhere from 30 minutes to an hour, depending on any added services. For most patients, the treatment begins with a double cleanse. Some patients may opt to add dermaplaning or a steam mask to further extract congestion from pores and loosen the skin. Lastly, the DiamondGlow treatment occurs, leaving your skin feeling bright and new.
Katie Perkins, an aesthetician with Aqua Medical Spa & Dermatology Specialists of Florida, said that the noticeable glow is instant with results typically lasting four to six weeks.
"Clients love it because they walk out with smooth, hydrated, plump and glowing skin," Perkins said.
There is no healing period after the treatment, and the only side effects that occur include redness in the hour following the treatment and the possibility of whiteheads as the skin continues to purge. The treatment is safe for most except those who have severe acne, open wounds or are pregnant.
Falling under the Allergan product umbrella, Alle Loyalty Program points can be used for DiamondGlow treatments. The aestheticians of Dermatology Specialists can help guide patients to a skin care regimen that helps maintain results.
"We want people to leave feeling confident in their skin, love looking in the mirror, feeling like they don't have to wear makeup and feeling good about investing in their skin health," Perkins said.
---
Dermatology Specialists of Florida & Aqua Medical Spa
(850) 659-9393

|

AquaMedicalSpa.com