Consistency is Key in Skin Care Treatments
Keeping a facial and dermaplaning regimen leads to best results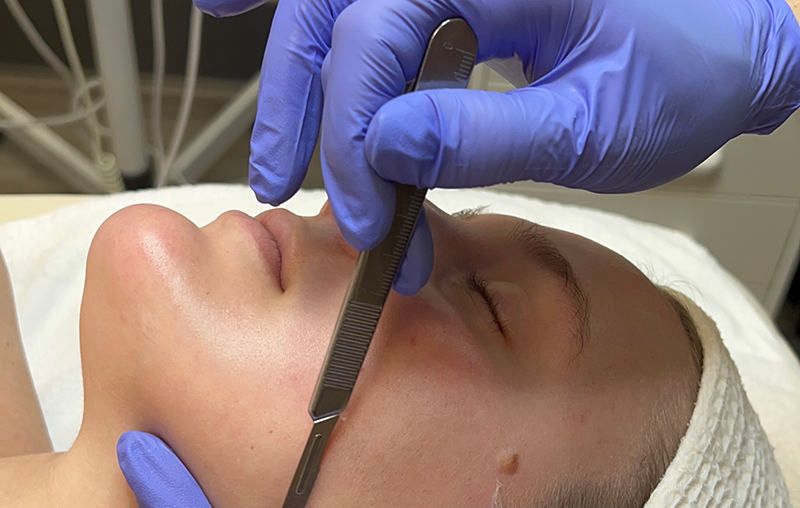 At minimum, washing your face and applying sunscreen should be a part of your daily skin care routine. Doing so promotes healthy habits and optimal skin conditions.
The experts at Dermatology Specialists of Florida and Aqua Medical Spa encourage patients to think of skincare treatments, such as facials and dermaplaning, as part of your overall skincare health routine.
Aqua Medical Spa offers a variety of facials including options for sensitive, acne prone, dry and mature skin. Each treatment is customized to your individual needs, skin type and goals for your skin.
Dermaplaning is another popular option for rejuvenating skin. The minimally invasive procedure involves taking a medical scalpel at a 45-degree angle and gliding it back and forth across the face to lift dead skin cells and vellus hair, also known as peach fuzz.
When done together, facials and dermaplaning are a super effective way to deep clean the skin, opening the pores for skincare products to better absorb and penetrate below the surface of the skin.
"Regular facials and dermaplaning promote the best results because they keep the skin cells turning over and regulating so the skin doesn't lose elasticity," said Dezire'e Weber, an aesthetician at Aqua Medical Spa's Panama City office. "Doing these things consistently keeps skin glowing, and when your pores are clean, your skin encounters less problems."
Dezire'e believes that consistency in treatment achieves the best results. She suggests scheduling a consultation with a licensed aesthetician to determine the best treatment options for you. If scheduling a facial and dermaplane, she recommends every four to six weeks, for best results.
During a consultation, the aesthetician will ask questions and analysis your skin to determine your basic skin type, skin conditions and overall goals. Sometimes, a tool such as SkinCeuticals SkinScope LED machine is used to better analyze skin conditions. Based on this assessment, your aesthetician can recommend treatments and products to help you achieve your healthiest and most beautiful skin.
"When patients keep consistent with their skincare treatments, it's so rewarding to see their faces change and hear their testimonies on how the treatments have made them look and feel better and more confident," said Dezire'e.
Keeping in mind that consistency is key when it comes to skincare, she advises taking part in Aqua Medical Spa's membership program to receive monthly facials, peels or dermaplaning. The membership also includes discounts on products, laser treatments and cosmetic injectables. "I love the results my clients who take advantage of the monthly membership receive. It allows me to see their skin through difference seasons and cycles and, since skin cells turnover every 28 days, seeing them monthly is ideal."
---
Dermatology Specialists of FL & Aqua Medical Spa

|

850-252-4450

|

AquaMedicalSpa.com
---