She's a Pearl
Immigrant jeweler strings successes together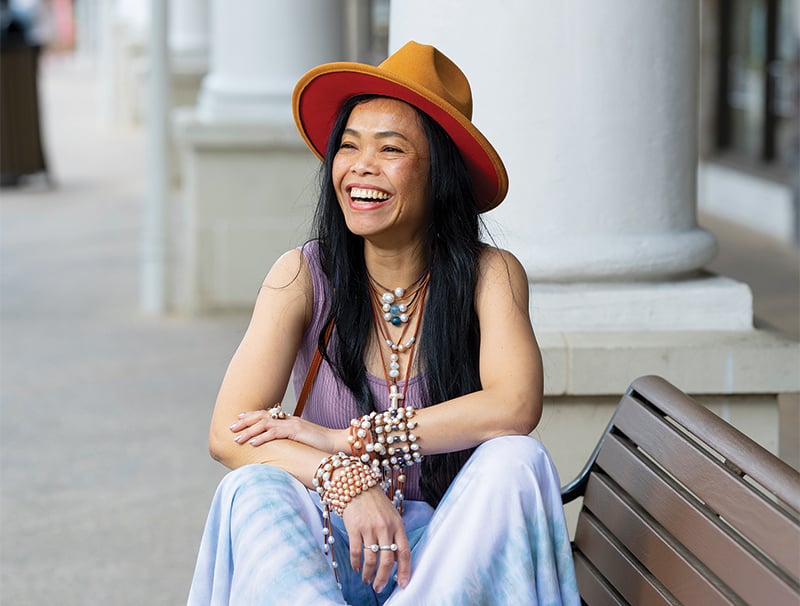 Visiting Qatar, Klara Haloho stood before a colossal fountain sculpture of an oyster and an enormous pearl.
At that moment, she told herself that when she made it to the United States, she would work with the jewels of nature.
Today, she is surrounded by thousands of nature's jewels that she has made part of knotted pearl necklaces, bracelets, earrings and anklets at her Destin Commons jewelry boutique, a business 10 years in the making.
"Life here is maybe too good," mused Haloho, tucking a strand of long, jet-black hair behind her ear. "It isn't lost on me. I am a new American, and I know it is called the 'Land of Opportunity' for a reason. If I do the same work I do here at home, the results would not be the same."
For Haloho, home is in Sumatra, Indonesia, a land of volcanoes known for its coffee bean production. She grew up with seven siblings; her family farmed rice.
"Life was labor," she recalled. "Life was working from morning until dark, shooing the birds away from the rice paddies. We didn't have much, but we lived off the land. There were all kinds of tropical fruits — pigs and chickens, too."
Haloho said women in her family worked the hardest. It was only when her mother gave birth to a boy that she stopped having children.
"In Indonesia and most of the Far East, it is important to have a son so your family's name and legacy may continue," she explained. "But it is the females laboring, and the females keeping the house together, while the boys get away with everything. I feel this is not fair. It is why I decided, as a little girl, I was not going to marry a man from my culture."
Haloho is funny and frank. She speaks English well and with wit and poignancy. Thanks to her eldest sister's financial support, she was the first of her siblings to attend college in the Indonesian capital of Jakarta. Subsequently, each sibling paid the way for the next in line to obtain an education.
"All except the boy!" she said. "He is such a smart kiddo, but he has no interest in college. He said it was not for him."
Haloho studied to become an administrative secretary and called her first position with an insurance company "the most stressful job in the world." Her heart wasn't in it.
"Growing up, I was in love with beauty," she said. "It was all around me in nature, and it could be found in the magazines and tabloids we would sometimes find. I would cut out all the pictures of clothes, jewelry and hair."
Haloho said she began making jewelry in 2010. She watched online tutorials to learn how to string and knot pearls and has been expanding her skills, along with her business, ever since.
Haloho explained the difference between saltwater and freshwater pearl farming and her preference for more durable silk-hybrid and leather cords. Adorning the walls of her store is everything from cascading formal beads to single-studded chokers for everyday wear.
You'll also find handmade, engraved cuff bracelets and colorful, carved animals that Haloho has picked up at markets in Bali, one of her favorite places in the world.
"Bali is special," she said. "In my country, you have everything from where my tribe is to Jakarta, which is busier than New York City. Bali is popular, but it feels traditional. The art is not mass-produced and feels personal. That is how I want my jewelry to be."
Haloho has a perspective on life and the world that many people lack.
"I encourage more people to step outside of their bubble," she said. "I think often about how we humans can be like pearls. We all come from different places, with our own shapes and uniqueness. Yet not in all waters may pearls grow.
"With the water, the climate and even the bacteria, there must be harmony."