She Will Not Stop For Cancer
Relentless Michelle Mecca embodies true grit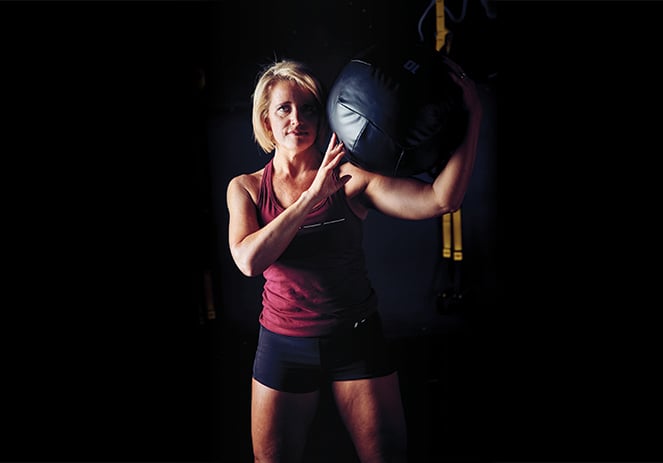 Michelle Mecca of Tallahassee is at a stage in her life where she is of a mind to sugarcoat nothing. She has always been strong, capable of great personal sacrifice in pursuit of ambitious goals and linear in approach. For many years, she did well in a no-nonsense job, that of a loan officer. But today, she looks back on that career and says that it didn't produce one good story. Today, she is working to write a story that will serve her as a legacy and supply others with will and strength. With a deadly co-author — her deadly malignancy — she is working to redefine for people everywhere what it means to fight cancer. For her, that means eating right, working out, thinking right and avoiding, absolutely, self-pity. She is joined in that battle by her husband, Dan, her children, her gym buddies and by a growing number of admirers who have heard her speak and seen her resolve. She does not just stand up to cancer. She stands up and slaps it with her best kickboxing move.
The cure bends her fingers and her toes. It discolors her skin and has erased her fingerprints. She experiences lapses in memory and often loses track of time. She develops lesions on her feet and wraps them so that they do not become raw and blistered. She has problems with her mouth and stomach. Her appetite vanishes. She frequently becomes nauseous and is easily fatigued.
The cure, Michelle Mecca said, can be worse than the disease, and barring the emergence of protocols not part of the science of medicine today, her course of treatment will be lifelong.
Still, Mecca looks good. She appears fit, extraordinarily so. Her movements are confident. And her eyes — oh, those eyes — reflect intensity, determination, interest.
"It may beat me, but it's not going to conquer me," Mecca said of the breast cancer that metastasized to her brain. "I have thrown up at the side of the road, but I keep driving. I have thrown up at the gym, but I resume my workout."
She has been told by doctors to expect a slow decline in her health, but the tumor in her head is stable for now.
The product of a childhood that she describes as difficult, Mecca has about her a toughness that she has productively channeled in multiple ways.
She was a successful bank loan officer accustomed to knocking down six figures. She began training for fitness competitions in 2014 and would place in five shows over a three-year period. In preparation, she hit the gym twice daily, with one session devoted to cardio and the other to weight training.
By the time she competed in her last show, she was undergoing chemo.
No Reason
As of 2017, Mecca was an established and elite fitness competitor — she participated in bikini competitions — and had begun to assemble a portfolio of photos with an eye toward getting a start in commercial modeling. She was a picture of health.
So it was that everyone in her circle was incredulous when Mecca received a breast cancer diagnosis.
"I was shocked," Mecca said. "I had stayed on top of my mammograms. I did everything right. There wasn't any reason for it. No family history. Working out the way I did, I was the last person you would think would get cancer."
About Mecca, her friends assumed the best.
"They thought, 'OK, it's no big deal. They'll get it out,'" Mecca said. "But come to find out, it was a rare, very aggressive cancer (called HER2-positive). By the time they got to it, it had turned into stage 2. I had a double mastectomy. I had lymph nodes removed. I had a port put in."
Too, a scan revealed a spot on her skull. A biopsy came back negative, but Mecca was left for a time with staples in her head. Nonetheless, she clung to her active lifestyle.
"I went to the gym with the staples, and people freaked out," Mecca said. "They were thinking, 'Oh my god, she's going to fall down dead.' I told them to relax, that it was my skull, not my brain."
Mecca underwent targeted chemotherapy for a year and a half. She lost her hair. Now, the motivation for her workouts was different. Cardio helped her withstand chemo. Weight training guarded against atrophy.
In the midst of it all, Mecca, the mother of two boys, came through a divorce. Eventually, she entered remission.
Via mutual friends, Michelle, in 2019, met Dan Mecca, the general sales manager at WCTV, the CBS affiliate station in Tallahassee. Dan was "smitten, very smitten," and the couple began dating. Michelle got him started with a personal trainer at her gym, Momentum Fitness in Tallahassee — "I wasn't physically fit until I met her; I owe her a lot," Dan said. In November 2020, they got engaged.
"I thought cancer was over, and the world would be great," Michelle said. "My oncologist told me not to worry about it anymore."
But Michelle would become symptomatic in new ways.
She cried a lot without apparent cause. She began to have difficulty computing percentages and doing basic math.
"Hysterical crying, hysterical screaming, dropping the f-bomb, I was out of control," Michelle recalled. "Then I started to have these weird symptoms where my right arm would start shaking, and I would have a sensation that felt like my head was rocking."
The episodes would last 30 seconds or a minute. Michelle couldn't account for them apart from thinking that they might be resulting from low blood sugar or stress.
Dan, as it happened, would witness one such episode and insist that Michelle immediately call a doctor. That doctor gave Michelle three hours in which to make an appointment at the Mayo Clinic in Jacksonville. She was experiencing seizures.
At Mayo, Michelle underwent an MRI in the morning. She was to have an in-person meeting with an oncologist later that day but opted instead to receive a phone call during her ride back to Tallahassee.
Dan and Michelle had passed by Downtown Jacksonville and were about to merge onto I-10. The phone rang, Dan said, at 3:21 p.m. on May 28, 2021.
"I think the oncologist didn't want to just blurt it out," Michelle said. "So she asked me to tell her my symptoms again, and I did, and then she said, 'You have a brain tumor.' I was thinking, 'Is she talking to me?'"
The oncologist had been down the hall to speak to world-renowned neurosurgeon Dr. Alfred Quinones-Hinojosa, an immigrant from Mexico who once figured in a Netflix series, The Surgeon's Cut.
Quinones-Hinojosa called just a couple of minutes after Michelle hung up with the oncologist. He explained that the tumor was in a precarious spot, but he was prepared to do surgery within a few days.
Dan and Michelle packed for a weeklong return trip to Jacksonville. A pre-op discussion, testing and mapping were scheduled for Monday. The operation would take place as soon as an operating room became available later in the week. And, the couple had made arrangements to be married at the Duval County Courthouse on Tuesday.
The medical plan changed when Dan showed Quinones-Hinojosa a photo of Michelle at a fitness competition, and the neurosurgeon learned in the pre-op meeting that she was a young, fit woman with two teenage sons. The doctor explained that the surgery would, best case, limit Michelle's control of her right arm and, worst case, would leave her paralyzed on her right side.
Doctor and patient opted for radiation instead.
An Outlier
Gamma radiation sessions were brutal but successful.
"They bolt your head down to a table," Michelle explained. "The only thing that is open are two holes for your nose, and you have to sit there for about 45 minutes. You take a lot of Xanax because it is terrifying. You can't open your eyes if you try."
Dan explained that the 700 beams of radiation that would be used for whole-head radiation were concentrated into a single beam directed at the center of Michelle's tumor.
"I went back for an MRI to see how it went, and when I saw the radiology oncologist, he said he was very surprised," Michelle said.
He had anticipated that more tumors would have developed or that the subject tumor would have grown. He thought that she might experience more seizures due to swelling resulting from the radiation. But none of that had happened.
"We don't usually see this outcome," he said.
These days, Michelle takes 40 pills a day. Twenty-two of them are chemo and anti-seizure meds, and 18 are vitamins and meds that offset chemo's side effects. She sees an oncologist at Tallahassee Memorial HealthCare every three weeks; her hometown oncologist is in regular contact with doctors at Mayo. TMH, Michelle emphasized, is a big part of a medical team that makes her a priority.
At some point, Michelle had to press for a prognosis. The Tallahassee oncologist gave her two years on the outside. An oncologist at Mayo gave her maybe three. But Dan makes the point that the number of women who have experienced breast cancer that metastasized to the brain is small. The sample includes women who may have been morbidly obese, smokers and in their 70s. He sees his wife as an outlier.
So does her 14-year-old son Dylan, a high school sophomore. When Michelle made him aware of her brain cancer diagnosis, she asked him, "What do you think is going to happen to me?"
"He looked at me and he shrugged and he said, 'You'll be fine.' I asked him why he had that confidence and, in his way, he said, 'Because I know you.' That has stuck with me every day, especially when I am feeling overwhelmed."
Michelle's older son, Tyler, is 19 and a sophomore at Florida State. Dan has a son, Angelo, who is 14 and is autistic.
Michelle keeps in mind, too, a conversation she had with a coach as she was preparing for a fitness competition. She was struggling to lose weight, frustrated by the rigors of her training and whining.
"He just looked at me in the eye and asked me, 'How bad do you want it?' That has stuck with me forever," Michelle said.
Even as she is fighting cancer, she is writing a legacy. Her career as a loan officer — she is now on disability — didn't give rise to a single good story, she said, and she is working to compose one now, to redefine what it means to fight cancer.
Her approach is multi-dimensional, carried out on physical, mental and emotional planes. Nutrition, exercise, social interaction and humor are all essential ingredients.
But above all, Michelle advises people dealing with cancer to be their own advocates.
Dan recalls how forcefully Michelle "negotiated" with her doctors in seeking permission to continue to work out.
"They wanted her to do only a half hour of cardio a couple of days a week, and they wanted her workouts not to be strenuous," he said. "She didn't listen and, after she got two or three MRIs and the swelling went down, the doctors said, 'Just keep on doing what you're doing.'"
"Your doctors work for you," Michelle said. "We as patients sometimes look at doctors as almost gods. In some ways they are, but that doesn't mean that they know everything. I always tell people that you don't know what you don't know."
Be tough, Michelle advises, but don't go it alone. She is active with a local support group, Joanna Francis Living Well, and is a member of a Facebook group comprising people dealing with the side effects of the chemotherapy drug, capecitabine. She makes appearances at runs and other events benefitting the American Cancer Society.
"You have to have support," Michelle said. "Bring it about yourself if you have to. It could be your neighbor or your friends. A lot of people feel like they don't know how to talk to people with cancer. I need my friends; I tell them I need them to ask me to go places — even though I have cancer, even though I can't go party and hang out. Being social is part of fighting cancer. Even when I don't want to, I force myself to go."
Michelle knows that she has cancer cells floating around her body. After her breast cancer had been dealt with, they came from somewhere and settled in her brain. She cannot know where they might land next.
"But today, I got up and I felt like I was dressing for the prom. I put on a lot of concealer to cover the bags under my eyes. I know that I look normal, I act normal, but really I am not. I do and say some weird things sometimes. But I don't want to look sick. That, to me, would feel like I am declining."
---
Carrying the Fight to Cancer
» Exercise.
Even when I have bad days and struggle with side effects, I go to the gym and do what I can. If you can't run, then walk. If you can't walk, then crawl. Fight for your life through exercise and moving.
» Nutrition.
I eat anti-inflammatory foods mostly and take many supplements to help offset the damage chemo can do to healthy cells.
» Mentally.
Do what you need to try and be happy. Even when you don't feel well, get up, put on some nice clothes and whatever you feel makes you look good. When you look good, you feel good.
» Socially.
Join support groups. Go to church, and get together with friends and neighbors. Ask your friends to spend time with you, or ask them to go to lunch, or ask them to invite you to events. Don't be embarrassed to ask.
» Grit.
Fight for your life in every way possible. Your life is important.
— Michelle Mecca
---