Shallow Drafts, Shorter Gunnels
Consumer demand leads to boon in versatile boats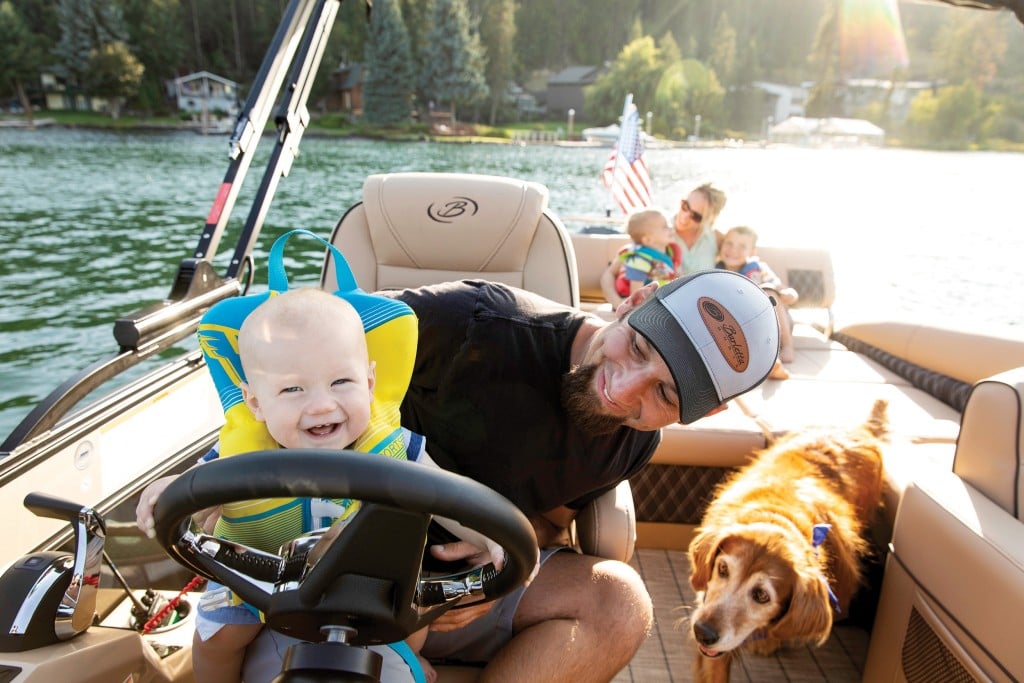 A chief driver affecting the boating industry and boat design in recent years has been consumer demand for vessels that are easily boarded and exited, have shallow drafts and place boaters in close proximity to the water.
Deep-V hulls and big gunnels have gone the way of cringy mustaches and business suits with shoulder pads. In is the kind of boat that fishes well in both nearshore and skinny waters, the kind of boat you can swim up to and easily retrieve a toy or a beer or snorkeling gear from without leaving the water.
Gonzo anglers willing to sacrifice amenities for added fuel capacity so that they can run from the Destin Harbor to oil rigs off Louisiana on a tank of gas are far outnumbered by family boaters who prefer not to leave all the comforts of home on the shore.
Women and children are more involved in boating than ever before, according to Todd Royall, general sales manager at Legendary Marine in Destin. They're not content to operate from stripped-down fishing platforms with a couple of beanbag chairs to relax in.
"That's why you are seeing all these unique seating arrangements," Royall said, "and teak-and-holly floors and beautiful cabinetry and nice enclosed heads and separate showers."
Royall is a boat owner, himself, and has been steadily since joining Legendary Marine 19 years ago. He runs an Everglades 243 center console powered by a 300-horsepower Yamaha four-stroke engine.
"Ultimately, it's a big family cruiser," he said, "but for the few times each year that I can get out and fish, it's a very capable fishing vessel. It has a very shallow draft and a second steering station up top that I can use if I decide to sight-fish for the many species that we have up and down the beach.
"But most importantly, it's got a lot of versatile seating. The bow is a big sun pad that can accommodate nine children. But after just a couple of minutes of removing cushions, I've got a massive fishing platform."
In that sense, it's a convertible, the "Swiss Army knife" among boats, according to Royall. "I call it a coastal boat, but most people call them hybrids."
The Everglades 243 is the vessel that kickstarted the trend toward easier-access boats, according to Royall.
"Shorter gunnels make it easier to net or gaff or release a fish," he said. "And we needed them so that boats could accommodate marine trolling motors."
Small drafts mean that a boater blown out while fishing for snapper in 90 feet of water can shift gears, come inshore and fish for redfish or speckled trout in two feet of water.
"But when it's nice out, you can run 40 miles offshore and drop that trolling motor in the water, and with the tap of a button, it will hold the boat within a couple of feet of a set of GPS coordinates. Now, Dad doesn't have to sit behind the wheel and keep drifting back and forth trying to find that bottom spot."
Center console boats are popular, yes, but among shallow draft boats, "The pontoon boat craze is absolute insanity," Royall said. "At Shell Island or Crab Island, 80 percent of the anchored boats in that drone photo will be pontoons."
They may not be the sexiest boats afloat, but pontoons offer some distinct advantages.
"Nobody wants to own a pontoon boat — until they run a pontoon boat," Royall said.
Most are 8.5 feet wide and 23 feet in length, but the available space and seating is probably three times what is available in a 35-foot center console, Royall estimated.
"Kids feel safe because it's like a living room that's fenced in," he said. "You have three to four access doors around the boat, but when you are running, they are all closed and parents and children feel comfortable walking around the boat."
A third, center "toon," once reserved for the largest of pontoon boats, is now common among even 20-footers.
"That middle toon takes an average seaworthy pontoon boat and turns it into one of the smoothest rides in our industry," Royall said. "I would put it up against any mono-hull or any catamaran on the planet. A triple-toon at 40 miles per hour is steady as a rock."
Most are equipped with oversized, telescoping, three- or four-step swim ladders and ski-tow bars, and when you run a pontoon boat onto the beach, you don't have to worry about scratching gel coat.
"With a pontoon, you can beach it, open the center entrance door in the bow, place a cooler on the sand and use it as a step," Royall said. "When you're running, you can have eight or 10 people on board, and no one is up against anyone else. Everybody is relaxed because you have good back support and the boat is not shifting from port to starboard.
"Then you catch yourself saying, 'Why the heck do I not own a pontoon boat?'"
Making of a Legendary
For four years, the state Department of Transportation leased land owned by Peter Bos as a staging area during the construction of the Mid-Bay Bridge linking Destin and Niceville. When the project was done, Bos was left to contemplate the future of the property.
He chose to build a marina that would provide a dry-storage option for area boaters, but a few months after its completion, Bos wasn't seeing the results he had envisioned and decided along with another local resident to tack a boat dealership onto the facility.
"He starts with a single-wide trailer, a very small floor plan and one salesperson," Royall said. "Fast forward 10 years, and he's built the industry's largest service department and a state-of-the-art showroom with a much larger floor plan and many more boat lines.
"In 2012, Boating Industry magazine named us the No. 1 dealership in North America, and in 2013, we won that honor again. In 2015, we were inducted into the Boating Industry Hall of Fame."
Today, following a merger with the Atlanta-area Singleton Marine Group, Legendary is part of One Water Marine, operators of 82 dealerships from South Florida to Indiana to Boston.
"Everybody in this industry starts their job because of the lifestyle," Royall said. "They are not chasing money. You have the water gene, and you get a chance to constantly change people's lives.
"People come into our offices just to talk to us about what they did on the water. Conversations lead to relationships, and we take part in special occasions with customers — birthdays, graduations. That happens here a lot. We love it. That's what we're all about."