Shabby Chic
Trendy decor along the Emerald Coast embraces the charm and soul of reinvented vintage furniture and accessories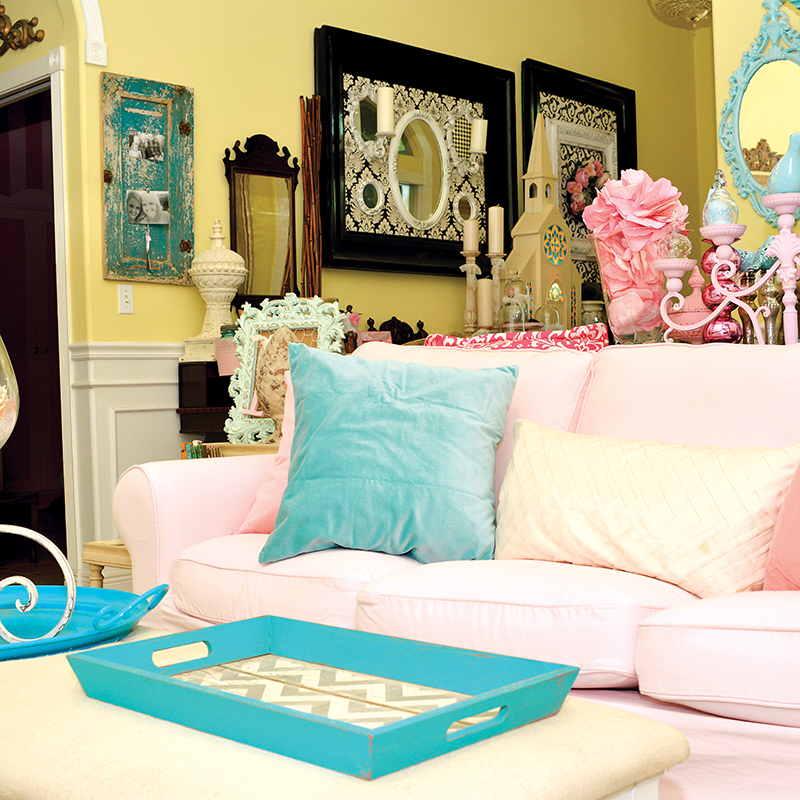 What's not to love about a scarred, dingy piece of furniture? Everything, you might gasp, but that opinion might quickly be reversed by the Emerald Coast's large community of "shabby chic" enthusiasts.
"Peer through the dust and you might well find a treasure," says Louisa Matthews, a Niceville resident who rehabs and custom-paints old furnishings. "Remember that yesteryear's furniture was well built, and every piece you save from the landfill can be made over with a bit of paint and not a lot of elbow grease. You'll be rewarded with a unique, one-of-a-kind piece."
She proves the point on the Secondhand Sisterhood private group Facebook page based in Destin, where her repurposed, gussied-up dressers, tables and cabinets thrill vintage followers. Some of her custom pieces are also sold at Furniture South in Santa Rosa Beach.
"Rescuing cast-offs is a wonderful way to go," agrees Debbie Weant-Lane, owner of 30-A Art & Junk in Santa Rosa Beach. Famous for her humor and imagination, she has been known to turn unlikely finds such as birdcages, metallic dress forms, cake pans and funnels into lamps, chandeliers and quirky accessories. "I don't like new furniture," she admits. "I don't have a stick of it in my own house. Over the years, I've made over chairs, tables, benches, picture frames and dressers. Paint and some tools for distressing — a knife, hammer or chain — are all it takes to make old look new and new look old."
A Global Idea
The term "shabby chic" was coined by Rachel Ashwell, author of a series of best-selling books devoted to the art of creating rooms with vintage finds. It quickly became a movement that has never waned.
"It's a gorgeous take on decorating," says designer and painter Jennifer Jones of Destin. "Anybody thinking that shabby means grubby couldn't be more wrong. Instead, it stands for a kind of careworn elegance. It's what happens when the collector's eye meets an upcycler's soul."
With shabby chic, we're actually just catching up with the rest of the world. For example, French chateaus and English manor houses are famous for threadbare rugs and upholstery, and Scandinavians love the juxtaposition of centuries-old heirlooms and sleek modern design. They don't have names for these design trends, but in Japan the Wabi Sabi theory echoes the tenets of the shabby chic movement. Quite simply, Wabi Sabi celebrates the beauty and soul that comes with imperfection.
"Whatever you call the style, it's especially effective here along the coast," notes Robin Rausch of Repurposed Southern Comfort in Crestview. "It's casual, laid-back and charming, everything we want in a beach house."
And everything you could want for a beach wedding, apparently. Last fall, shabby chic became the theme of the wedding of Rausch's son Chris to his fiancée Nikki. Vintage upholstered sofas and chairs were moved to the beach, along with old bureaus and tables and a treasure trove of beautiful but mismatched china and glassware. The ceremony took place under a structure built from two barn doors topped with an arbor and a crystal chandelier. One unique lighting fixture consisted of a box spring-mounted overhead and outfitted with LED candles in myriad Mason jars.
Everybody loved this unique celebration, reports Rausch, so much so that she's now getting requests for similar events.
Painterly Finesse
Every shabby chic aficionado claims that painting found furnishings is absolutely a do-it-yourselfer's game, but if you lack self-confidence, you could take a class.
Jennifer Jones gives such classes at the 3Ring Couture booth at Brocante, an antique consignment boutique in Miramar Beach. The daughter of an interior designer and a builder, she finds the makeover of discarded things inspirational.
"Old pieces have stories to tell, and I love to teach others how to bring out those stories," she says.
She uses Amy Howard Paint.
"It's fantastically easy to use," she says. "You don't need sanding, stripping or priming. One coat does it. And you can even paint metals and glass."
Twice a month, small classes are held by Elaine Broom of Sonshine Studio in Crestview. Do-it-yourselfers paint vintage items with chalk paints by Annie Sloan, a famed British line with 33 different colors.
"My students find these classes therapeutic and fun," she says. "And, of course, they love winding up with a custom piece of furniture."
Painting classes are also available at Ava's Attic, a 10,000-square-foot vintage boutique in Miramar Beach.
"We have our own line of chalk paints," says owner Susan Henry. "They're so easy to use that classes aren't really necessary, but it sometimes takes a nudge to convince somebody that they can actually create something lovely for their home. We have 32 colors, but the most used ones around here are creamy white and all the blues.
Shabby Chic Defined
There's more to shabby chic than a single piece of rehabbed furniture, note Emerald Coast experts.
"It calls for a blended family of furnishings, accents and finishes that create an impression of age and use," explains Niceville's Louisa Matthews. "Try your hand at mismatching. A room should look like you inherited hand-me-downs from relatives with exquisite tastes. But use repeating patterns and colors to tie together disparate pieces. Otherwise you could wind up with a hodgepodge."
Slipcovers add a casual look to sofas and chairs, so they're practically de rigueur for this style, but Susan Henry warns that fabrics should be soft and welcoming.
"Nothing stiff and formal," she says. "Colors should be soft and light and patterns sweet. Creams and whites are almost musts on walls and big pieces, but pale blues, greens, pink and lavender are good for rounding out the look. Stick with subtle patterns like toile, gingham and florals."
Texture and patina is another important element, according to Rausch.
"No high-gloss surfaces," she warns. "Finishes should be slightly worn with a few nicks and scratches. That goes for china and metals as well."
Rachel Ashwell would no doubt feel right at home on the Emerald Coast, but she surely couldn't have forecast that the shabby chic trend would make flea markets, thrift shops and yard sales hot shopping destinations. Or did she? Check out her website, shabbychic.com, where she lists herself as designer, author and entrepreneur. She's all of that. Her most recent triumphs including a line designed for Target and linens sold by major U.S. retailers.