Spiritual Lessons Survive for Generations
An Episcopal priest shares enduring advice he received as a boy from his grandmother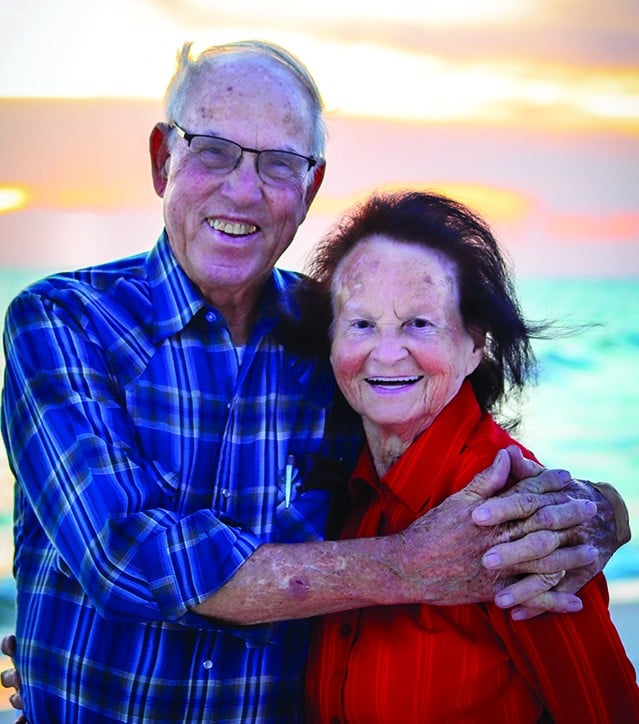 To say that she's five-foot-two is a stretch, but she's committed to that number, and I dare not challenge her. She's a quiet woman, unassuming, wise and one of the most loving people I've ever known. Her body of wisdom collected during her 80-plus years on Earth helped me through military deployments, surgeries from combat injuries, a horrible boss and even a pandemic.
Following are four lessons that my grandmother, Erlene Adams, taught me over the years. I believe they can encourage us to care for ourselves spiritually, relationally and mentally as we step into 2022.
Live in the land of possibility, not the land of lack.
My grandmother experienced the final years of the Great Depression, so it carries weight when she says, "Sometimes you've gotta step out to find out."
Fear will fight hopeful anticipation. It's easy to see what we do not have, but it's more challenging to envision what we could have. St. Paul said it this way: "Speak those things that are not as though they were."
Grandma showed me that words have power, that words often determine possibility and that words can liberate or incarcerate, depending on how we use them.
Leave negative people to their own misery.
I was 14 and mad as hell itself as I walked into Grandma's house after school. Some kids had crossed a line during P.E., and I would not stand for it. "Your grandmother is a sinner because the Bible says women shouldn't say anything in a church," they had said.
You see, my Grandfather and Grandmother Adams were both ordained ministers. They served as co-pastors of a congregation. So, yes, I was upset when the playground kids (via their parents) had nothing better to do than to criticize a lady who spoke about Jesus while inside a church building.
"Some of those kids said you're a sinner and that you're going to hell," I told Grandma. She responded, "Those young'uns didn't call me to the ministry. Their parents didn't either. Let them talk about me, and I'll keep talking about Jesus."
Sometimes you just have to say, "Bless their hearts," and move on.
Put your soul into your work.
The Secret Service came to the house once a year because my grandmother was a little bit famous. In the 1990s, she baked and sold cakes to supplement the household income. The cakes developed a reputation, and g-men showed up once a year to purchase a former president's birthday cake from her. Everything she did oozed excellence.
When I was a teenager, I couldn't decide if I wanted to be a lawyer or a minister. (Go ahead, make the joke). When I asked Grandma for advice, she said, "If you're going to do something, then make sure it's something worth doing with all your heart." Since then, I've found strength in knowing my vocation is an expression of my soul.
Commit to self-care and soul-care.
Who drives from the Florida Panhandle to Fairbanks, Alaska, and back in a month, all on a shoestring budget? That was us. Every summer we took a modest vacation. It was not just to recharge; it was also a spiritual pilgrimage for my grandmother. She loved nature, and nature — God's creation — was sacred to her. This is why vacations often revolved around national and state parks, landmarks and historical sites. It was her way to recharge the mind, the body and the soul.
The Dalai Lama says, "Once a year, go some place you've never been before."
Everyone deserves self-care and
soul-care. I'm willing to bet if you make it an intentional part of your life in the year ahead, it will pay dividends in hopeful optimism.
So …
As we begin 2022, may you intentionally lean into the opportunities and possibilities the year will bring, and may you ignore the negative voices in your life — you might have a cake to bake for a president.
---
Rian Adams is the rector at St. Andrew's Episcopal Church in Panama City. He is a medically retired military officer and Bronze Star recipient, a poet and an advocate for veterans. His poetry collection, Love, War and Soul: Poems of Passion, Darkness and Light, chronicles his dealings with post-traumatic stress resulting from his military service. He is passionate about churches and helping them reach out to their local communities. He loves cameras, old and new, and traveling to photograph European cathedrals with his wife Amber and their 12-year-old son Brody.