Seaside School Celebrates 25 Years
For 25 years, The Seaside Neighborhood School has impacted not only their students but also the community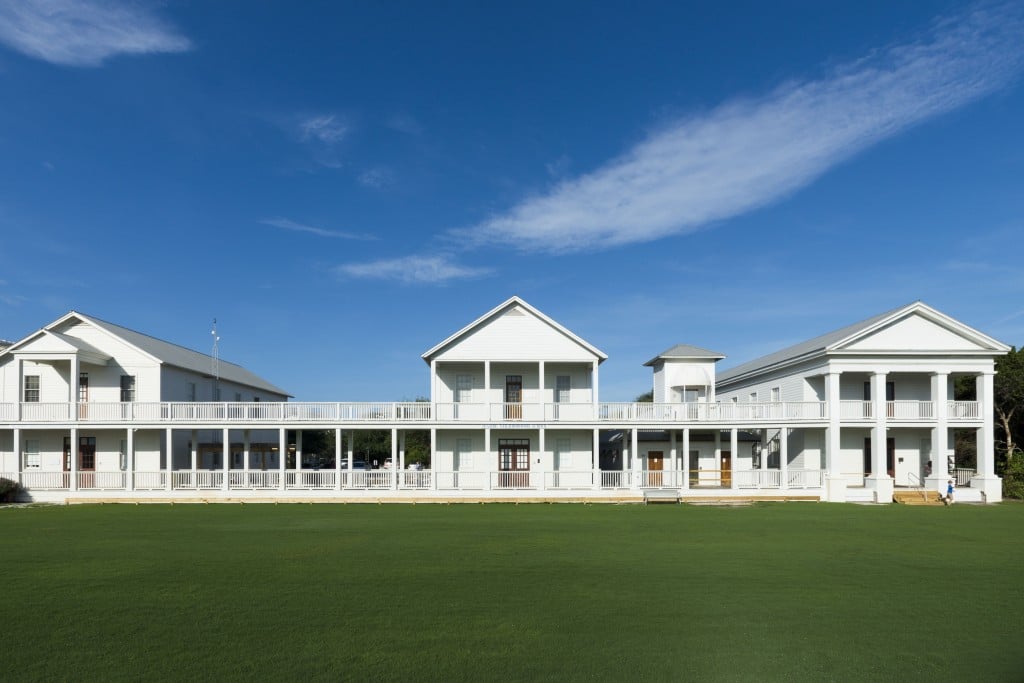 In many ways, schools are the backbone of a community, molding future citizens and fostering well-being for one of our most valuable assets: our future. For 25 years, The Seaside Neighborhood School has impacted not only their students but also the community by providing campuses that cater to education, creative programs and social connectivity.
The Seaside Neighborhood School is one of the first public charter schools in Florida, sparked by the need for a middle school educational experience in Walton County. In 1996, the movement to begin a tuition-free neighborhood school in the town of Seaside was led by Dr. Rosemary Williams alongside parents, community members and the generous land donation from the town's founders, Robert and Daryl Davis.
In 1979, Robert and wife Daryl inherited the 80 acres of land which would become the idyllic and picturesque town of Seaside. They envisioned a town that felt like a neighborhood — walking paths, a town center, pastel beach cottages, shops, eateries, a post office and a school.
The Davis family donated the land that the school is located on, and homeowners built the school's first building with donated funds from the location fees for the movie The Truman Show, which was shot in Seaside. The Seaside Neighborhood School opened serving 36 students in grades 6–8, taught by two faculty members and one administrator.
The school continued to grow, and with the school's success came a wish for expansion that was granted with the opening of the Seacoast Collegiate High School in 2013. The ninth-grade class from Seaside Neighborhood School became the inaugural freshman class of Seacoast, and a grade was added each year until the high school served 9th through 12th grades.
Seaside's middle school was designed with the purpose of emphasizing the importance of students who are both academically and socially equipped. Aside from academic excellence, what sets this school apart is its focus on providing special programs — such as an emphasis on art, performing arts, music, culinary arts and mentoring.
In partnership with Northwest Florida State College, Seacoast Collegiate High School created a collegiate model that allows students to graduate with a high school diploma and an associate degree.
Seaside School Inc. has been recognized as one of the top performing charter schools in Florida. In 2011, Seaside Neighborhood School was recognized for its excellence in education by earning a high performing charter school status from the Florida Department of Education. Along with its high performing status, Seaside Neighborhood School ranked third among 583 middle schools in Florida.
In 2016, Seaside School was honored by the Florida Department of Education as a "pioneer charter school." In the state of Florida, Seaside Neighborhood School is ranked in the top 2% of 3,328 middle schools; and Seacoast Collegiate High School ranks in the top 6% of public high schools.
"Our success is attributed to amazing teachers, board members, families and our students — who are academically motivated, but are also good and kind citizens," said Kim Mixson, principal of the Seaside Neighborhood School. "We have also fostered a really strong relationship with the Walton County School District and are grateful for the collaborative efforts on both parts."
Mixson has been with the school since its opening; in that time she has witnessed all of the ways in which it has changed and thrived. Having seen all of the school's most monumental moments, it is hard for her to select one that stands out most vividly, but she remembers each Thanksgiving meal with much fondness.
The tradition started in 1996, when students visited the Davis' garden, learned about the planting process and then enjoyed a small feast prepared from plants grown in the garden. Since then, it has bloomed into a yearly transition where families and community members are invited to share their favorite Thanksgiving dishes.
The 2020 Thanksgiving meal was supposed to be even larger this year as a celebration of 25 years, but due to COVID-19 precautions, the celebration is being moved to a later and safer date.
The yearly event that the Seaside Neighborhood School has become most known for is the Seaside School Half Marathon and 5K. Each year, the funds raised go directly to improving the operations of the school, whether that be maintaining small class sizes, funding special programs or developing new buildings. From Feb. 14–28, the event will be held virtually.
Participants are encouraged to gather teams and run where they are tracking their own half marathon or 5K course via the RaceJoy app. This app will also record times that the Seaside School Foundation can access in order to determine winners. You can also further the race day fun by downloading one of the customized playlists made by the Seaside Neighborhood School band students made that correlate with your desired race heart rate.
The registration fee includes shipping costs for a Vera Bradley® reactive sling backpack and pleated face mask, Billie Gaffrey-designed race shirt, a virtual training coach program led by lululemon® Grayton Beach ambassador Rex Stinnett, and many more surprises.
"As a public charter school not a private school, we depend on the support of sponsors, donors and community members that contribute to the race each year in order to offer the special programs we are known for and to help our students thrive academically by providing enhanced programming and new buildings," said Teresa Horton, executive director of the Seaside School Foundation. "We are thankful for each of the supporters who have worked hard to establish the Seaside Neighborhood School as what it is today."
Seaside Neighborhood School | 10 Smolian Cir, Santa Rosa Beach, FL 32459 | (850) 231-0396 | seasideschools.net