Sculptor Roland Hockett is a Master of Metals
Capturing public imagination in bronze, copper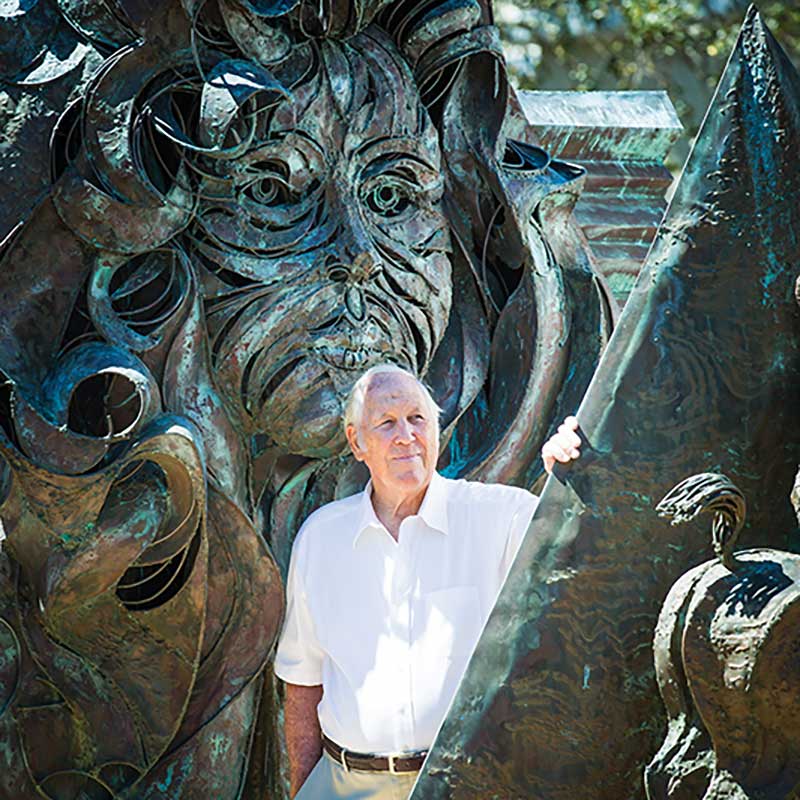 Within the Florida Panhandle and in South America, artist and longtime Panama City resident Roland Hockett has been planting the seeds of public art for nearly 50 years, enlivening communities and imaginations.
His public art projects, many of them strikingly large, include murals, paintings and sculptures, some in Costa Rica and some on view at Gulf Coast Community College, Tallahassee Community College and the Florida Supreme Court.
Four of his sculptures, featuring water and marine life, also may be seen at Capt. Anderson's Restaurant in Panama City.
In 1969 Panama City, Hockett observed only one sculpture in the public sector and set about creating his own for the coastal town he adopted. His admiration of public art and its transformative powers began decades earlier.
Hockett recalls, "I encountered public art early in my art career when I was attending Indiana University in the '50s and '60s. 'Showalter Fountain,' by Robert Laurent, was being built at I.U. at that time, with the bronze cast in Italy.
When I returned home to northern Indiana, I traveled many times into Chicago and encountered other large sculptures in the public sector. A controversial 40-foot-high sculpture by Pablo Picasso was being installed in front of city hall, and works by artists such as Leger and Calder and other artists were to be found in the loop.
"Those large works activated the spaces that they filled and represented great projects for the artists and the city. It was great stuff.
Often, like Calder's large sculpture, they would be painted in bright color or be constructed with exciting surfaces of metal."
Leaving Indiana University with degrees focusing on art, design, audiovisual graphics and technology and an affinity for the Bauhaus movement combining crafts and fine arts, Hockett set out to inspire and educate.
After a time as professor of art education and constructive design at Florida State University (one of the top 10 art programs in the United States), Hockett was recruited to what was then Gulf Coast Junior College for what he thought would be "a little while" before he moved on to California.
"When I arrived in Panama City, Florida, in 1969, there was only one sculpture in the public sector. It was in front of an exercise center.  I thought to myself that I might like to help change that and add some of my own sculptures to this city," Hockett recalled.
"It seemed a logical thought for such a place that existed along such a beautiful stretch of beach. Public sculpture would certainly find an ideal place to be installed here."
Just four years later in 1972, he gifted his first public sculpture. He designed and built it with his son and installed it on the college campus in front of the fine arts building.
"Citadel" was very geometric in style, over 20 feet tall, made of copper and situated within a fountain. Over the years, the copper was encrusted in verdigris, while Hockett continued his work, sharing his skills, artistry and heart.
He landed a commission in Costa Rica in 1979. In 1987 he traveled again to attend the dedication of his mural "Liberty."
The ceremony was conducted by President Oscar Arias, who signed the Guatemalan Peace Accord that same week for which he later was awarded a Nobel Peace Prize.
"I have been so fortunate in so many ways! The wonderful things I've been able to be a part of, working with other people from other cultures. It adds to the richness of the work … and my life."
From that second junket came a seven-year appointment to the advisory board of the Florida-Costa Rica Linkage Institute, or FLORICA, which promoted meaningful interactions of various kinds between the Sunshine State and its Central American neighbor, entailing many visits.
Accompanying 30-foot murals, 16-foot sculptures and one-man exhibits abroad for assembly and installation requires considerable flexibility.
The artist mentioned that the "Liberty" mural took up so much room in the plane that luggage had to arrive on a different flight.
In another instance, with a one-man show to produce, Hockett had to account for the same number of art forms coming in and going out of Costa Rica, but he forgot for a moment that four were given as gifts.
The discrepancy was resolved with no problem, but he missed his flight and had to depart a day later. As Hockett flew out, his plane flew over the aircraft he was supposed to be on the day before. It had crashed and burned.
All passengers made it out safely, but Hockett felt it was fate that kept him from the ordeal they suffered.
Best known for his sculpting, Hockett also is a prolific painter and enjoys collecting the works of fellow artists he calls mentors and friends.
His subjects range from elements of nature to architecture and technology. In between are elegant equine and characters of ancient history and mythology.
In his backyard work area, a copper horse stands near a towering sculpture of Icarus. Giant copper discs gleam along the fence and await the weathering effects of the outdoors.
His work is produced as private commissions, and others are simply made for the artist to share with his community, such as those accomplished for the U.S. Embassy in San Jose, Costa Rica, and the "Eagles" on display at the Florida Supreme Court.
Large pieces he created for Panama City's airport authority in 1995 were moved to the Bay County Public Library and the Panama City Center for the Arts when the old PFN air terminal was demolished.
Hockett's last trips, in 2011 and 2014, to Costa Rica were to restore and reinstall his 9/11 Memorial sculpture after thieves removed the top 5 feet of it to sell.
The value of the material for just one sculpture can exceed tens of thousands of dollars even before he applies his time and talent, rendering it priceless as a traded commodity.
His formal education and love of art and technology inform his design, most apparently in the imagery of "New Liberty III," which resides on the north campus of Gulf Coast State College.
Originally commissioned for the Ambassador of Spain to Costa Rica, it depicts three triangles adorned with human, environmental and technological references to Spain, Costa Rica and the United States.
A third large-scale work, titled "RollyCoaster," from his study to produce the 9/11 Memorial in Costa Rica is located on the campus of Tallahassee Community College.
"Public art is no longer limited to themes from conflicts and government or national interest. Today, we also encounter many other goals: an experiment with materials or thought, or to simply relate the artists' feelings for a subject. The goals are many, producing great diversity in what we might expect public art to be. It can be surprising. The variety can add a wonderful richness to our cities."
At nearly 80, Hockett's life and work have taken on patina beautifully through his generosity, his love of art, people and education, and his wonder at the world.
"The mural and sculptures that I placed in Costa Rica served a dual purpose of honoring our country and the ties and respect between the people in both our countries and that of representing strong and enjoyable art forms for all people.
"Like all art, public art may take great effort to put in place and it may enhance our cities, but it needs to be cared for to be enjoyed, and in time such works add great richness and variety to our cities and communities.  As I leave some of those sculptures behind, they hopefully will be enjoyed by the people long into the future. I am pleased I have had the opportunity to share such works."
Visit the Art
In Bay County
Gulf Coast State College | "New Liberty III," "Nautilus," "Pelican" and "Tapper 1st Amendment Sculpture"
Aaron Bessant Park | "Olympic Passage"
11th Street Library | "Circle of Flight," "Abstract Form" and woodblock prints
Panama City Center for the Arts |Paintings, drawings, acrylics
Mosely High School Fine Arts Auditorium | Framed wood panels, acrylics on wood, drawings, silkscreenings, woodblock prints
In Tallahassee
Florida Supreme Court | "Eagles"
Tallahassee Community College | "RollyCoaster"
LeMoyne Center for Visual Arts | "Horse" and "Eagle"