Room of One's Own
Everyone craves a little seclusion space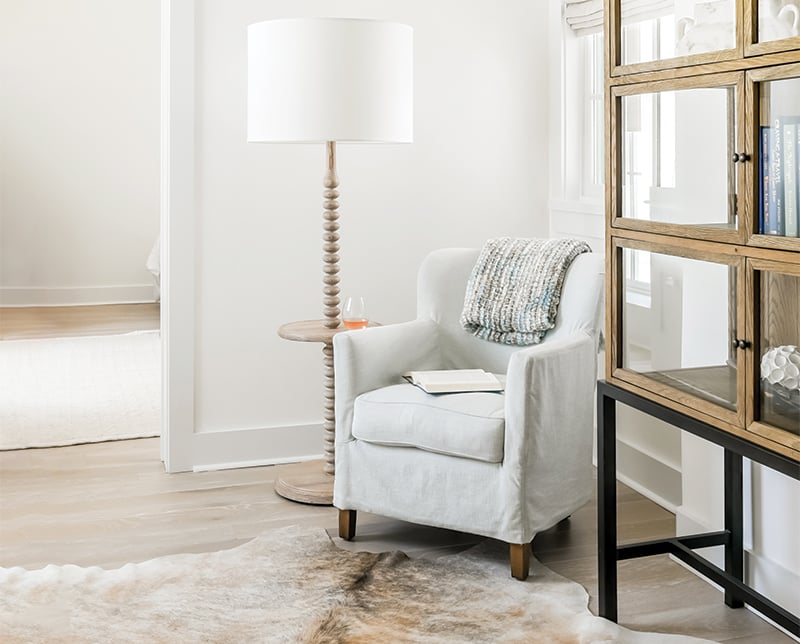 If COVID-19 lockdowns taught us anything, it's the importance of a little privacy. We all need a dedicated space where we can go to enjoy some solo time.
Today, "me time" is among Pinterest's latest big trend predictions, and an incredible 84.5 billion views on TikTok have made the reading corner a mega-trend worldwide.
Not all online trends translate well into real life, but both "me time" and the reading corner strike a chord among Emerald Coast homeowners. Designer Cindy McCarley of Santa Rosa Beach says that even when homeowners opt for open-concept floor plans, they still seek peaceful spaces away from the high-traffic areas of the house.
"We need quiet time for ourselves," McCarley said. "It could be a cozily cushioned window seat or just a comfy chair in a corner somewhere, in a bedroom or even a hallway. Add a small table and a good light next to that chair, and you have the perfect place for settling in with a book. Or just meditating. In my own home, I have a 'prayer chair' in the guest room, and everyone in my family knows this is my me space."
McCarley said me spaces don't have to be confined to indoor locations.
"A porch swing or rocker is perfect," she said. "Or even a lounge chair under a shade tree."
Designer Liz Lapan, affectionately known as the "vice president of everything" at In Detail in Pensacola, believes that finding room for little moments is an important part of the design process.
"We need spaces in our homes for quiet and reflection," she said. "Some even need a dedicated office or creative space. This often means reallocating square footage that is really unnecessary in a room. We have done this with oversized master bedrooms, grand landings at the top of the stairs and open-floor gathering areas. Cheryl Kees Clendenon, our creative chief, has even carved out fun little nooks under staircases. There are limitless opportunities if you keep an open mind."
In her own home, Lapan cherishes a small nook off her breakfast area. There, she has a small table and a banquette bench for writing and "homework."
"It's sunny and happy, and I love it," she said.
Clendenon, according to Lapan, uses a fun little un-dining room at home as her place to perch and work.
"It was a critical detail for her during COVID and when the bridge was out after Hurricane Sally. It proves how a change in circumstances can present welcome, new opportunities."
Both McCarley and Lapan call the bathroom an inherent me space because there's a door and a lock providing a sense of privacy. That's absolutely the place to make a personal retreat, they say. Lapan says that the In Detail team likes to place tubs in master bathrooms in spaces reserved just for them.
"Those who want a tub are true tub people, and the respite they find in that space is so important," Lapan said. "So we make sure it's an inspiring retreat for the homeowner to soak, admire some beautiful artwork and look out the window to daydream."
McCarley adds that a soaking tub is always a favorite, but steam showers are catching up.
"It's easy to understand why," she said. "They are healthy and a great spot for quiet time alone."
---
"Me Space" Ideas
» Transform your hobby room to an arts and crafts paradise
» Turn your garage into the perfect yoga studio
» Add a closet system near windows for a cozy book nook
» Convert a closet into a private workspace
---