Ride On, Destin!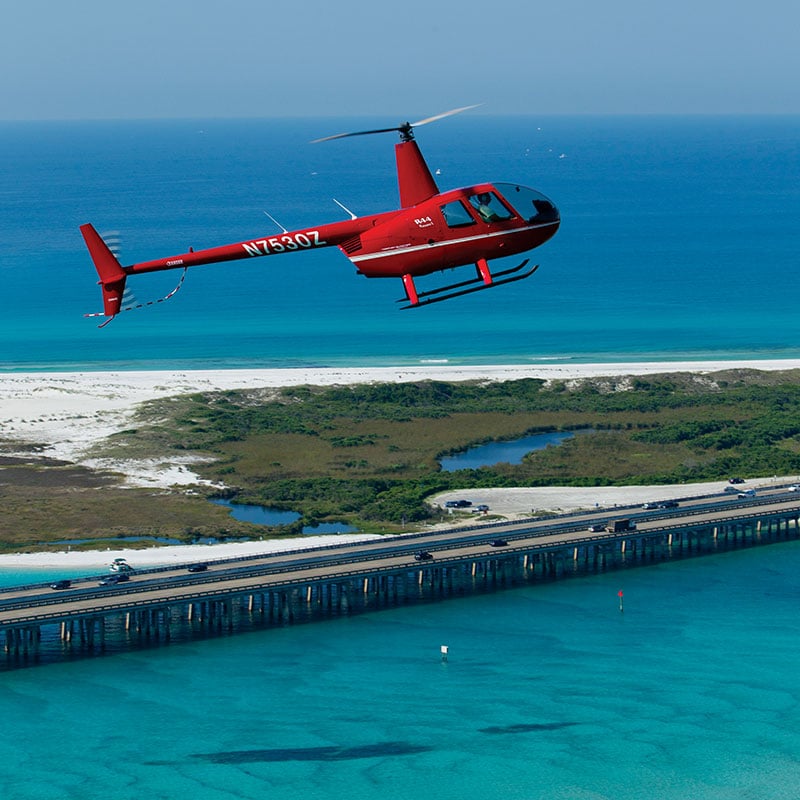 What goes up and down, forwards and backwards, can hover and is red all over? A helicopter, of course!
Pilot Justin Johnson has partnered with Charles Duplantis and Ray Watson to offer rides in the sky to locals and visitors. Timberview Helicopter Rides offers rides out of the Destin Airport. For $49 you can fly above it all and get a fresh perspective on the beautiful Emerald Coast during a 10-mile Intro Flight.
Nearly anyone can climb aboard the R44 four-seat "chopper," which operates daily from 10 a.m. to late evening, weather permitting. "We've had what we call lap kids that are as young as two up to folks who are 90 years old," Ray Watson says. The helicopter can carry up to three passengers. Reservations are not necessary; you can simply walk up to the kiosk located in the southwest corner of the Destin Commons parking lot.
Feeling adventurous? The Emerald Tour, which starts at $199 per person, is a customized trip that flies wherever a passenger might like to go. "Some folks want to go to Panama City or Pensacola, some want to be dropped off and picked up on an island," Watson says. The most popular helicopter rides are the Beach Run that hugs 12 miles of the coastline and the Jaws Run, which is an 18-mile trip over the Gulf of Mexico to spot dolphin, stingrays and yes, the occasional shark.
Watson says experiencing a helicopter ride first hand would be far better than anything he could describe. But the first word that does come to mind for him is "peaceful." Ride on!