Restaurant Spotlight: Cocina Cubana
Our menu is influenced by family recipes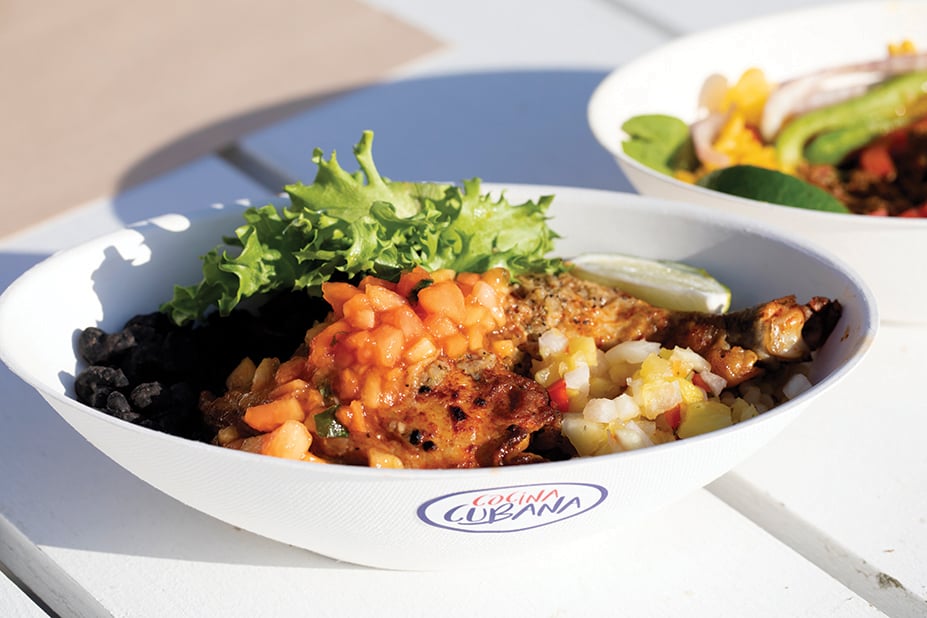 In 1984, the late great Chicago newspaper writer Mike Royko devoted a column to discussing punishment employed by the state prison system in Arizona to discourage violations of Big House rules by inmates. Third-time offenders were fed meatloaf — morning, noon and night — for a minimum of seven days.
At the time of the column's publication, Arizona's 7,000 inmates included only two who were on the meatloaf diet, leading Royko to conclude that the threat of such a penalty was working. We are omnivores, not monovores.
Along the Emerald Coast, diners are free to explore a diverse, practically unlimited array of dining options offered by establishments that place a premium on freshness and authenticity, often employing ingredients that are locally sourced and reflect our special part of Florida. Because no one lives among us who does not tire of her or his own cooking, dining out becomes an almost necessary activity, one that comes as a reward, a departure from the stir fry, again — a kitchen pass, as it were.
Freed from the chore of cooking, we consume prepared fare that is light and not light. We eat well and too well. We look forward to meals so greatly enjoyed that we believe we could eat, say, seared and chargrilled scamp with scallions and mixed steamed vegetables every day for a month and not tire of it. We try new things, too, in environments dark and formal one Friday night and salty and breezy the next.
And, as often as things go well, we never fail to utter aloud four delicious words: Yum, that was good. — Steve Bornhoft
---
Building on the success of their Airstream eatery, Crêpes Du Soleil, which opened in Seaside in 2018, Liz and Jay Eichelberger and Chef Rob Masone added a Cuban restaurant: Cocina Cubana. Pronounced Co-sin-a Ku-ba-na, the new restaurant opened in time for Labor Day 2019 in the building that formerly housed Amavida Coffee & Tea on the beach side of town.
The restaurant's theme stemmed from Jay's Cuban heritage; his mother, Lupe Eichelberger, is originally from Havana, Cuba. "Our menu is influenced by my family recipes," Jay says. Using these Cuban flavors, Liz, Jay and Chef Rob created a menu that married Masone's food expertise with traditional Cuban influences.
The main feature is a "Make-Your-Own-Bowl" meal. Pick a base of rice, couscous and quinoa or mixed greens, top it with a protein and some veggies, then pile on the toppers, which include classic mojo, grilled jicama and pineapple, papaya salsa, chimichurri, roasted tomato-habanero (muy caliente!) and chile mustard. Vegan options are also available. Or try a traditional Cuban sandwich, like the Cubano, sweet-breaded Medianoche, and Pan con Tortilla (a delicious egg, ham, Swiss cheese and onion breakfast sandwich). Side options include croquetas, tostones and chicharrónes. "The goal is to make our Cuban dishes accessible to people while honoring traditional family recipes," Liz adds.
In addition to the authentic Cuban food, Cocina Cubana serves traditional Cuban coffee. "It's very strong, very delicious and will kick you in the pants," Liz says. "You measure a great Cuban restaurant by its sandwiches and coffee, so it's important for us to hit those marks."
The restaurant also serves frozen drinks, including "frojitos (frozen mojitos), frozen Cuba Libre, and frosés (Crêpes du Soleil's signature frozen rosé drink)."
Cocina Cubana
CocinaCubana30a.com  |  jay@gazebogourmet.com