Rest Assured
Coastal Alabama offers good times not to be forgotten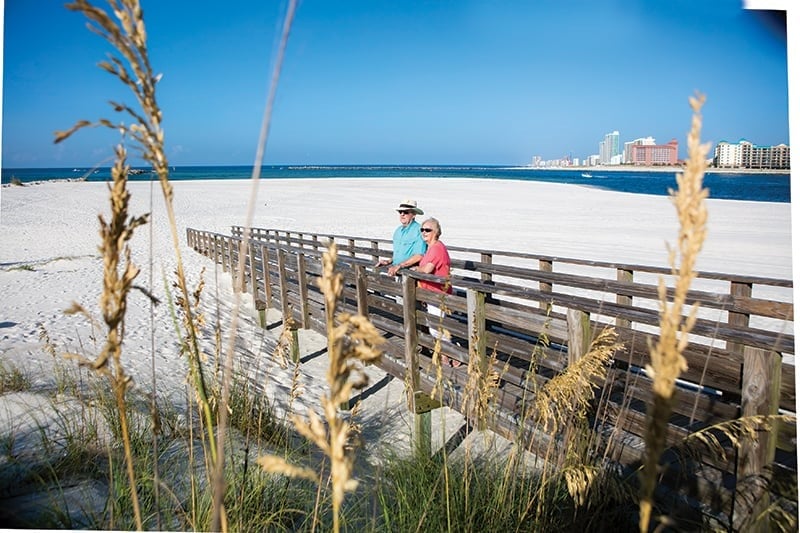 About 5 pounds of Mardi Gras beads hang from the rearview mirror in Easton Colvin's four-wheel-drive F-150 pickup truck. There's a foam rubber ball wedged into a space beneath the glove compartment that Colvin surely tosses to his German shorthair pointer, a dog he acquired during his Colorado years spent working for the Professional Bull Riders organization. There's a cowbell on the dash — Colvin, an Arkansas native, went to Mississippi State. A crack runs the length of the truck's windshield, and there's a cattle catcher out front. It's not the kind of vehicle you would expect a hospitality industry public relations official to drive, but Colvin far from conforms to a PR stereotype.
For starters, he's a dude, one who looks like a cross between Tiny Tim and Waylon Jennings, with a build much slighter than either one of theirs. He stands 6 feet, 3 inches and might touch 175 pounds if you filled his pockets with sand. From his truck's sound system emerge David Allan Coe songs including The Ride, about a guitar-toting vagabond and a driver "dressed like 1950," who share the front seat of a vintage Cadillac. The land yacht owner turns to his rider and wants to know…
Drifter, can ya make folks cry
when you play and sing?
Have you paid your dues,
can you moan the blues?
Can you bend them guitar strings?
He said, "Boy, can you make folks feel
what you feel inside?
'Cause if you're big star bound,
let me warn ya, it's a long, hard ride."
Colvin, a hard-drivin' man, picked me up at 6 a.m. at my hotel, The Tides, in Orange Beach — the breakfast there is way above average — and we coursed west through the dark on highways 182 and 180 toward an unimproved landing. There, we were to meet up with a fishing guide, Scott Kennedy of Whistlin' Waters, billed as the Alabama Gulf Coast's premier kayak charter company.
Along the way, Colvin, a PR coordinator with Gulf Shores & Orange Beach Tourism, described the golf courses that coastal Alabama has to offer and conceded about his own game that he may shoot 89 one day and 112 the next. I can relate to that, partly. Layouts include Kiva Dunes, the No. 1 public course in the state, said to be challenging enough for pros and forgiving enough not to thoroughly discourage hackers.
Spotting Kennedy's truck, we left the pavement near Fort Morgan. Colvin permitted his tires to spin for two seconds before engaging four-wheel-drive, and we plowed our way close to where Kennedy was offloading three pedal-driven Hobie kayaks.
The night before our fishing excursion, I had met up with Colvin at the Playa at Sportsman Marina, a casual-fine dining, waterfront restaurant dwarfed by nearby boat storage buildings. There was no missing him in his cream-colored cowboy hat, boots and a belt buckle the size of a sandwich. We ordered a round of drinks and, at Colvin's suggestion, started with Playa Shrimp Ceviche — a half-dozen crustaceans, salsa, cucumber, avocado, Valentino and lime served with tortilla chips. A great beginning.
As we were about to order salads and entrees, formally attired young people arrived at the restaurant, and I muttered to myself, "They didn't build homecoming dresses like that when I was a kid," before redirecting my attention to the menu. I opted for a specialty of the house, Redfish on the Half Shell, that is, redfish with its tough hide left on. Chef Bill Briand lets the fish do most of the work unaided — topping the dish simply with roasted tomatoes. I like that. Colvin went with Pepper-Seared Tuna, served with cucumber salad, coconut scallion rice, sushi barbecue and spicy aioli. He would carry fully half of his fish home in a box.
Kennedy introduced me to a Hobie after I told him that heretofore I had been a paddle purist. Securing the pedal drive in the kayak was a snap, and there was nothing to mastering the back-and-forth motion used to propel it forward. All good, except that I didn't know how to steer the thing until Kennedy introduced me to the rudder control at my left hand.
One of his eyes had been injured, and he didn't wait for me to ask about it.
"Blood vessel burst," he volunteered. "I know, I need to come up with a better story."
Once underway, I found that the kayak easily handled the chop on Mobile Bay — the wind was out of the east at 12 knots. I outpaced Kennedy and Colvin in that I had the kayak with the longest fins. There was a trade-off, however. Those fins demand more oomph from the pedaler, a factor that would have a cumulative effect over the course of the morning.
Kennedy is likable, patient, relaxed, knowledgeable and a good conversationalist with an inexhaustible love for kayak fishing. It's what he does on vacation. He's equipped with stories of BTB (beyond the breakers) trips to artificial reefs off Navarre that, with just a little bit of embellishment, would have worked in the old Argosy magazine.
We headed toward cuts in a dorsal fin-shaped part of what might well be called Alabama's Big Island. Given a choice by Kennedy, I opted to work the leeward side of the cuts. Even at that, landing lures near the water's edge but out of the reeds wasn't easy. The guide suggested that sidearm casts, like a knockdown shot in golf, might help and encouraged Colvin and me to work over any indentation in the shoreline.
I pitched a copper-penny-colored swimbait on an unpainted jig head into one such pocket and was rewarded with a solid strike. Moments later, a large undulating flounder, stout enough to pull line from my spinning reel, came into view. Because flounder are notorious for slipping hooks, I was greatly relieved when I managed to get a landing net under the 18-incher — not a doormat, granted, but darn near a toilet-seat cover.
Colvin petitioned for keeping my catch and taking it to a restaurant offering a hook-and-cook option. Several in the area do, including Tacky Jacks Orange Beach, the Villagio Grille at the Wharf and Voyagers at Perdido Beach Resort, an Alabama Restaurant & Hospitality Association "Restaurant of the Year."
It was clear, however, that Kennedy's sentiment leaned toward releasing the flounder, and that I did.
Coming off the water hungry after seven miles of pedaling, Colvin carried us to Desoto's Seafood Kitchen in Gulf Shores, a long-established family restaurant where owner Rosemary Steele likes to circulate among her customers, most of whom she counts as friends.
I had the Flounder Po' Boy, don't you know, with coleslaw. Massive and massively good.
I was free to set my agenda for the afternoon. Colvin had suggested as possibilities fishing the pier at Gulf State Park or visiting the Orange Beach Coastal Arts Center, but I had not come this far not to visit, just over the line, the widely renowned honky-tonk, the Flora-Bama Lounge & Oyster Bar, where Colvin has been seen to join in its Mullet Toss competition.
I lucked out. The Perdido Brothers — bongos, guitar and bass — with frontman Rick Whaley were playing at the upstairs stage. I entered upon the space unabashedly wearing a New York Yankees ball cap, which would attract some attention.
Whaley is a tall drink with hair that is long and tired, a Fu Manchu mustache, bird legs, lively eyes, a captivating smile and a voice as raspy as a raven's. He's good, now; he channels Neil Diamond so closely, it's eerie. People frequently request his cover of Dan Fogelberg's There's a Place in the World for a Gambler for good reason.
On this occasion, when he slips into a performance of the Elvis Trilogy, there are some in the audience who get to their feet, remove their caps and place hands over their hearts as Whaley sings …

I wish I was in the land of cotton,
Old times, they are not forgotten,
Look away. Look away. Look away.
Dixie Land.
So it is that I was surprised when, at a break, Whaley's wife, seeing my hat, approaches me and says, "You know, Rick is actually from New Jersey. At one time, he knew a bunch of the Yankees. You should talk to him."
That I do. Turns out, Whaley, in 1979, played with a jazz band in Paramus, New Jersey, at what was the Yankees' team hotel. The club featured the likes of Bucky Dent, Ron Guidry and Reggie Jackson, and Billy Martin was in his second of five tours as Yankees manager.
Martin and Whaley were neighbors for a time and became drinking buddies. Whaley told me a crazy story about Martin and a stick of Land O' Lakes butter but made me promise not to retell it in print. Oh, but I wish I could.
Whaley left me wishing for more — more music, more tales. And, indeed, my welcome respite in Orange Beach, Gulf Shores, Fort Morgan and Perdido Key had been much too brief. I'll be back for seconds.
There was a headline on the cover of the 2022 Gulf Shores & Orange Beach Vacation Guide: REST ASSURED. Kudos to whoever it is who wrote that. I am not sure anyone could better capture the Alabama Big Island vibe in a couple of words.
There is a place in the world for a gambler, all right, the kind of guy who will try to fill a straight, but there are times when it's hard to beat a sure thing.
---