Responding in Kind
Northwest Florida citizens and first responders aid in the aftermath of Hurricane Ian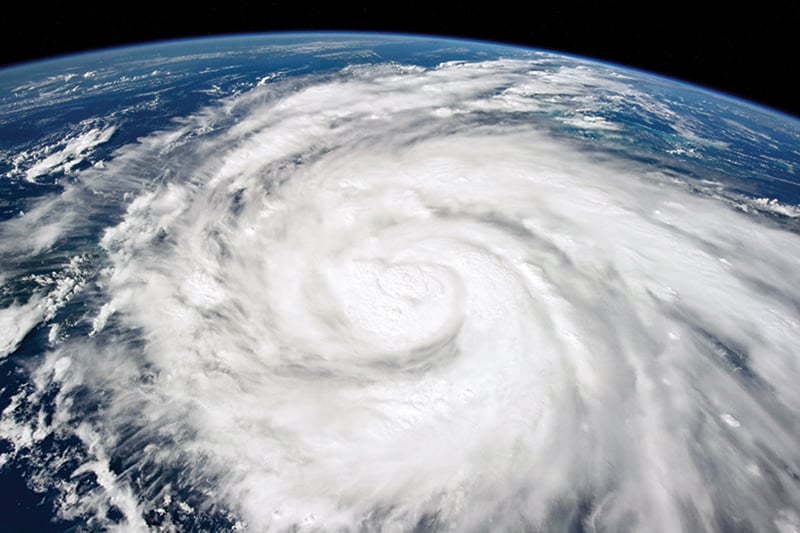 Rolling into Englewood, a low-lying town that is part of West Florida's Charlotte and Sarasota counties, Investigator Rebecca Smith and a team of 22 fellow officials from the Bay County Sheriff's Office saw shades of the hurricane that had devastated their community four years prior.
Hundreds of trees, felled and mangled, blocked roads, littered yards and crushed homes. Tepid, stagnant floodwater had inundated entire neighborhoods, and scores of residents were still without power.
"Everybody was kind of like they were back in Bay County when Hurricane Michael hit — in shock and just trying to help each other out as best they could," Smith said.
Smith, who now works as a criminal investigator under Bay County Sheriff Tommy Ford, has a history of responding to storms. She spent most of her career as a paramedic in Central Florida and can recall "the year of four storms" when hurricanes Ivan, Frances, Charley and Jeanne ravaged the state in 2004.
But Hurricane Ian, which claimed more than 100 lives and ushered in historic flooding with its turbulent storm surge, is among Florida's most deadly.
"Local deputies and first responders were overwhelmed," Smith said. "They were working what we call an 'Alpha/Bravo' shift, that is, working 12 to 16 hours a day, every day, and going home just to sleep."
Some of them didn't even have that luxury. Smith and her team assisted one Charlotte County deputy whose home was, according to Smith, a "total loss."
"My dayshift crew went in there, pulled some drywall and helped him pack up boxes of items that were salvageable," she said. "You saw that kind of thing a lot. We were working off a list of deputies, firefighters and military veterans who received a bunch of damage to their homes. We were able to help them tarp roofs, cut trees and help them with getting their lives back together so they could go back to work without worrying about their families who may be home alone, or what they were coming back to."
Smith was also part of a mission to assess the damage of Little Gasparilla, a barrier island just west of Placida, and is only accessible by ferry. Home to some 2,300 residents, Little Gasparilla's utter destruction was evident upon arrival.
"There are no stores, no gas stations, just this little community of people," Smith said of the area. "We were able to take them a bunch of MREs (meals ready-to-eat) and drive around to make sure everyone was safe and accounted for. We helped them clear the roads, which are unpaved, and remove some trees so people could get through."
A Little Gasparilla resident who granted an interview to NPR said of his community's recovery, "I think it's going to take years. … Right now, it's just pure survival mode."
Smith is hopeful that her week spent in Southwestern Florida provided some peace of mind for the storm's victims.
"Because we had just experienced something just as traumatic and devastating as they did, it was fulfilling to give back to those agencies who came over to help us during Michael," she said. "The amount of appreciation they showed us was heartfelt. … It was one of the most rewarding experiences I'll ever have."
A Coordinated Effort
It was important to Bay County Sheriff Tommy Ford to involve his staff in Hurricane Ian relief efforts not just on a personal level but within his role as the newly appointed chairman of the Florida Sheriff's Task Force.
The mechanism by which county sheriffs interface with emergency support functions and the State Emergency Operations Center, the task force responds to affected sheriffs and plays a major role in coordinating law enforcement response to storms.
It's a gig Ford picked up not three weeks before Hurricane Ian made landfall, but prior to being appointed sheriff in 2016, he spent nearly two decades responding to disasters with the Florida Department of Law Enforcement. Much of that responsibility comprised mutual aid and working under the Florida Comprehensive Emergency Management Plan. During that time, Ford's team was one of the first to head to Mississippi after Hurricane Katrina.
As Bay County's sheriff throughout the recovery from Hurricane Michael, he was well prepared for the aftermath of Hurricane Ian.
"My lieutenant, one of my captains and I were there when Ian hit, and we headed into Charlotte and Lee counties to meet with the sheriffs, see what their needs were and match them up with agencies from all over the state," Ford said. "We usually poll other sheriffs to see what they can send."
Ford said bigger agencies can possibly send 20 to 25 self-contained units. "Being self-sufficient is important," he said. "Lots of us have developed capabilities for feeding our people and providing sleeping quarters. You could send 100 cops to help, but if the sheriff is having to worry about putting them up … there's just no time. So, we roll in the self-sustaining teams first."
Investigator Smith was part of the team Ford assembled in Englewood. Their home base consisted of inflatable tents, a cooking trailer, portable bathrooms and makeshift showers.
Many Bay County deputies, he said, were responsible for supplementing patrols in affected areas of Charlotte County.
"My role was generally being a resource for affected sheriffs," Ford said. "The first week to two weeks after a storm is working from can to can't. We'd troubleshoot things like communications between the SEOC and then generators for the jail or what was going on with cell phone service. And we coordinated special missions."
Ford said he received an early request from Pinellas County Sheriff Bob Gualtieri. Anticipating an unprecedented storm surge in the highly populated Tampa area, Gualtieri requested 10 shallow-water boats. Ford and the task force called across the state to cobble together the boats and sent them on their way.
"Once Ian hit further south, we worked together to redeploy those boats to Sheriff (Bill) Prummell in Charlotte County," Ford said.
After a week of 20-hour Alpha/Bravo shifts, Ford, along with Hillsborough County Sheriff Chad Chronister and other first responders were honored at a Tampa Bay Buccaneers football game for their relief efforts.
"That was cool," Ford conceded but added that it can't compare to a return on kindness.
"I know how it feels, being responsible for public safety after an event that has upended your community," he said. "I know what it's like when your agency is overwhelmed with more demand than the resources you have.
"I will never forget the feeling of seeing other sheriff's offices arrive to help. At one point, we had 600 deputies from other areas to help Bay County after the storm. I had a real sense of needing to repay that debt."
Faith in Humanity
A week after Hurricane Ian, a Charlotte County fire department received a call from an elderly couple living in Rotunda West, a deed-restricted community popular among retirees.
Power had been restored to all the houses along the cul-de-sac except theirs because a towering oak tree had fallen directly on the power line outside their home.
Inundated with other calls, the fire department dispatched a team of nine Jackson County men and women to their home. The leader of the group, Jackson County Judge Wade Mercer, said his crew arrived with four chainsaws.
"Some power companies assist with tree removal, and some won't," Mercer explained. "The couple, who were in their 70s, asked if we could maybe knock some limbs off and see if that would help them get electricity. We said, 'We can do better than that.'"
Mercer's team, most of them members of First Baptist Church of Marianna, got to work, and the tree was gone in a matter of hours. When they were finished, Mercer said tears flowed from the woman's eyes, and her husband "got choked up."
"What happens is they try to pay you," said Mercer, who helped service roughly 15 homes during the three-day trip. "Then they try and get us to take their money by telling us to donate it to our church. We refuse because that's not what we're here for. There's no hidden agenda. We told them they needed the money a whole lot more down here than we need in North Florida."
Mercer said storm response has become a part of his church's ministry, and he has been involved with other hurricane relief trips in the past. Members donate meals, chainsaw oil and gas, and reach out to extended family members near affected areas for possible lodging and accommodations.
This year, Mercer's team spent their first day in Port Orange, a town in South Daytona Beach. The area was severely impacted by storm surge, and much of their time there was spent tarping roofs, pulling out drenched carpet and wet vinyl and attempting to salvage ruined furniture.
"When we arrived in Englewood the next day, it was the complete opposite," Mercer said. "There was tons of tree damage because that's near where the eye hit. Our final day, in Hardee County in Central Florida, was a combination of both places. The Peace River had overflowed, and we did a lot of chainsaw work there."
Mercer said they worked with a fire department in Englewood who, like Ford's team, was working double shifts. They also cooperated with a local Methodist pastor, who put his team in contact with elderly widows, retirees and military veterans.
"If you look for people who need help, you will find them," Mercer said. "We went to the home of a 92-year-old man who lived alone and was retired military. He was raised in tough times, lived during the Great Depression and had a completely different mindset than the younger people who throw everything out because insurance will pay for it. He wanted to save what he had."
The man's furniture had been standing in several inches of water for about four days, but Mercer's squad honored his wish. They spent four hours cutting the carpet out around his furniture — learning that wet carpet is much heavier than you'd expect — and the man said he'd reassess the damage after the remainder of the water drained.
"You could tell he couldn't believe we'd take the time to do that, and that's why we go on these trips," Mercer said. "We go to show people we love and care about them. Especially as Christians, you have an obligation to your fellow man and woman.
"If we're healthy, have the ability and the tools, there's no reason not to help out. If there's a storm next year, we'll go there, too."
---