Raimund Herden, the Optimistic Visionary Behind Bluewater Bay
Living a Dream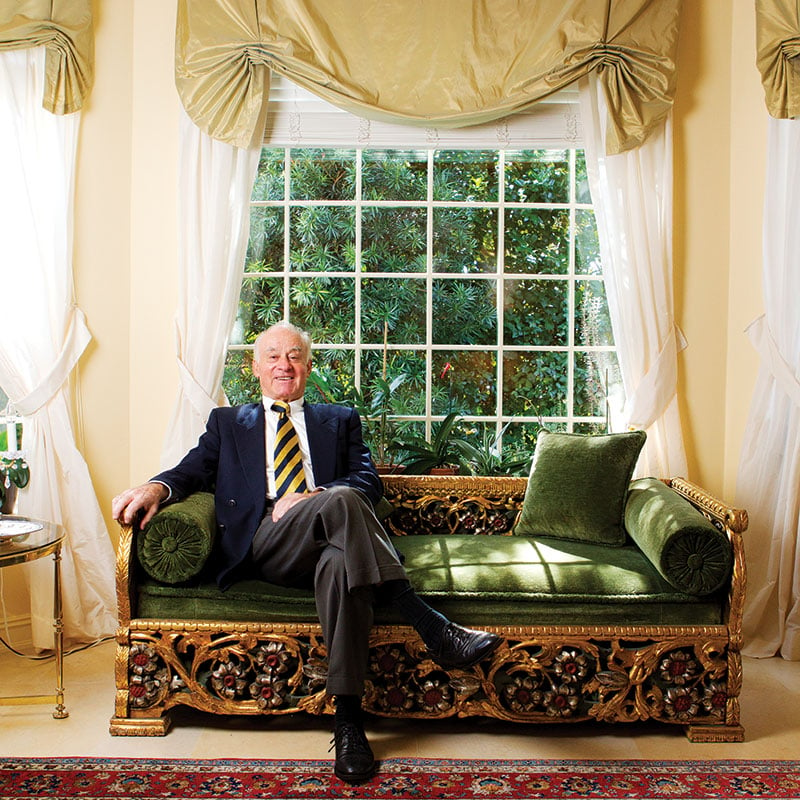 In 1975 things weren't looking too bright in America. Thanks in part the 1973 oil crisis, a severe stock market crash in 1974 and the country's long awaited exit from the Vietnam War, the nation was in one of the worst recessions in modern history. Gerald Ford was still finding his footing in the Oval Office after Richard Nixon's resignation, and some may argue he never quite kicked the economy into gear. Inflation was a whopping 14 percent. And though mood rings were all the rage, no one was in a good one. Except maybe Raimund Herden.
Always the consummate optimist, Herden, president of Bluewater Bay Commercial Developers LLC and one of the original developers of Bluewater Bay, may have been the one humming the Captain and Tennille's hopeful song of the year "Love Will Keep Us Together." He was 42 and still spending some of his time in Europe (he was born in Westphalia, Germany). Though happily married to Margot, after a phone call from some real estate business partners in Atlanta, he would soon fall deeply in love for the second time. But not with a woman … with land.
Northwest Florida, namely Niceville, and more specifically what is now Bluewater Bay, took this globetrotter by surprise. "It was so beautiful, so serene, I just fell in love," he says with a little wistfulness in his blue eyes. Herden immediately saw what many others didn't — huge potential and his opportunity to live the American dream. He secured funding and capital from both American and European investors and purchased the land "free and clear" for $5.6 million. He would invest even more in infrastructure. Eventually, he would purchase an additional 500 acres for a total of 2,000 acres.
Like an intriguing woman, this pretty parcel of untouched land captivated this developer's mind, heart and imagination for the next 39 years. Herden began development only after carefully canvasing coastal towns up and down the Atlantic and Gulf coasts. Soon after he formed a clear vision of what his dream town would be: a world-class residential resort community. He and his business partners, Jerome Zivan and Dave Weaver, put a shovel in the ground in 1978 and never once looked back. "It was a great challenge, and we were all so excited because it was also so necessary," Herden recalls.
Herden didn't take the easy road, or the fast lane to the finish line, opting instead to carefully and meticulously tuck utility lines underground, preserve green space and plot out each of the 212 streets, one subdivision at a time. He was vigilant about making choices that would create a family-friendly neighborhood community filled with parks, recreational amenities and as many trees as possible. "There is so much nature here compared to Europe. If there was a beautiful tree, I would move the lot line around it," he says.
Courtesy of Raimund Herden
Raimund Herden pictured in 1993 holding aerated concrete block.
The lightweight alternative to concrete, manufactured by a German company, first appeared in North America when used in Bluewater Bay
.
A child of the war, Herden didn't set out to be a developer. Moving around to escape harm left little time for education. So, at 16, when a friend's father invited him to take a three-year apprenticeship with him at a small bank, Herden seized the opportunity and drew strength from his humble beginnings. "It motivated me even more to succeed," he says.
A lifelong learner, Herden devoured collage classes in history, art and literature — subjects that interested him. Despite never earning a formal degree, he worked his way to becoming a successful bank executive. Life was his classroom, and he was an eager student. "I believe in knowledge," he confides. "Knowledge is a currency which you can pay in any country."
Looking back on the early days of the project now, Herden sees his team's lack of experience as a plus. "If we knew exactly what we were getting into, we may not have done it at all," he confesses.
As is his way with all things he commits to, Herden plowed through and was hands-on throughout the build-out of Bluewater Bay, signing off on plans, employing architectural guidelines, handpicking builders and learning along the way. "I maintained tight control. You cannot leave it to the builders or anyone. They are only in it for the money. I had my heart and blood in it," he says.
Avoiding trees was the least of Herden's hurdles over the years. With large resort developments such as Sandestin Golf and Beach Resort in Miramar Beach and Bay Point in Panama City filing for bankruptcy, Herden's project was considered a long shot. He fought off naysayers and skeptical city officials, including the Niceville City Council, which turned down his proposal to annex the development. "It's OK, a lot of people didn't believe in it, because I did. In fact, I think it is the only development in which the first person that started also finished," he said with a satisfied smile.
A 'Nice' Place to Raise a Family
Today, nearly four decades later, Bluewater Bay is a desirable resort-style community of neat neighborhoods that are home to more than 10,000 people living in nearly 4,000 apartments, townhomes, villas and single-family homes throughout 30 distinctly different subdivisions.
If Bluewater Bay has a Mayberry kind of feel, that was intended. "I believe in neighborhoods. I really do," Herden proclaims. Not only did he incur additional expense by purposefully designing neighborhoods to look and feel differently from one another, he designed nearly all the streets as meandering cul-de-sacs. "I did not want straight streets, I wanted them to curve," he explains as he moves his hand in a wave motion. "As you walk or drive you can look at the trees. This is more expensive, but this good for families, no?"
That includes Herden's family of five. Over the years he has lived in three different neighborhoods and currently has a single-story stucco home on the bay in the South Wind neighborhood.
Scott Holstein
Raimund and Margot Herden
Herden is also passionate about family, especially his own. His three children are now grown. Raimund Jr. followed in his father's footsteps and is an investment banker living in Germany. Katrin is an interior designer in Milan. Christina, the youngest, lives in Bluewater Bay, which allows Herden to see a second generation growing up to enjoy all his hard work. Everyone gatherd together last year to celebrate Raimund and Margot's 50th wedding anniversary. "I'm very family oriented," Herden says. "It's important to have a good family and to try to be happy and positive."
When this family man isn't spending time with his four grandchildren, you can find him working out in the gym, playing golf, reading or "exercising his brain" with Sudoku puzzles.
Surely it is satisfying for Herden to see national media such as Bloomberg's Business Week (January 2012) naming Niceville one of the "Best Places to Raise a Family in Florida." Clearly, Bluewater Bay has something to do with why Niceville is, well, a nice place to live.
Making an Impact
The fact that 93 percent of the homes are permanent primary residences makes Bluewater Bay a stable community and a success.
This tidy town is particularly attractive to retired and semi-retired military looking to enjoy life away from the hubbub of the tourist towns that line the Gulf. Realtor Susan Rood and her family are living proof. Her husband is a retired major in the U.S. Marine Corps. Living in New Orleans when Katrina hit in 2005, they sought refuge in Northwest Florida. After looking for more than a year, the Roods and their five boys settled on a five-bedroom/three-bath home in Parkwood Estates. "We loved the location and the schools," she says. (Yes, Bluewater Bay has its own pre-K, daycare and elementary school.)
Anticipating that families like the Roods would come looking to live the "Florida lifestyle," Herden's strategy was to build a variety of home types with a range of price points to attract a spectrum of buyers. According to Rood, it means there is something for nearly everyone. "Bluewater Bay is a community that fits nearly every level of lifestyle. You have apartments for lease, beginner homes and townhomes starting at $150,000, and then you have waterfront mansions from $700,000 to more than $2 million as well."
Beyond price point, Bluewater Bay has helped to create a sense of place for the surrounding area. No one would know better than Tricia Brunson. She grew up in Nice-ville, graduated from the local high school in 1980 and has worked for 17 years at the Niceville Chamber of Commerce, where she now serves as president and CEO. "The growth was huge, and it was fast," she says.
In addition to a residential housing boom, Bluewater Bay was the impetus for Niceville's commercial corridor. "When you add residential you need to have more services and businesses," Brunson says. "Bringing those residences in was key to the business community, because then you need grocery stores, physicians, drug stores, cleaning companies and so on."
And Herden delivered the goods, literally. Today, business on Highway 20 is buzzing with dozens of restaurants, shops, small businesses, medical offices and support services, including its very own sheriff's substation, fire district and post office.
Whether breaking down cultural barriers between U.S. and European investors or supporting economic development initiatives, Nathan Sparks, president of the Okaloosa County Economic Development Council, applauds Herden's sage business savvy saying, "He clearly understands the close connection that exists between a healthy economy, bountiful job opportunities and successful real estate development."
Despite the rapid expansion of the area, Brunson contends that her city still lives up to its "hometown USA" name. "Niceville has always been known for its great quality of life. It's safe, crime is low, and I think that holds true even though we have grown," she says.
Many local leaders like Brunson see Herden as a visionary. "He's always been someone who is able to focus on the big picture and on what's important," she says. "He has great common sense and is able to look at the needs of a community to decide on his next move." Plus, she says, "He's a super nice guy."
He's also an out of the box thinker when it comes to marketing. The word about Bluewater Bay has spanned the globe, thanks in part to the Emerald Coast International Invitational, a high-end golf tournament Herden created and hosted (with help from his wife and his daughter, Christina) at Bluewater Bay for 20 years beginning in 1981, the first year the golf course opened.
Larry Sassano, president of Florida's Great Northwest, was leading the Okaloosa County Economic Development Council in 1997 when Herden invited him to join the tournament as a sponsor. They had an immediate connection and have enjoyed a lasting friendship for the last 17 years.
"The golf tournament was a prestigious event. Here was an opportunity to meet some international business leaders while playing golf and make them more aware of this area," Sassano recalls.
The attendees were impressed with what they saw, and time on the green translated into local investments. "He's smart. It's a recognized quality attraction both here and abroad, because he did it right," Sassano says.
The Final Phase
Herden's personal involvement in Bluewater Bay was always down to the letter, quite literally. Each year he would sit down and write a letter to the homeowners about what was completed. "I tried not to promise anything. I just did it. I didn't want to disappoint anyone," he says.
Scott Holstein
The Marjorie Gray Clubhouse at Sunset Beach was the scene for many a gala reception where executives from luxury brands such as Credit Suisse Private Banking, Rolex, Jaguar, Lufthansa and many more mixed, mingled and conducted business with more than 3,000 guests over a 20-year period during the Emerald Coast International Invitational, one of the creative marketing strategies that helped place Bluewater Bay in the global spotlight.
His strategy to "under promise and over deliver" worked. He easily earned credibility and the respect of homeowners, the business community and beyond. Though he thought he penned his last letter in 2000 when he unveiled the final residential neighborhood — Magnolia Plantation — soon he will have to get his stationery out once more. The final touches are being made to Superior Residences, a $19-million-dollar resort-style independent living facility for seniors 55 years and older on Highway 20. When it opens in early 2015 the five-story building will offer 94 one- and two-bedroom apartments with balconies and screened-in patios. Residency will include a long list of amenities that range from concierge service, freshly prepared meals and daily housekeeping to privileged access to Bluewater Fitness, Bluewater golf courses, a community pool and even a home theater and day spa.
Many of the 15 million Americans eligible for Medicare by 2020 will retire in sunny Florida. The need for facilities that provide assistance to this growing demographic is quite real. For local leaders, it couldn't come soon enough. Once again Herden has his eye on the horizon and finds opportunity in growing trends.
"It's something that's been requested of us for years. It's perfect," Brunson says.
And though Herden has a bit more gray hair these days, Sassano assures that his golfing buddy and mentor is still highly motivated by these kind of passion projects. "He has incredible energy to do things like this," Sassano says. "And it, too, will be a quality establishment that people will be attracted to, because he's building it to his standards — as if he were going to retire there."
At 81, after seven presidential terms, Herden has lived his American dream — literally, and while bright eyed and wide awake.
Today, the country is recovering from one of the worst recessions on record and unemployment is higher than we'd like, but one person couldn't be happier when he looks around at his family, his home and his neighborhood community. And he's still nothing but optimistic about what the future holds.
If you are chasing a big dream, heed Herden's advice: "Do more than people expect, believe in yourself and never ever give up."