Rachal's Recovery Relief Reassures Bay County Residents They Are Not Forgotten
The winds of Hurricane Michael had barely receded when Rachal Smoker knew she had to help her Panama City Beach community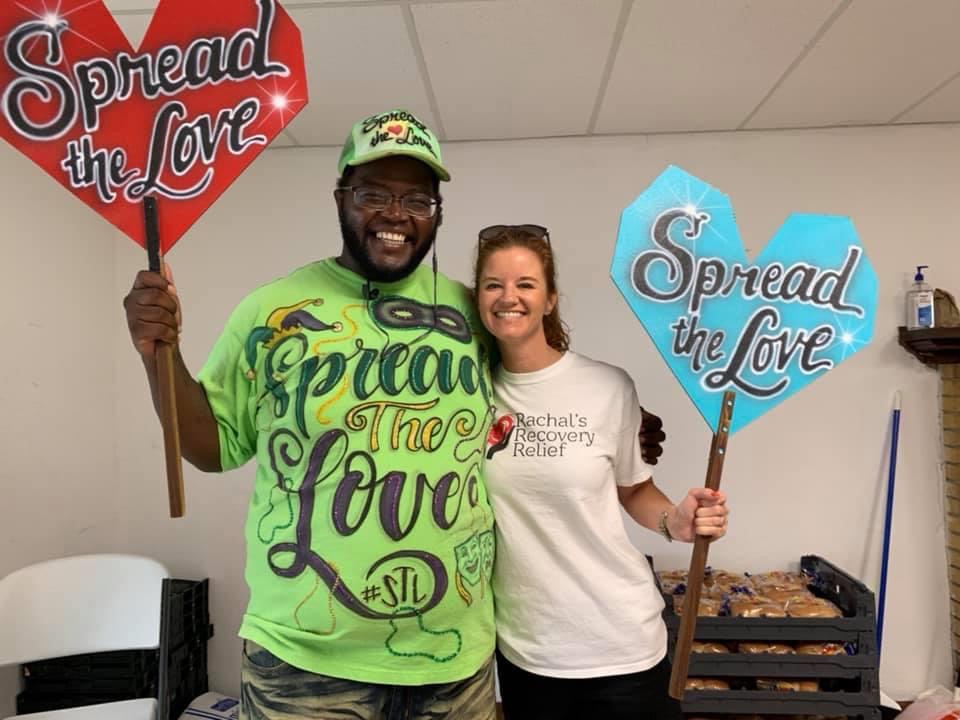 The winds of Hurricane Michael had barely receded when Rachal Smoker knew she had to help her Panama City Beach community. The day after the hurricane passed, she had already begun what would become a nonprofit that would raise $161,000 in its first year and provide assistance and relief to Bay County residents. 
Smoker is a native of Panama City Beach and has built many connections with those who live in the community or have ties to it. She began by posting on Facebook asking for basic needs such as tarps, flashlights, food or monetary donations. Within weeks, she had acquired so many financial donations from near and far that she had to become a nonprofit. Thus, Rachal's Recovery Relief was born. 
Forty-eight hours after the storm, Smoker and her daughter bought tarps, nails and hammers with them as they drove into town. As they went through devastated areas, they stopped, opened the trunk of the car and handed out materials to those in need. In the following days, they would also give out necessities such as flashlights, batteries, food, water and more. 
"I actually had no prior experience in nonprofit or volunteer work," said Smoker. "I just felt compelled to help my community. Those first months were such a blur, but it has been immensely humbling to watch how we have grown, changed and are still just as actively working."
Within those first months, the mission was to provide people with the necessities they needed to obtain safety and relief. Smoker was active in coordinating with other organizations, such as local fire departments, Feeding the Gulf Coast, Bay District Schools and Operation BBQ, in order to provide supplies to hard-to-reach areas that hadn't received substantial support.
Nearing the two-year mark of Hurricane Michael on Oct. 10, the mission has shifted to include long-term assistance for those who need help with recovery, rebuilding or relief. This is provided through an assistance application that can be accessed on the nonprofit's website. 
The application criteria is broad, and has covered replacements that insurance was unable to cover, financial assistance with paying bills, food donations and more. Rachal's Recovery Relief is broad in what it can cover, but if they are unable to provide direct assistance, they ensure that the applicant is put in touch with an organization that can assist their need. 
"The mental toll taken on families and children is the hardest part to deal with," said Smoker. "I have to remind myself that it's a marathon, not a sprint. Fortunately, there are so many local organizations, businesses and individuals that step up to help or spread the word. The generosity is so humbling and overwhelming that it often makes me cry."
Smoker said her two proudest moments were events where she partnered with local organizations. During the Christmas season of 2019, she partnered with Feeding the Gulf Coast to give away more than 100,000 pounds of food. Before the 2019 school year, in partnership with the Bay District Schools, they held a back-to-school bash to provide new clothing, shoes, backpacks and school supplies to over 1,000 children. 
For the 2020 school year, the organization's focus is on helping teachers adjust by providing school supplies — including face masks. Many teachers are still working to rebuild their classroom supplies from the storm. 
"Teachers need and deserve all of the help we can give them," said Smoker. "So many have spent decades building their classrooms and are still trying to recover what was lost. Still, through it all, they are incredibly inventive in finding ways to make students feel safe and welcome."
Alongside her own nonprofit, Smoker is actively involved with Save the Closet, an organization that also got its started because of Hurricane Michael, that collects gently used clothing donations, and Trinity Lutheran Church, which feeds hundreds of people in one of Panama City Beach's hardest hit areas. All of Smoker's food donations are given to Trinity Lutheran's food pantry. 
"I had been a hairstylist for 10 years, and eight months before the hurricane hit, I took time off to focus on being a mom and a wife," said Smoker. "I had started to feel bored, knowing I needed a hobby or to go back to work, but then the hurricane hit and I felt starting this nonprofit was my calling. Each day it gives me a drive and a purpose. It's brought me closer to my family, my community and myself."  
While Smoker has board members and a core group of volunteers, she does the majority of the work herself. It is a role that she feels blessed to fulfill. Smoker encourages community members to reach out to the dozens of organizations throughout Bay County and see how they can volunteer or donate to those in need.
"Many people in Bay County feel forgotten about," said Smoker. "People just want to feel heard, cared for and loved. We should be striving to hear them, to reassure them that they are not forgotten." 
To learn more or apply for assistance, visit RachalsRecoveryRelief.com.