Professional Profiles: Dr. David chandler
Dermatology Specialists of Florida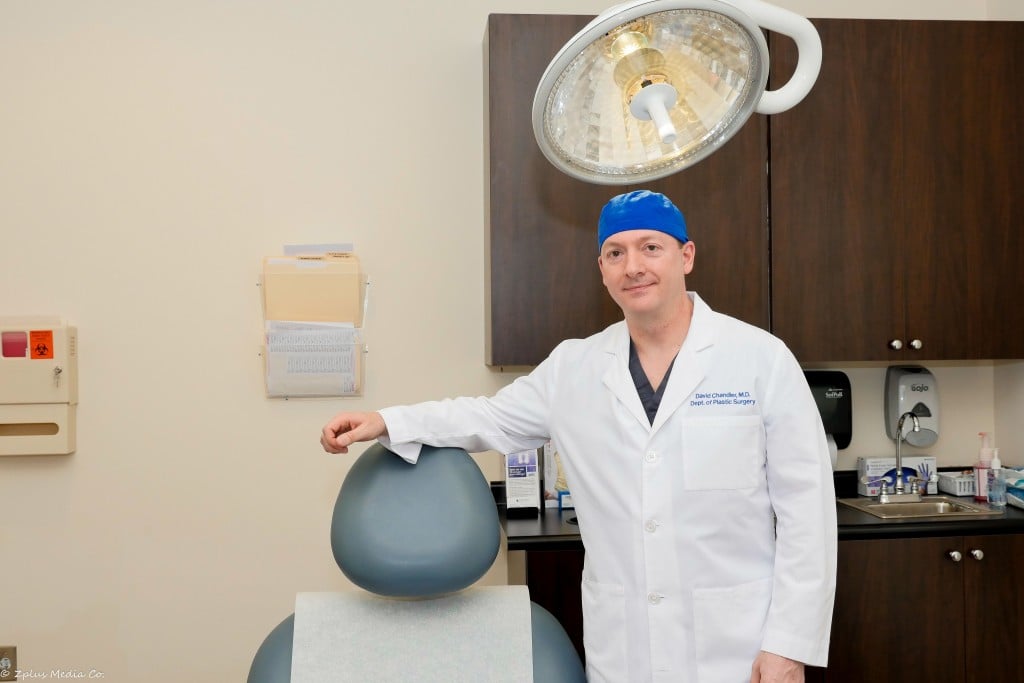 Jon Ward, MD, and Michael Stickler, MD, are pleased to announce that David Chandler, MD, has joined their practice to expand their established medical, surgical and cosmetic dermatology services by adding plastic surgery consultations and procedures.
Dr. Chandler, a board-certified plastic surgeon, completed his undergraduate degree in physics from Auburn University.  He attended medical school at the University of Alabama at Birmingham, residency at the University of Kansas Medical Center and completed a fellowship at the University of Texas MD Anderson Cancer Center. Dr. Chandler specializes in cosmetic and reconstructive surgery. He will be an excellent option for patients who wish to have a plastic surgeon close their Mohs micrographic surgery sites.
Cosmetically, he will perform breast augmentations, body contouring, breast lifts (mastopexy), face and neck lifts, otoplasty (ear surgery), blepharoplasty (eyelid lift surgery), liposuction, fat grafting, explants, capsulectomies, and tummy tucks (abdominoplasty). In addition, Dr. Chandler will offer cosmetic injectables such as Botox and filler.
Dermatology Specialists of Florida is excited to integrate plastic surgery of the face, breasts and body, medical dermatology and Mohs micrographic surgery in the same practice.
"Dermatology and aesthetics go hand in hand, and we are very pleased to now offer our patients both services under one trusted brand," said Dr. Jon Ward. Over the past decade, Dr. Ward and his colleagues have focused on the ever-expanding non-surgical aesthetic treatments available to patients in their on-site medical spa, Aqua.
Now, Dermatology Specialists of Florida and Aqua Medical Spa clients will further benefit from the addition of having a plastic surgeon on staff who offers a multitude of surgical cosmetic procedures. April Marchand, Aqua Medical Spa Director added, "We are happy to welcome Dr. Chandler to our practice and look forward to providing advanced cosmetic options to our patients with the expertise and experience of a skilled board-certified plastic surgeon."
Dr. Chandler has high surgical standards and provides patients with consultative sessions to help understand their needs clearly before proceeding with any surgical procedures. He focuses on delivering quality, and he derives tremendous satisfaction out of helping patients achieve their desired aesthetic goals.
Prior to joining their practice, Dr. Chandler held several academic leadership roles, including serving as an assistant professor of plastic surgery at the University of Kansas School of Medicine and serving as a representative on the National Accreditation Program for Breast Centers.
He enjoys sharing his experience and expertise with others as a featured presenter on a wide variety of plastic surgery and reconstructive topics, as well as volunteering for overseas medical mission work for both pediatric and adult patients.
Dr. Chandler is a diplomat of the American Board of Plastic Surgery and a member of both the American Society of Plastic Surgeons and the Florida Society of Plastic Surgeons.
"Plastic surgery and dermatology are a natural fit, and I am pleased to join board-certified dermatologists and Mohs surgeons Dr. Ward and Dr. Stickler and their team of skin care experts. Dermatology Specialists of Florida and Aqua Medical Spa have an outstanding patient-centered reputation and an experienced team focused on quality outcomes, so I believe our partnership will be a win-win for the patients," commented Dr. Chandler.
Dr. Chandler consults patients and performs basic surgical procedures at the Panama City and Santa Rosa Beach Dermatology Specialists of Florida/Aqua Medical Spa locations. He is currently performing outpatient cosmetic surgeries at the Destin Surgery Center.
In the spring of 2021, Dr. Chandler will move to his beautiful state-of-the-art medical facility, currently under construction in Red Fish Village in Santa Rosa Beach. The new facility will be called 30A Plastic Surgery and will be a brand of Dermatology Specialists of Florida and Aqua Medical Spa.
---
Those interested in booking a consultation with Dr. Chandler can do so by calling (850) 608-1833 or emailing Monica@30Aplastics.com.
Dermatology Specialists of Florida  |  (850) 233-DERM (3376)  |  DermatologySpecialistsFL.com