Princesses of Paradise
Mia Bennett believes everyone can shine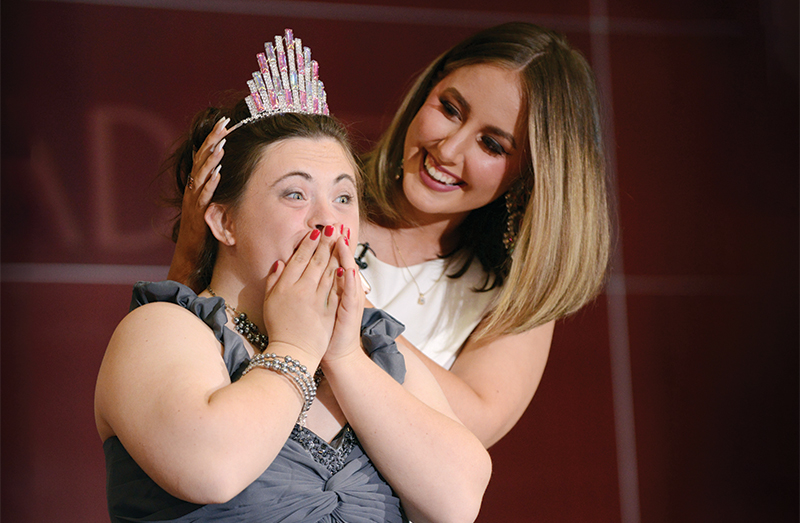 A woman dressed as a chef, adorned with a blue ribbon and carrying a rolling pin, took her turn in front of the crowd.
Despite being much older than the other Princesses of Paradise pageant entrants, she wore a youthful smile during the "Best of Me" portion of the competition. Her outfit recalled her successes at the Walton County Fair, where her blueberry muffins won first-place prizes three years in a row.
Princesses of Paradise conducts an annual pageant reserved for women and girls of all ages with special needs.
Mia Bennett founded Princesses of Paradise as a nonprofit organization, one that champions inclusive pageantry, combats harmful stigmas and provides an inclusive opportunity catered to the spirits of participants.
"This event," Bennett said, "lets women and girls with any significant medical condition that can impact their self-esteem really showcase their beauty and be celebrated by a community of individuals that values them as the beautiful individuals they are."
Bennett is a student at Florida State University Panama City pursuing a master's degree in public and corporate communication. She earned a bachelor's degree in recreation tourism and events. She has participated in pageants since she was a girl.
"I begged my mom to let me participate just to get a dress," said Bennett, grinning at the memory. "I ended up winning it, along with my sister who won in a higher age division."
As a 12-year-old pageant winner, Bennett, in a dress and tiara, rode in a convertible along a parade route.
"A little girl with Down syndrome came up to me and yanked my dress to tell me that she loved my crown," she said, recalling an experience that would eventually lead her to establish Princesses of Paradise.
"She said she wished she could be a princess, too," Bennett said. "I don't think I understood the enormity of something like that."
Bennett continued to compete in pageants. At 16, while preparing for an event, she thought back to her encounter with the girl at the parade.
"I realized that not everyone had the same support from their family that I did," she said. "I was really lucky."
Bennett looks like she could be a beauty influencer, but she does not see herself that way.
"I was the ugly duckling growing up," she said. "I'm not a firm believer in conventional beauty standards."
Bennett said that media and popular culture have established ideals that are detrimental to young women who struggle to achieve them.
"I wanted to provide an outlet that celebrates beauty by saying, 'You're beautiful because you're an individual,' not 'You're beautiful because you check all these boxes that TikTok is telling you to check,'" Bennett said.
Princesses of Paradise employs themes intended to help girls and women celebrate themselves. All participants receive a crown, sash and flowers after walking the stage to their favorite song.
"It's so much more than some girls getting a crown," Bennett added. "It's an attempt to change the way people view each other and humanize us again."
Bennett customizes the experience of individual participants.
"I formulate a title for their sash, and they are the only person with that title," she explained. "It's about boosting their self-confidence and showing them that, no matter their circumstances, they deserve to be told that they are beautiful. Not because of a beauty standard, but because no one else is like you on this planet."
In addition to the beauty walk, optional competitions include casual wear, photogeneity and the Best of Me.
"Best of Me is another one of those aspects that's designed to celebrate them," Bennett said. "This allows them to create an outfit surrounding the best part of themselves or something that they think represents them. I've had girls dress up as cheerleaders; I've had a country rock star."
And, there was the prizewinning muffin maker who proved that you are never too old to shine.