Praying for 51
Lynn Haven man helps others while battling ALS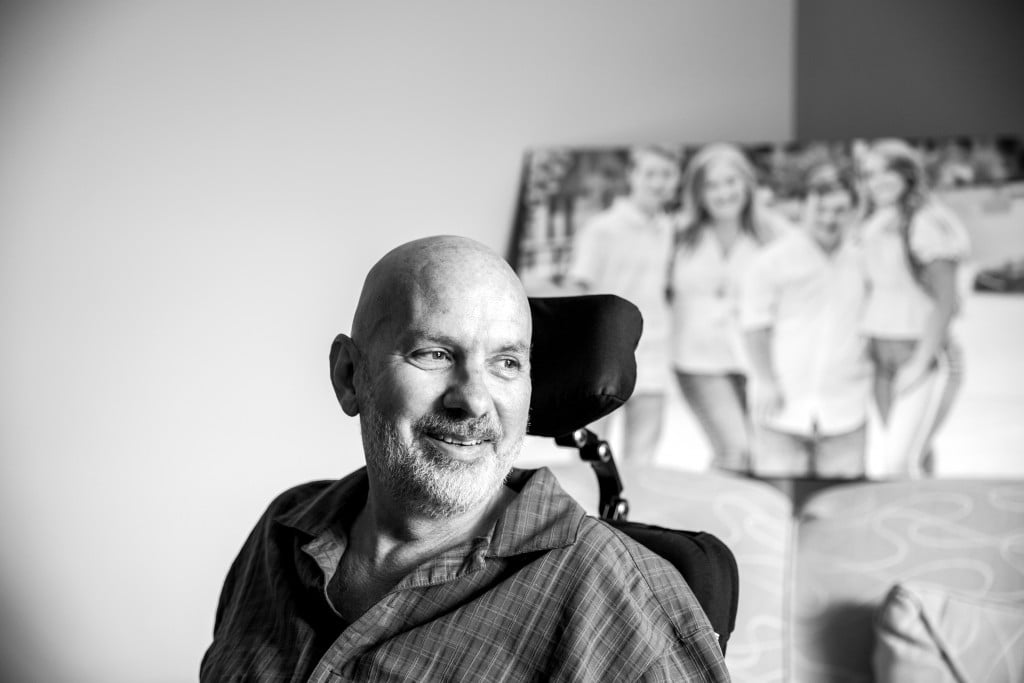 Randy Walton uncharacteristically paused. And paused some more. He is usually quick in conversation, making himself heard with a voice that is strong and deep and likely soon to fade.
"That's a tough one," he said, finally. "I could tell him what he is going to go through and deal with and that he will need a good support system, as good as he can get."
Walton had been asked what he would say to someone newly diagnosed with amyotrophic lateral sclerosis or ALS, a progressive and terminal nervous system disorder commonly called Lou Gehrig's disease that affects nerve cells in the brain and spinal cord, causing muscles to atrophy and resulting in loss of muscle control.
Doctors in Panama City and at the Mayo Clinic in Jacksonville diagnosed Walton with ALS in October 2019. He consulted them after finding himself unable to twist a plastic nut onto exposed wire ends and struggling to get back to his feet after tending to a carpet tack strip.
"Here's a hypothetical. What if they were already gone?" Walton said, nodding toward his parents, Bill, 82, and Margaret, 79. "As it is, he has had prostate cancer, she's got two bad knees and he has a bad knee. The only other person I've got is my sister and she lives in Jacksonville, so I would have to move there or pay for round-the-clock care."
Long retired, Walton's parents were career civil service Department of Defense employees who worked in research and development at a Navy installation in Silver Springs, Maryland.
Walton, whose specialty was micro-circuitry, worked there, too, until the base was shuttered pursuant to a federal Base Realignment and Closure (BRAC) commission's recommendation. He was transferred to Naval Support Activity Panama City and retired from there in July 2018.
Childless and never married, he had plans to travel the country on his 2001 Harley-Davidson motorcycle.
But before he could hit the road, Hurricane Michael de-roofed his Lynn Haven home and soaked its interior. The work of drying the house back in, repairing ceilings, replacing drywall and installing new lighting would last until well after Walton received his diagnosis. So, as part of the renovation, doorways were widened, and a shower was converted to zero entry.
Doctors at Mayo informed Walton that versus many other ALS cases, his would advance relatively slowly. Gene testing revealed that his disease was not dictated by heredity. Causation remains indeterminate, but Bill Walton has a theory.
ALS cases occur among people who have served in the military or worked for the military at twice the rate at which they occur in the general population, Bill Walton said.
"The only difference between me and my son that I can think of is all the injections he received before he went overseas," he said.
Dad did his work stateside. Walton was immunized with batteries of shots before traveling to Japan, Bahrain, Iraq, the United Arab Emirates and elsewhere.
"Fast-moving cases may last only two months to two years," Walton said, noting as an example the death of Sean Healey, the late CEO at AMG, Inc., a Mercedes-Benz subsidiary. "But when you have it and all these things start to happen with your hands and your feet, you say to yourself, 'This is slow moving?' To you, it feels like it's progressing really fast. I pick up my phone and it feels like it weighs 10 pounds."
For a time, Walton moved about his house assisted by a rollator, but he is confined now to a custom-made, motorized wheelchair.
"It got to the point where I just had to get in this chair," said Walton, who has been unable to walk since late July. "I can stand up, but my legs start shaking. ALS messes with your balance and your equilibrium."
Walton has struggled to cope —especially with his loss of independence.
"I always cooked and cleaned and did everything for myself," he said. "Now I have to have my parents here. It is hard to stay positive, but after you get past all of that initial shock, you just have to accept the hand you've been dealt."
Still, Walton clings to hope.
"I'm not ready to let go of my motorcycle yet," he said.
Bill Walton, who spends hours online every day looking for anything he can find on Lou Gehrig's disease, said 50 ALS reversals have been documented. He noted ongoing efforts by a researcher at Duke University to collect blood samples from those survivors and to try to identify significant common denominators among them.
That researcher, Dr. Richard Bedlack, the director of the Duke ALS Clinic, recommended to Walton a drug, not approved by the FDA, that has served to arrest excruciating muscle spasms that he had been experiencing at night.
"They would wake me up, they were so painful," Walton said. "The medicine is a blessing. I wouldn't be able to live without it."
Walton takes a number of "supplements" that he has discovered through networking and his own research. His kitchen table looks like a pharmacy when he and his mother go to load condiment cups with morning and evening medications. His out-of-pocket expense for meds runs about $1,000 a month.
Bill and Margaret had for years divided their time between their home in Maryland and a place in Vero Beach, Florida. No more. Margaret has not been back to Maryland since November 2019. Her caregiving duties afford her no vacation time.
"People ask me how I do it," she said. "How can I not do it? How can I not take care of my son?"
Margaret derives support from an ALS caregivers support group maintained by the Florida chapter of the ALS Association. The group provides a forum for caregivers to share information, experiences and frustrations.
"Each meeting presents an educational component and opportunity for participants to learn from each other by asking questions about any challenges they are facing, or offering ideas they have discovered on their own to help make living with ALS easier," said Judie Benwick, the coordinator of groups for both patients and caregivers in the Florida Panhandle. "Our groups serve as a social resource to help connect people who are all walking in the same shoes."
Jessica Collins is the director of care services for the ALS Association of Florida Chapter. She spoke to the inspiration supplied by ALS patients.
"When I started my career in health care, my goal was to work closely with families who needed assistance to ensure they were provided the resources, tools and care needed to help them live and maintain a quality of life," she said. "The work we do at the ALS Association allows me to do that. When used together, A, L and S are the worst three letters of the alphabet, but those who are diagnosed with the disease and their families are among the bravest people I have had the pleasure of working alongside."
Brave. And generous.
"Having ALS had made me a lot more giving," Walton said. "If I have it to give, I give it."
He has, for example, had mattress pads and a microwave oven sent to an ALS patient who has lost his sight, is poor and has only Medicare as insurance. To another patient, he sends candy. He finds joy in visiting his neighbors and delivering treats to their dogs. He has grown close to a nephew, also named Randy, with Down syndrome. His mother lends financial support to a housekeeper who visits Walton's home by "giving her a little extra."
Margaret chooses to emphasize what her son can do.
"He has me load up his lap with grocery bags and he brings them in," she said. "He takes clothes out of the washer and puts them in the dryer. He takes the trash out after I put it on his footrest. He figures out how to stretch bags and put them in the trash can.
"He really doesn't complain," Margaret added. "Sometimes, he puts me in a red timeout chair to make me rest."
There are times, too, when Walton tries to do too much. So it was that he once dumped himself out of his wheelchair into the yard. And Mom once caught him trying to slide onto the riding mower in the garage.
Once a rider, always a rider.
"The word can't really isn't part of my vocabulary," Bill Walton said. "I have a hard time recognizing that I can't heal my son. But I pray that he will become the 51st survivor, and I don't believe ALS will kill him.
"I really don't."