Potato Garlic & Herb Roasted Chicken
Need a go-to recipe for dinner parties? We've got you covered.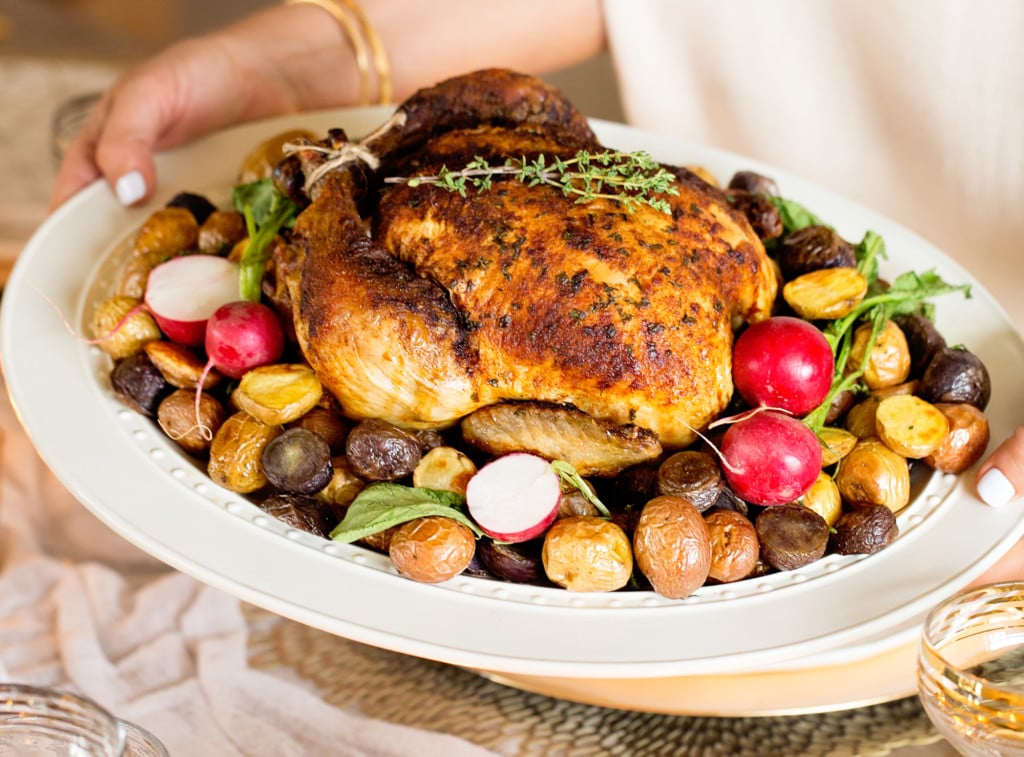 Ingredients
1 whole chicken, about 4 pounds
5 garlic cloves, minced
5 tablespoons of butter, room temperature
½ teaspoon rosemary or 2 teaspoons fresh chopped rosemary
Salt and pepper to taste
1 pound baby potatoes, peel on and washed
2 tablespoons of avocado oil or grapeseed oil
Radishes as garnish
Directions
Preheat oven to 400ºF.
In a mixing bowl, combine garlic, butter, rosemary, salt and pepper.
Mix until everything is combined.
Pat the chicken dry using paper towels.
Place the mixture under the skin of the chicken.
Spread the butter on the thighs and drumsticks.
Season the chicken with salt and pepper, refrigerate uncovered for at least one hour or overnight (this helps achieve the crispy roasted skin).
Drizzle avocado oil over the potatoes, season with salt and give it a good mix with your hands.
Place chicken on top on the potatoes, sprinkle with salt and pepper, and roast uncovered for 1 hour and 15 minutes, or until chicken is cooked through, basting chicken with pan juices a few times.
Remove from the oven and let rest for 10 minutes.
Submitted by Jessica Proffitt Bracken