Stinky's Bait Shack Announces Winners of the 12th Annual Pompano Tournament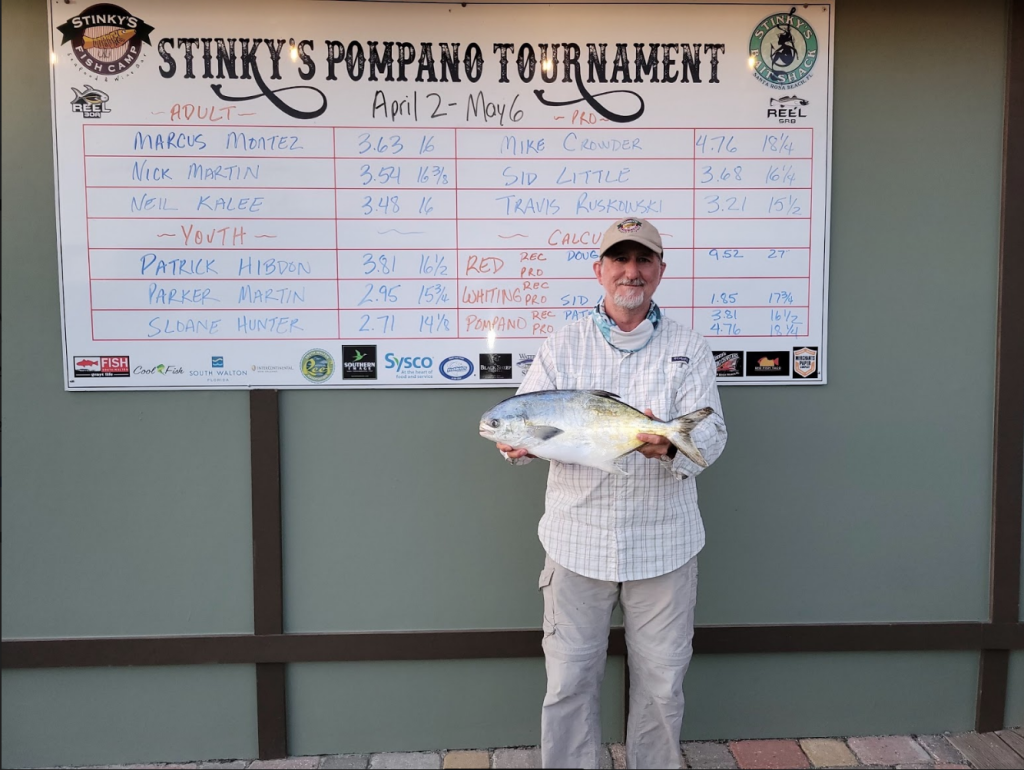 Chef Jim Richard and Stinky's Bait Shack team have tallied the results of the 12th Annual Pompano Tournament. The Pompano Fishing Tournament is the longest-running fishing tournament in Walton County. The tournament registered more than 100 participants — ranging from recreational Anglers to professionals — locals and visitors alike. The tournament spanned four weeks, allowing visitors to register and fish competitively even if they only caught one pompano while visiting the Beaches of South Walton.
"Our Pompano Tournament is unique because of the miles of beach accessibility and the ease for novice and professionals to walk out to Walton County emerald green waters and wet a line. This is a surf fishing tournament at its finest, and thankfully we have an amazing fishery. Almost anyone can participate; You only need to catch one fish to win," said Chef Jim Richard, tournament originator and Stinky's owner.
The purse for the annual tournament has grown exponentially over the years. In 2022, the anglers will be awarded over $6500 in cash and prizes. All winners are invited to pick up their prizes at Stinky's Bait Shack during normal operating hours.
"We could not do this tournament without the support of our sponsors and loyalists. Thank you to the amazing people we get to call friends and family," said Richard.
The 2022 Pompano Tournament Winners:
Adult Recreational Division
1st Place, Jeff Bryan – 4.73 lbs. at 18.75"
2nd Place, Scott Risher – 3.83 lbs. at 17"
3rd Place, Marcus Montez – 3.63 lbs. at 16"
Adult Professional Division
1st Place, Sid Little – 5.24 lbs. at 19.75"
2nd Place, Mike Crowder – 4.76 lbs. at 18.25"
3rd Place, Travis Ruskowski – 3.21 lbs. at 15.5"
Youth Division
1st Place, Patrick Hibdon – 3.81 lbs. at 16.5"
2nd Place, Parker Martin – 2.95 lbs. at 15.75"
3rd Place, Sloan Hunter – 2.71lbs. at 14.125"
Calcutta Recreational Division
1st Place Redfish, Doug Johnson – 9.52 lbs. at 27"
1st Place Whiting, Nick Martin – 1.54 lbs. at 15.5"
1st Place Pompano, Jeff Bryan – 4.73 lbs. at 18.75"
Calcutta Professional Division
1st Place Redfish, Scott Risher – 7.47 lbs. at 26.5"
1st Place Whiting, Sid Little – 1.85 lbs. at 17.75"
Ist Place Pompano, Sid Little – 5.24 lbs. at 19.75"