Ambassadors of the Beach and Beyond
The proud members of Walton County's Volunteer Beach Ambassadors (VBA) program are easy to spot in their light blue collared golf shirts.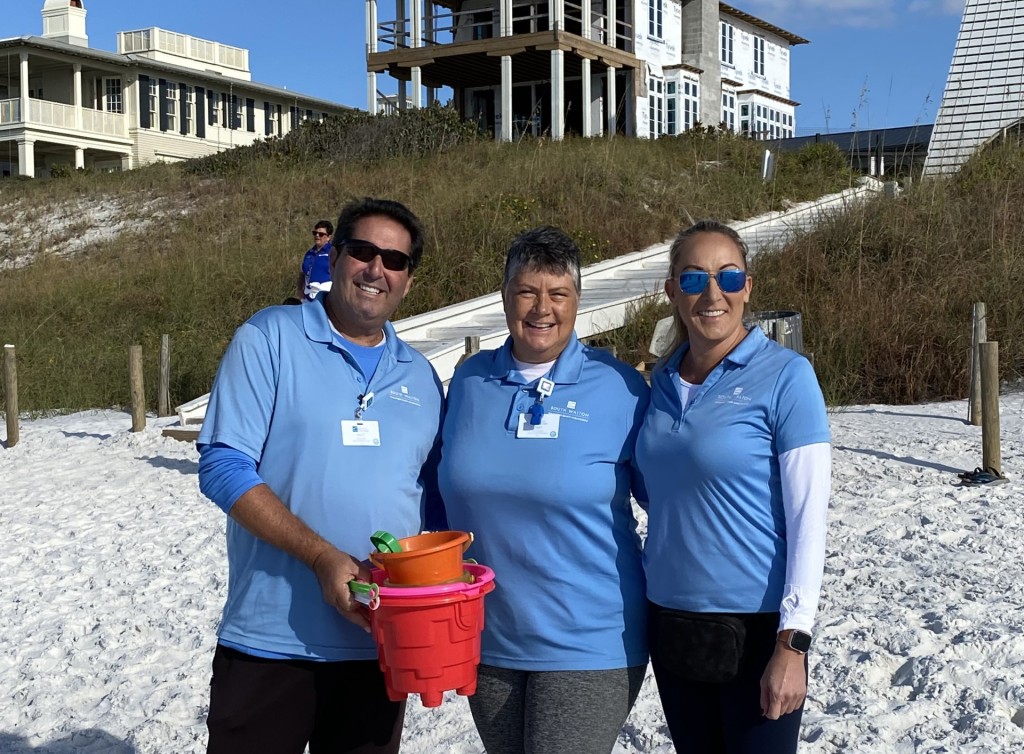 You can always identify them by their bright, cheerful "uniform." The proud members of Walton County's Volunteer Beach Ambassadors (VBA) program are easy to spot in their light blue collared golf shirts. March through October each year, you may see them at beach accesses, on the beach, along scenic bike paths or even out in the community. These ambassadors truly epitomize a destination so well known for its inviting, helpful vibes.
The mission of the ambassadors is to continually improve the overall beach culture of Walton County one friendly greeting at a time. Each of these new introductions presents another opportunity for them to make an impact by sharing information and advice — plus old-fashioned kindness and hospitality. Their knowledge of the area is seemingly endless, and it applies to everything from entertainment to ecology.
"The team is here to help with such a wide range of topics," said Laurie Reichenbach, who served as the program's director for years before recently transitioning to a new role. "We like to think of ourselves as sort of a mini Chamber of Commerce."
This insightful service benefits tourists and locals alike. Looking for a recommendation on great restaurants, shops or salons to check out around the community? Need an insider tip on fun activities or helpful services such as equipment rentals and beach bonfire setups? The beach ambassadors can advise you on everything from fishing charters to where to dine on some fresh local catch. South Walton is constantly evolving, so it helps to have a team that can keep you up to speed.
When it comes to fun on the sugar-white sand, the ambassadors work hard to educate visitors on beach etiquette and ordinances. They may clarify policies about dogs on the beach, or even provide you a plastic cup if they notice that you have glass containers.
Maintaining the natural beauty is another major role of the ambassadors. From eco-diverse state forests to rare coastal dune lakes, there's so much to learn about the pristine local environments, as well as aquatic and animal species. This initiative particularly involves protecting shore and marine life, such as the sea turtles who come to nest in the dunes.
The ambassadors' message is an extension of the bigger goal we should all strive for when it comes to these incredible beaches: "leave no trace." And they certainly practice what they preach – helping to fill in holes, pick up trash, and flatten sand art at the end of the day. These tasks fall in line with their educational mantra, #CleanDarkFlat, which speaks to the ideal conditions for those nesting turtles.
Since these ambassadors are everywhere, they also serve as a valuable set of extra eyes for essential organizations such as the Walton County Sheriff's Office, the South Walton Fire District Lifeguards and Code Enforcement. They help spread the word regarding the beach safety flag system, educating visitors about how the various colors of flags can warn of everything from Gulf conditions to the presence of marine pests such as jellyfish. On days when a double red flag is indicating highly hazardous surf, the VBA team wears blue whistles to call out any distress.
The program that started in 2016 with just 30 volunteers has now grown to 231 volunteers (up from 214 in 2020). Also involved in the effort are Junior Beach Volunteers – 9 trained and countless non-trained. Altogether, their hard work amounted to more than 8,000 hours served during the 2021 season.
The goal is to grow to more than 300 volunteers in 2022. Want to contribute all your local knowledge as part of the team? To become an ambassador, you must be a Walton County resident for at least three months out of the year. And of course, you need to have a strong passion for preserving the beaches that make this county so unique.
Visit South Walton
If you're interested in learning more or signing up to join the program, contact Director of Volunteer Beach Ambassadors Donna DonFrancesco at Donna@VisitSouthWalton.com or (850) 333-0298. VisitSouthWalton.com