Pinnacle Awards 2020
Program adds Turnbull Award honoring a rising Pensacola star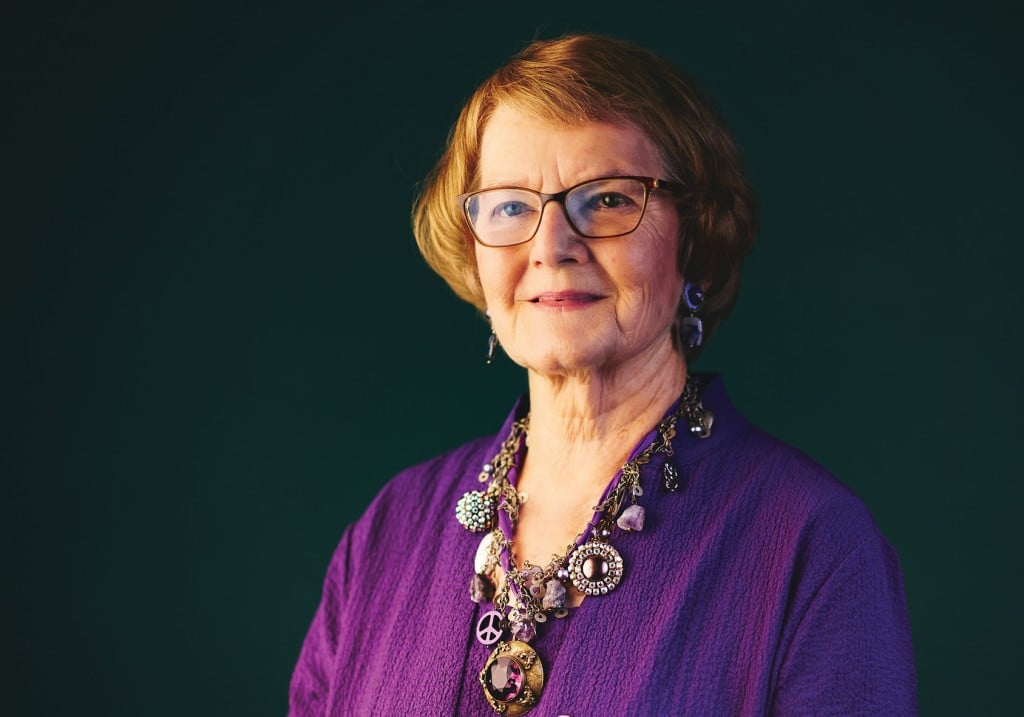 Marjorie Turnbull has been many things — a county commissioner, a state legislator, the executive director of a community college, a bank director and the kind of community servant whose name might fittingly be placed on a bridge or a building.
Still, Sept. 29 was a special day for her.
It was then that Rowland Publishing and 850 — The Business Magazine of Northwest Florida unveiled a new honor as part of its Pinnacle Awards program, which was established in 2014.
Pinnacle Awards are reserved for outstanding Northwest Florida women who have emerged over the course of distinguished careers as accomplished professionals and community assets.
Effective this year, RPI decided to additionally recognize a young woman of obvious promise who has embarked on a trajectory sure to be impressive.
Turnbull, of Tallahassee, was herself recognized with a Pinnacle Award, and minutes later, it was divulged that the new honor will be known as the Turnbull Award.
Turnbull was thrilled.
"I am sitting here absolutely stunned," she wrote in an email sent to RPI president Brian Rowland and two of his key employees, McKenzie Burleigh and Steve Bornhoft. "The Pinnacle Award is in itself a recognition that was so unexpected. But you have gone above and beyond what I deserve with the new award that you have chosen to put in my name that will recognize someone early in a life of service and accomplishment. Nothing could honor me more."
The first-ever winner of the Turnbull Award, announced via a virtual presentation that originated in Tallahassee, was Adrienne Maygarden of Ascension Sacred Heart Hospital in Pensacola.
She was among eight women from Emerald Coast who were honored …

Tracy Andrews
Local manager, Gulf Power Co.
Tracy Andrews is the first Black woman to serve as Chipley, Florida's mayor and works as a local manager for Gulf Power Co.
"I encourage people today, especially our youth, to not let fear impede upon the greatness inside them," Andrews said in an interview with 850 Magazine.
For her, fear came knocking when Hurricane Michael ravaged Chipley and when, just days after the storm passed, she was made mayor.
"I asked a room full of councilmen and commissioners, 'Are you sure?'" Andrews recalled. "Were they sure it was me they wanted to assume this role? It spoke volumes about their trust in me, and I resolved that I wouldn't let the opportunity be anything other than a privilege."
Two years into her tenure, Andrews is focused on revitalizing Chipley's downtown.
"My goal is to be a positive voice for my community, one that leads with dignity, character and integrity. My desire to serve comes from a genuine love for the people in my community and a desire for us to grow and develop into something greater."
Kellie Jo Kilberg
Chairman, Florida Defense Alliance
Among women who have shaped her approach to life and business, Kellie Jo Kilberg's grandmother on her father's side comes first to her mind.
"She raised foster children," Kilberg said, "She taught me about compassion and the importance of listening. Everyone has a story."
For more than 30 years, Kilberg has worked in leadership and organizational development. As a consultant, change agent, alliance builder, director of communication and strategic initiatives for a homebuilder and as the chairman of the Florida Defense Alliance, she always takes time to listen. Listening, she says, is strength.
At the Florida Defense Alliance, Kilberg stays current regarding the needs of the 20 military installations and three unified commands in the state. In turn, she works with communities, chambers of commerce and local military affairs committees to retain and expand the military presence in Florida.
"Social media can tear people down, and there aren't enough people who are inspiring. I would encourage young women today to stay positive and patient and be inspirational. Do those things and listen to what is going on around you, and you will make a difference in the world."
Adrienne Maygarden
Service line director, Ascension Sacred Heart Hospital; Turnbull Award honoree
Adrienne Maygarden was working as a public accountant with governmental entities and nonprofit organizations when one of her clients, the YMCA of Northwest Florida, recruited her. Her time there coincided with the $16 million Pensacola Downtown YMCA project, which, along with development of the Southtowne apartment community, would prove transformational.
Maygarden's success at the YMCA attracted the attention of Carol Carlan, the president of the Ascension Sacred Heart Foundation, which was undertaking fundraising efforts in support of another highly consequential development, the Studer Family Children's Hospital. Maygarden joined Carlan in that effort.
In June, Maygarden joined Ascension Sacred Heart Hospital as its women's and children's service line director. In that role, she will be creating partnerships throughout the hospital's service area with health care providers, pediatricians' offices, OB/GYN offices and small hospitals to provide for a seamless flow of care to the practitioners best suited to handle a case.
It's been an eventful year for Maygarden personally, too. Her first child, Charlotte, was born on March 2.
"In conversations with women, I recognize that they pull back if something seems scary or hairy or too big to tackle," Maygarden said. "Lean into it, and you will be surprised at the growth that happens during your period of greatest discomfort."
Brigette Brooks
President, Pensacola Bay Area IMPACT 100
If service to others is the rent you pay for a place on earth, Brigette Brooks is a tenant in great standing.
As president of the Pensacola Bay Area IMPACT 100 organization, Brooks has helped provide millions of dollars' worth of grants for nonprofits and community improvement projects in Escambia and Santa Rosa counties.
Her role as board chair for the Santa Rosa Island Authority (SRIA) challenges her to be an active participant in projects and decisions that stimulate the local economy, preserve the area's character and foster a warm, welcoming community that appeals to residents and visitors.
Brooks is passionate about her work with a local chapter of the Alpha Kappa Alpha (AKA) Sorority and devotes time to the Institute for Women in Politics of Northwest Florida.
"The more I learn about our community, the more I realize how blessed I've been with the family I was born into, the opportunities I've been provided and the consistent love and support I've received," Brooks said. "That's why it's so important for me to give back and to try to make a difference through organizations that serve others."
Dr. Martha Saunders
President, University of West Florida
While in high school in Mississippi, Martha Saunders developed a desire to see the world. Today, as president of the University of West Florida, she continues to favor a big-picture view.
That tendency leads her to think beyond what the university might accomplish by itself and to instead consider what UWF might make happen in concert with other regional players.
When UWF celebrated its 50th anniversary in 2017, Saunders considered that the university had progressed very well to a point where she would hold up its academic programs for comparison to those anywhere.
Going forward, how would the university build on that?
By working with partners including Eglin Air Force Base and the Department of Homeland Security, UWF brought about its Center for Cybersecurity. Partnering with the Institute for Human and Machine Cognition in Pensacola, UWF established Florida's first doctoral program in intelligence systems and robotics.
"You will be seeing more examples in the future of how can we take what we know how to do and couple that with other resources and partners in the region," Saunders promised.
For the counties of the Panhandle, she has similar advice.
"It's hard for them to make themselves heard," she said. "Together, they are only 4 percent of the state's population,
so they need to lock arms and not work at cross purposes."
Kay Phelan
Owner, Phelan & Lowry, Ltd.
At age 29, Kay Phelan took advantage of one of the few professional pathways available to women at the time and opened in 1976 her own real estate business in New Hampshire, an hour north of Boston.
Her then husband was an airline pilot and had been transferred to the Northeast. Phelan impressed the real estate agent with whom she dealt in New Hampshire as someone who might succeed selling homes. The agent's instincts were correct.
Phelan discovered a particular appetite for the marketing and advertising side of the real estate business. Upon moving to Atlanta in 1980, she worked in those areas with builder/developers. In 1985, she opened her own ad agency. The Kroger supermarket chain became her No. 1 client.
Phelan first visited the Emerald Coast when she attended a conference of Kroger store managers and food vendors. She walked the beach, cruised U.S. 98 in her rental car and bought a lot. She moved permanently to the beach in 1994.
Her current clients include the Emerald Coast Children's Advocacy Center; Lulu's Restaurant; and Destin High School.
She has done work, often at no charge, for nonprofits including the Mattie Kelly Arts Foundation, the Cultural Arts Alliance of Walton County, Sinfonia Gulf Coast, the E.O. Wilson Biophilia Center, the American Cancer Society and the fundraising Chi Chi Miguel Throwdown.
"Experience has guided me through life," she said. "There really is no such thing as pure luck. I believe in the adage that luck is where preparation meets opportunity."
Cindy Wilker
President, LGBTQ Center of Bay County
As a 16-year-old high schooler, Cindy Wilker was instructed by two uniformed deputies to open her locker. The men rifled through its contents and confiscated as evidence notes that Wilker had received from a girl she was dating.
The deputies put her in a cruiser and took her to the sheriff's office. Her father, a schoolteacher, was summoned. Furious, he gave his daughter two options. She could leave home or she could agree to be enrolled in a Christian school and get fixed. She left and has been finding her way ever since.
Wilker enlisted in the U.S. Marine Corps, and after completing basic training at Parris Island, she believed she could handle anything, but she had yet to meet her abusive and demeaning commanding officer.
"I was in a unit with 500 men and myself, and that was a living hell," Wilker recalled. "It was clear they didn't want me around."
Wilker got out, and she got lucky.
She met an investor on the Chicago Board of Options, went to work as a runner, learned a lot, discovered an uncanny ability to see patterns among businesses that could work together and went on to serve various entities as an advisor, researcher and dealmaker.
Today, Wilker serves as the president of the groundbreaking LGBTQ Center of Bay County. The project got its start when two women asked her if she would help bring about a drop-in center where gay and lesbian students might feel safe and free to be themselves.
She has realized that objective and much more, raising the profile of the LGBTQ community in Bay County, seeing to the first-ever Pride festival in Panama City and forging alliances with organizations, including the NAACP, Feeding the Gulf Coast, Equality Florida and Florida State University.
Erica Grancagnolo
Assistant Director, Santa Rosa Economic Development
Erica Grancagnolo moved from Hawaii with her Navy husband to Santa Rosa County because it is an outstanding place for her to raise her boys. And she loves her job as the associate director at Santa Rosa Economic Development because it gives her the opportunity to make her chosen home even better.
Grancagnolo understands that Santa Rosa Economic Development successfully recruits employers not just on the basis of fact sheets. Her boss, Shannon Ogletree, has impressed upon her that commitments come about as the product of carefully nurtured relationships that generate trust.
She, like Ogletree, is a relationship builder.
Grancagnolo has been a Santa Rosa County employee for five years.
In her current role at the economic development office, her responsibilities include management of the $10 million Whiting Aviation Park infrastructure project, which has been funded by Triumph Gulf Coast, Inc.
"I appreciate the fact that my job is to help others understand how great Santa Rosa County is and to help make sure we stay a great place, to make sure that we have quality jobs and that we are growing in a responsible way," Grancagnolo said.