Pickleball for All
Players of all ages can handle the heat as long as they stay out of the kitchen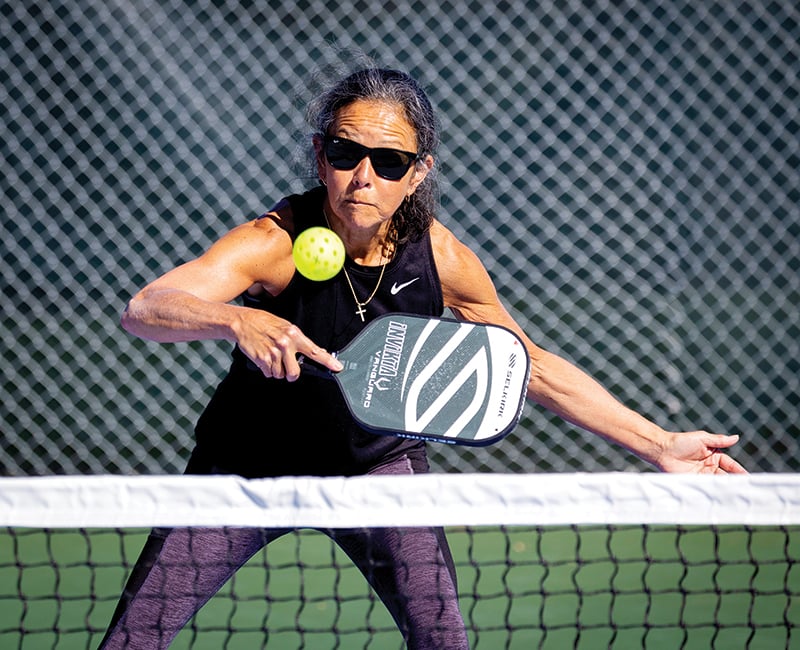 Pickleball. It's simple. It's fun. It's accessible. It's sociable. And it's widely recognized as the fastest-growing sport in the country.
The USA Pickleball Association (USAPA) has reported that the sport has grown nearly 40% since 2018, with 4.8 million players across the U.S. in 2022.
The game combines elements of tennis, badminton and pingpong, according to the USAPA, and is played — singles or doubles — on a badminton-size court with a modified tennis net. Paddles, larger than those for pingpong but smaller than a tennis racquet, are used to strike a plastic, perforated ball similar to a Wiffle ball. Players serve underhand and cross court. The serve must bounce once but never twice, and the "kitchen," or the non-volley zone, is off limits. The game is typically played to a score of 11 or 15.
Although new to many, pickleball got its start over half a century ago in Bainbridge, Washington, as a backyard game created by a few dads with bored children.
So what accounts for its widespread popularity now?
In Panama City Beach, they first implemented open play at Frank Brown Park's indoor facility, where they convert the basketball courts for indoor open play three times weekly.
Cheryl Joyner, director of parks and recreation of Panama City Beach said that "for a long time … it was more of the retired community, but now we are definitely seeing a shift."
She noted that celebrity influence has bolstered the sport's platform, pointing out Drew Brees' recent acquisition of a major pickleball league, contributing to a growing interest for college-aged community members.
Lenin Mongerie, the tennis and pickleball operations supervisor for the City of Tallahassee, agrees, noting that celebrity influencers including Serena Williams and LeBron James have been a factor; both have invested in their own leagues.
"If all of a sudden a pro football, tennis or any player or person that has stature does something, everybody sees it, right? And you want to try it," Mongerie said. "That has played a huge role in pushing the sport forward."
When pickleball was elevated via celebrity platforms, younger people became interested. But the sport first started gaining traction among the 55-plus crowd. Its ease of play and accessibility appealed to players as a healthy form of exercise that presented less risk of injury than games like tennis.
Requests have since grown in such demand that Panama City Beach expanded to the community center on Lyndell Lane, replacing parking space with four permanent courts. The courts have been in place for several years now and are scheduled for updates and repaving this year.
And Joyner said the demand increases in the winter months as snowbirds flock to the shores to escape the harsh winters of the North.
"I think the socialness that goes with it is just a wonderful thing for the older population," she said, noting the difference in style from tennis. You can show up solo for pickleball open play and be sure to hit the courts in rotation.
"It's fast paced, and I definitely think a little bit smaller court is a little easier, but it's still a very physical sport," said Joyner.
The sport may offer an ease of play, but it certainly has its health benefits in terms of exercise as well as socialization.
"I think anything active recreation is just so important, and the socialness combined with it I think just makes it such a dynamic sport," said Joyner. "I think anything that brings people together and is fun and physical activity, that's just a win."
"Very few people play singles in pickleball; the majority of the game is doubles," said Mongerie. "The socializing is a lot more in the sport than in tennis right now."
In Panama City Beach, demand begs further expansion.
"With our indoor facility, in the last four or five years, we've had to do sessions in the indoor play to make sure that people have time and can get rotated through," said Joyner.
The city will begin hosting free clinics and lessons starting in February on Tuesdays and Thursdays at the Lyndell Center.
Plans for a redesign of Frank Brown park are under discussion but not yet finalized. The redesign will include an expansion of pickleball with outdoor permanent courts at the park. Joyner hopes to host tournaments for the city upon expansion.
"They are a lively group … they're pretty competitive," she said.
---
PICKLEBALL STATS
Pickleball grew in 2021 to 4.8 million players in the U.S., according to the 2022 Sports & Fitness Industry Association (SFIA) Single Sport Report on Pickleball. SFIA is a trade association for top brands, manufacturers, retailers and marketers in the American sporting goods and fitness industry.
» 60% of total participants are men and 40% are women; with a slightly faster rate of growth among women.
» The average age for all players continues to drop, to 38.1 years old in 2021, a decrease of 2.9 years from 2020.
» The average age of core players is 47.9 and casual players 34.3 years old.
» 52% of core players are 55 or older while 79% of casual players are 54 or younger.
» Growth of total participants from 2020 to 2021 was the fastest among players under 24 years of age (21%).
» Annual growth among players 55 and older was a more modest 10%.
Source: USAPickleball.org
---