Photographer Jeff Waldorff Answered Second Calling
A software engineer turned wildlife photographer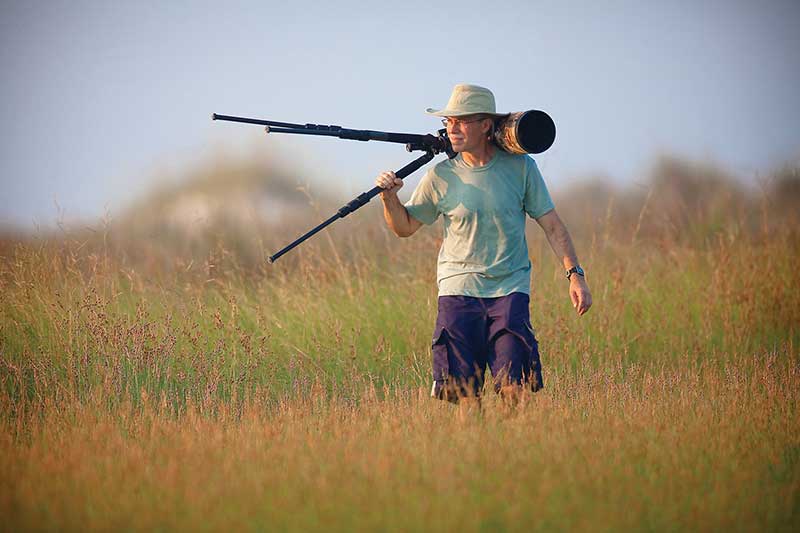 When Jeff Waldorff snaps a photo, he's transported back to childhood.
Again, he is the little boy being roused by his father at the break of day for a fishing trip on the Choctawhatchee Bay or a jaunt to the pristine beaches of  Okaloosa Island and Destin.
He's as enamored with the early morning sun now as he was then, as delighted by the demure, scuttling ghost crabs and the dawn chorus of sanderlings.
For Waldorff, the hushed break of waves as he shoots feels intimate. It's home.
But photography hasn't always been second nature to him.
While he spent many youthful days exploring the locale and absorbing every fact he could from wildlife encyclopedias, the Navarre native found himself pursuing another passion, in the engineering field.
He worked for Micro Systems Inc. in Fort Walton Beach for 30 years, ultimately as director of software engineering.
But as time went by and stress grew high, Waldorff needed an outlet. Therapy began with a Canon 30D DSLR camera and rekindling his affair with Mother Nature.
Thanks to his engineering background, he excelled in the science of digital photography and sought to upgrade his equipment.
When he followed advice from friends and family to finance his hobby by selling prints at local art shows, Waldorff was astonished by the public's response.
"I can't describe how it feels to know people are willing to purchase my photos and hang them in their home or office," Waldorff beams.
"It became much more rewarding than I thought. My regular job was demanding with all the hours I had, yet my photography was taking off. I felt like I was holding onto two ropes and I couldn't climb up. I had to let go of one of them."
Waldorff officially retired in 2017 to pursue photography full-time. He is building his business with commercial work, dabbling in drone photography and spending his evenings shooting the Milky Way.
His art adorns the walls of The Henderson's Salamander Spa in Destin and has been published in one of the world's premier nature photography publications, Landscape Photography Magazine.
Waldorff's muse is wildlife, and his gamut of gear ensures he's well equipped to capture it in images. He employs a versatile tripod to steady his shot while zooming in to shoot the worlds of sand-dwelling creatures and their monuments of seashells.
A large, telephoto lens is his go-to gadget for seizing the mid-flight motions of skimmers and shorebirds. Securing the perfect photo may take hours — especially with birds — but Waldorff remains vigilant until the time is right. (His wife, Angelique, has nicknamed him "The Critter Whisperer" for his ability to patiently wait.)
An image titled "Two For One" is a crystal-clear photo of a black skimmer in the act of catching two fish in its beak at once — an image Waldorff captured after shooting for three months and culling through 10,000 lesser frames.
One of Waldorff's cardinal rules is to convey the scope of the environment without detracting from the subject.
To highlight intricate details of a three-dimensional world in two-dimensional photos, he focuses on close-up composition.
Getting cozy with his subject and focusing on the foreground is an essential part of his technique, though he also does select landscape shots.
"Typical nature photography around here is just the beach: bright, sunny days and beach umbrellas," he explains.
"But I'm about the natural landscape in the low light. I like to venture out to primitive spots that look like what I saw as a kid. If I happen to capture any local wildlife there, it's the icing on the cake. They help tell the story of the land, and that's exactly what I'm trying to do with my work."