Pensacola's First Lady An Hayward Embraces Bold Looks
This fashion model knows what works and what doesn't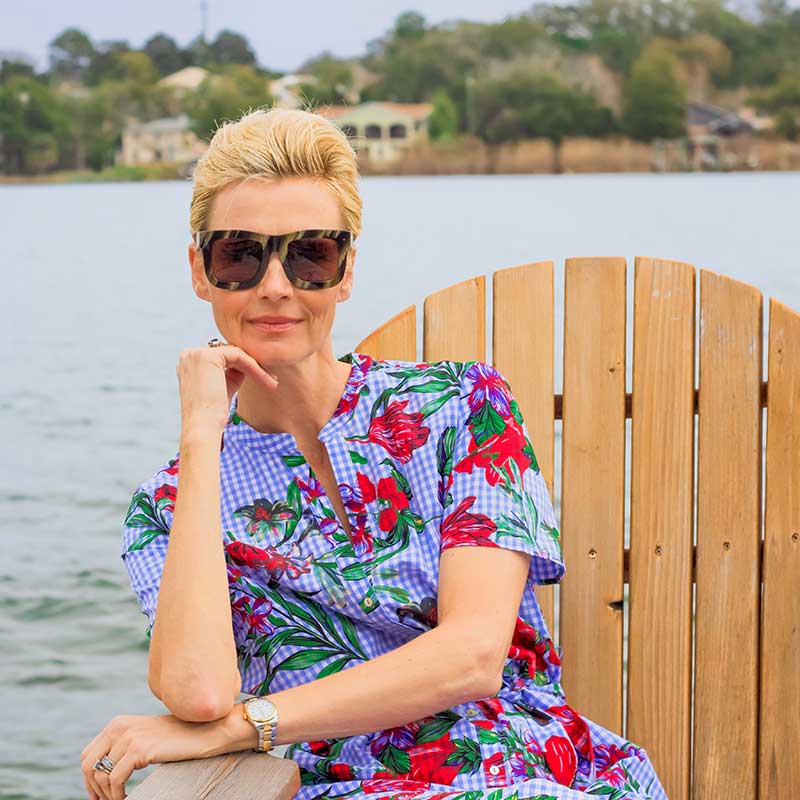 An Hayward has just returned from a work trip to New York City.
A signature face of the women's retail clothing line Chico's since 1999, the first lady of Pensacola had six days of modeling shoots scheduled back to back.
She is always inspired by people-watching in the city, she said — Hayward and her husband, Ashton, lived in New York before moving to Pensacola in 2003 — she also loves her current home.
"That hustle and bustle in the cold, where you get on the subway with a thousand people, that's tough. When I lived there, I loved it, but then it was time for a new chapter in my life. I love to go (to New York) now. I can go to work and come home and enjoy it here. The sun is out in Pensacola, and it's a beautiful day. You can't beat that."
Born in Antwerp, Belgium, a city known for its Fashion Academy, Hayward credits her mother and grandmother for putting her in touch with style from a young age.
"My mom had the best outfits growing up, and that's what I looked up to," she said. "My grandmother is 91 now, and she still dresses sharp."
Hayward was working as a professional ballet dancer with the Royal Ballet of Flanders when she was approached by several modeling agencies. "Dance comes with discipline, with posture — those things have to do with elegance," she said.
In 1993, work for a Miami modeling agency brought her to Florida, where she met her husband, who had just graduated college and was also modeling. The pair decided to move to New York together to further her career. Prestigious runway jobs and fashion publications followed.
"I think my sense of style has always been sophisticated with an edge," Hayward said.  "I love bold clothing. I like bold colors. I like to sometimes step outside my comfort zone and outside the box. It's about being daring in what you do, but that doesn't mean revealing."
"I love bold clothing. I like bold colors. I like to sometimes step outside my comfort zone and outside the box. It's about being daring in what you do, but that doesn't mean revealing."— An Hayward
For example, she described a recent purchase from Zara: jeans with ruffled trims and a sweater with pom-poms detail.
Comparing her style then and now, she explained, "I look at fashion differently today because I'm a mature woman, a wife and a mom. . . . When you're in your 20s, you're finding your sense of style. When you're in your 40s, you've figured it out, what works and what doesn't."
"There is fashion for every age out there," Hayward continued. "You can be fabulous. You can wear bold colors and a gorgeous necklace; you can have a great haircut. Be fabulous and own it."
There are more choices in what to wear for now for women her age than there once were, Hayward said, noting that "mature women" and "plus-size women" are two growing and powerful markets within fashion retail.
Hayward said she's inspired by what she sees on Instagram: "Social media has changed my style, kept me current. I get a lot of inspiration from looking at what other people wear, what do they like, what colors."
"My age group [in modeling] is a group of women with big careers. Our group might not necessarily Instagram," she said.
"But to keep up with the times, to stay young and stay current — which is important to me — you want to be connected to the world, and I think Instagram is the way to do it."
In addition to Chico's — "I like to mix and match a lot of their stuff" — Hayward said she loves to shop at Scout, a boutique in downtown Pensacola that features cutting-edge designers and brands, and at J. Crew, H&M and Target.
"I love a trend," she said, "but if I'm going to buy something trendy for a season, I won't spend a lot of money on it. I'll invest in my uniform, my classic pieces."
What might that look like?  "If I don't have much time to think about it, if I have to run out to an event with my husband, I will always go with a black pair of pants and a crisp white dress shirt. I'll wear a nice suede high heel and a beautiful handbag. Or, I like to wear a blazer with white jeans in the summer with a ballerina flat or a loafer."
Her husband, who has served as mayor of Pensacola since 2010, has a packed calendar of events to attend, and Hayward can't always join him.
But as a mother who gave birth to a son who was a preemie in the NICU, she has used her voice to advocate for parents as a member of the Patient and Family Advisory Council at Sacred Heart Hospital.
Hayward said that she tells her teenaged son, Aiden, about the value of first impressions.
"I tell him that you can't go to everything in a tennis outfit. You have to dress the part; there are rules and etiquette in fashion. Maybe you'll wear flat shoes and a nice dress shirt. There's something out there for every occasion."
She continued, "It was the same thing for me as a younger model. I would go to casting, and they'd want me to be put together. I had to have to have a certain look, so people could see what I was all about."