Pensacola Opera Hits The High Notes
35th season features Madama Butterfly and Man of La Mancha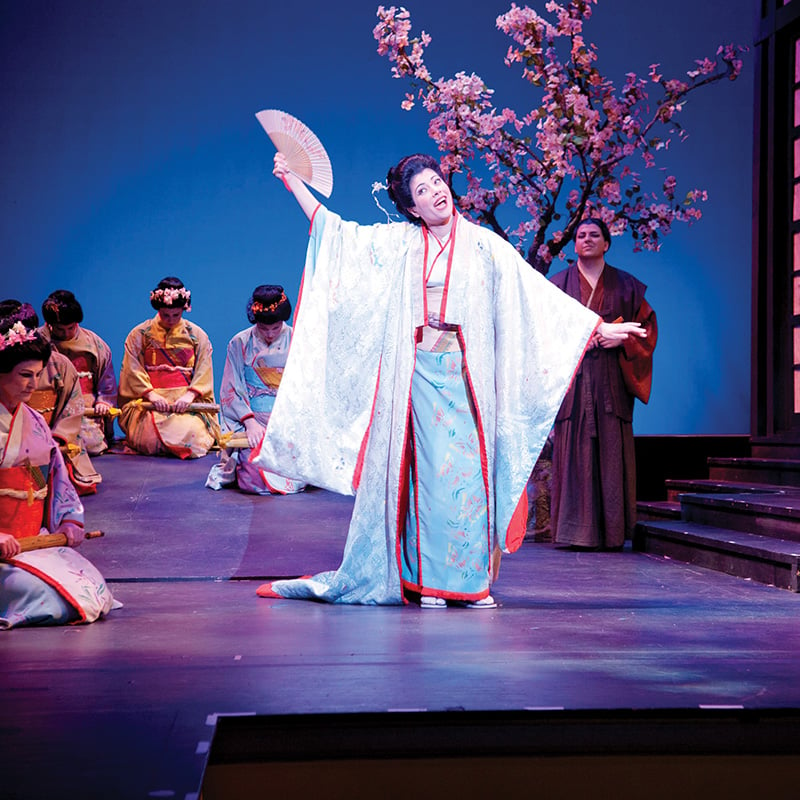 The Pensacola Opera's winter and spring MainStage productions at the Saenger Theater are certainly its crown jewels, but a passion for community outreach makes this company shine all year round. From performances at local schools and libraries, to free pop-ups on downtown streets, to formal fundraising galas, the opera has made the cultural enrichment of Northwest Florida a top priority.
"It is essential that children — and their parents — have untethered, free access to programs that exemplify art and the artistic experience," Executive Director Jerome Shannon said. "For us, it is music — and primarily, vocal music. The power of musical storytelling through singing is an important part of our nation's culture."
That enthusiasm for what has been called the ultimate art form — that perfect blend of music, dance and drama — has been central to Pensacola Opera since it formed in 1983.
"We are celebrating our 35th year," said Shannon, who also serves as the musical director and principal conductor. "When art organizations around our country are closing or retreating, our company continues to flourish. We're very excited and proud about that."
The 35th season is something of a bittersweet milestone, because it marks the final season of longtime artistic director Kyle Marrero, who has been with the company for 17 years. Formerly a faculty and administration member at the University of West Florida, Marrero is now president of the University of West Georgia.
"He and his wife, Jane, a professional opera singer who has sung many roles with our company, have made immeasurable contributions to our company ››
and our community," Shannon said. Marrero will leave on a high note, with Pensacola Opera staging productions of Madama Butterfly on January 26 and 28, 2018, and Man of La Mancha on March 16 and 18, 2018.
On an annual basis, the opera's calendar is packed — with the artists-in-residence arriving in September and starting school appearances, downtown holiday caroling in December, MainStage productions and more school visits through the spring, the annual Operazzi Ball fundraiser in April and Family OperaTunity Day in May. National auditions and summer opera camps, held in June and July, wrap up the season.
"Our various programs are like our children: We love them all equally," Shannon said. "The opera has always been committed to not only presenting opera productions, but also to providing programs that enhance the quality of life for its communities."
Opera Board Member Emeritus Jan Miller has watched the company improve its craft through the years to become a selling point for the city. "The staging is magnificent. The voices are magnificent," she said. "I know for a fact that some of the companies here have used (Pensacola Opera) as a recruiting tool."
She is especially proud of the opera's partnerships with local schools and the Pensacola Children's Chorus. "The education program is first rate," she said. "It gives young, artistic children the chance to be on the stage."
Elise Quagliata, a former artist-in-residence with the opera, said local patronage is a huge part of the company's success. "It's such an enormously supportive community," said Quagliata, a mezzo-soprano who most recently starred in the Pensacola Opera's March production of Dead Man Walking. "They have this wonderful orchestra also. … It's an exciting place to be, artistically speaking."
---
Get Your Opera On!
You can catch the Pensacola Opera this fall at Pensacola's 2017 Foo Foo Fest. The company will take the stage to present Astor Piazzolla's tango opera Maria de Buenos Aires at 7:30 p.m. on Nov. 10 and 2 p.m. on Nov. 12, at Pensacola State College's Ashmore Auditorium.
For more information about Pensacola Opera, visit pensacolaopera.com or call (850) 433-6737.