Passion Playground
Nurturing studio helps artists flourish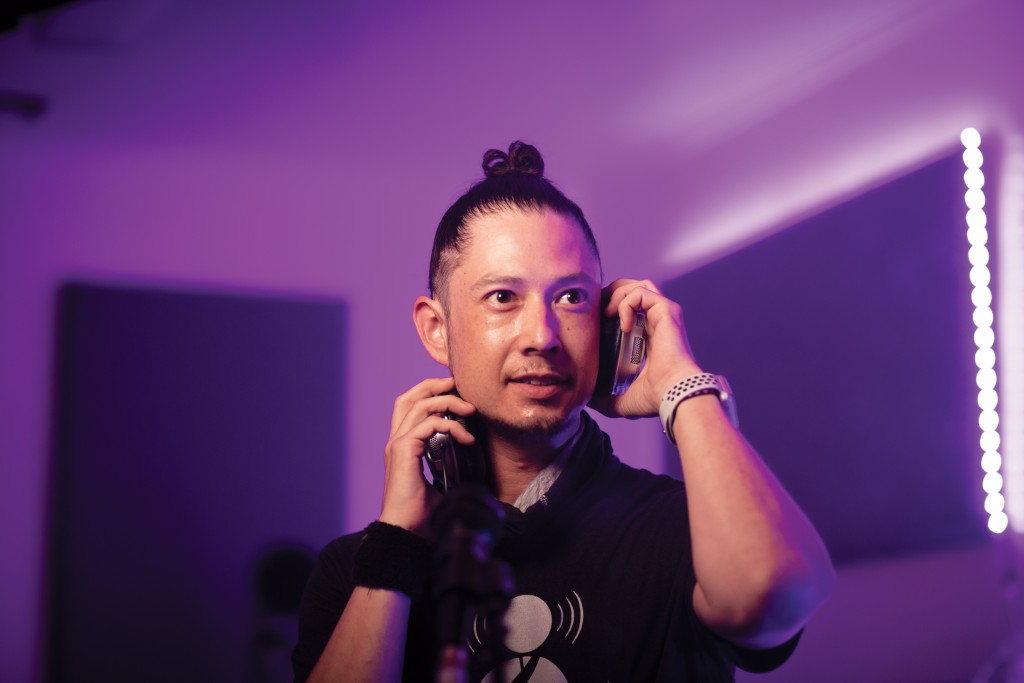 Two years ago, Cole Huffer stood on a closed-off Highway 98 amid smoke bombs, spotlights and sirens knowing he had achieved something special.
With construction ongoing in downtown Fort Walton Beach, the Nashville band Imogen rocked the rooftop of The Sound Café + Enlightened Studios with a surprise concert like the Beatles did at 3 Savile Row in London.
"I had a lift outside the shop all day and dressed the band in white painter's suits so it just looked like they were doing construction as they moved their equipment," Huffer said. "No one saw it coming. Even the policemen and firefighters were delighted that something like this was happening in their town."
Indeed, the only slap on the wrist received by Huffer, the owner and operator of The Sound Café + Enlightened Studios, were three cease-and-desist letters from the building's owners.
These days, he keeps the party behind studio walls, but the atmosphere does not lack in pageantry. The 4,000-square-foot space is an unexpected amalgam of art gallery, concert venue and recording studio — a haven for both the artist and aesthete.
Huffer, a Nashville native, grew the concept of Enlightened with a friend, and the pair began recording musicians in their shared dining room. A fascination with audio production bled into videography, and Huffer decided to take full ownership and turn the concept into something real.
"We moved into our current space in downtown Fort Walton in 2018, a tough decision that had me selling my house, my Jeep, cashing in my IRA, you name it," Huffer said. "This is a niche business we've created here, and it's been challenging but a beautiful blessing."
The walls at Enlightened Studios are dedicated to commissioned local art sales. About five pieces a week fly off those walls. Musicians can gig, have their songs mixed, mastered and recorded in 4K Ultra HD for a press kit, website or social media product.
Bleeding hearts read slam poetry the last Thursday of each month, and comedians, singers and sax players alike show their stuff on weekly open mic nights.
Huffer's hope with Enlightened was to showcase local talent and create a platform for artists of all kinds to network and monetize their passions. The only way to create that environment, he said, was to integrate the Sound Café lounge area.
"You've got a place packed with art and the artistically inclined who can connect over a cup of coffee, a glass of wine or a panini," Huffer said. "You're meeting other like-minded people, and before you know it, you're playing together and collaborating."
At this writing, Enlightened has set the stage for over 300 acts. Huffer is currently working to produce five albums.
But 2020, a tough year for both the artist and small-business owner, hasn't slowed Huffer down. Revised hours of operation (from 4 p.m. to 10 p.m.) have allowed Enlightened Studios to tackle new projects, such as more in-studio sessions and album production, catering a
nd video services for real estate property showcases and other business ventures.
"You look at everything we provide, and it is definitely niche and, at times, overwhelming," said Huffer. "But for a guy who started this five years ago to go from a dining room to having a studio and a café is pretty inspiring. I just want other young people to know it's certainly possible to pursue your passion through dedication and hard work. We're here to provide opportunity, and we want you to take it and run with it."