Panama City Prospect Nick Nelson Earns His Way to Yankee Stadium
While the former minor leaguer has hit it big, he hasn't forgotten home base.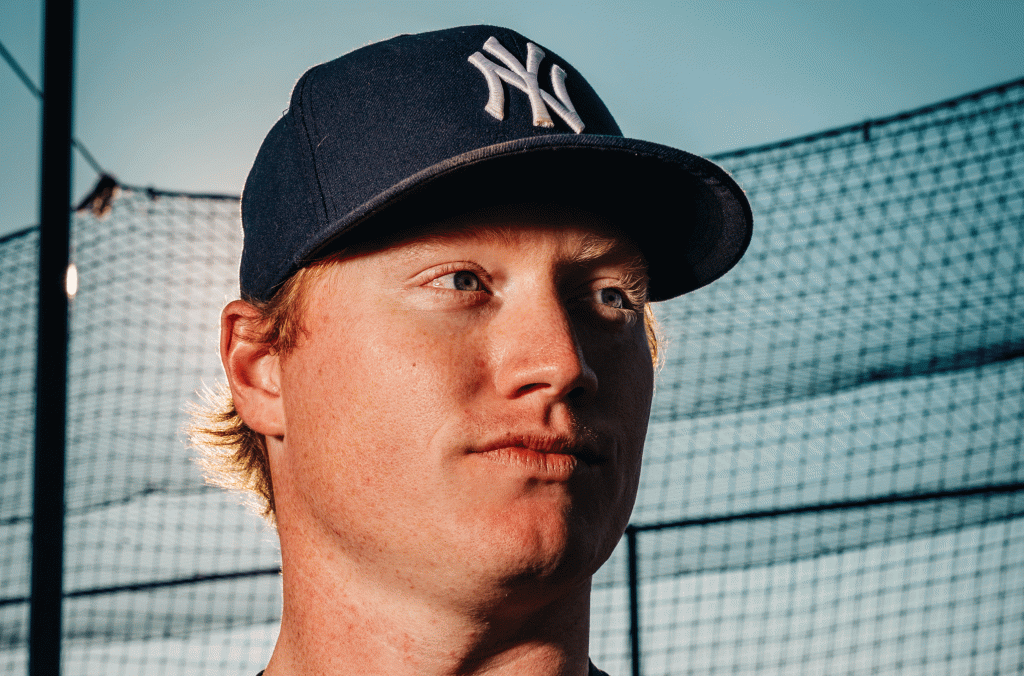 Nick Nelson exited the bullpen, and passing between center fielder Aaron Hicks and left fielder Brett Gardner, trotted toward the pitcher's mound. The outfielders offered encouraging words — "Go get 'em!" — aware that Nelson was about to make his major league debut.
Six days earlier, Nelson, working out at the New York Yankees' alternate training site in Scranton, Pennsylvania, had answered the knock at his door that he had been working toward since he attended a baseball camp as an 8-year-old at R.L. Turner Field in Panama City.
He was headed to the Show.
He met up with the Yankees on July 26 in Washington where they beat the Nationals, 3-2, before moving on to Philadelphia. There, they were scheduled to meet the Phillies in a two-game set.
Both of those games were postponed due to COVID-19 concerns, and Nelson it seemed, had hurried up to wait. He and his new teammates spent two interminable days sequestered in a Philadelphia hotel room. The Yankees then retreated to Yankee Stadium to get a practice in before traveling to Baltimore for a pair of contests, both won by the visitors, and then it was back to New York for a series against archrival Boston.
The Yankees beat the Red Sox, 5-1, on July 31 and were leading, 5-2, a day later when bullpen coach Mike Harkey sent in Nelson. His time had come. Yankees starter Masahiro Tanaka had flamed out early, recording only eight outs. Nelson would be called upon to give the Yankees several innings in middle relief.
"I wasn't as nervous as I thought I was gonna be," Nelson said in October, a day after meeting with his agent in Tampa. "I didn't really feel any different. There wasn't a lot of pressure that one might expect there would be, you know, for a major league debut."
Let's reiterate. Nelson, in Yankee pinstripes, was taking the mound that Mariano Rivera built in the House that Jeter Built against the archrival Boston Red Sox whose fortunes, yes, have vacillated more wildly lately than penny stocks, but still. Under those circumstances, what gave the rookie Nelson such calm?
I would puzzle over that for a time.
For Mike Kandler, the experience of Nelson's first major league outing was far different than it was for the kid, himself. Kandler, the baseball coach at Gulf Coast State College, has known Nelson for most of his life, from baseball camps forward.
"It really should have been a great moment, but for me it was almost traumatizing," Kandler said. "He was extremely confident, and it was amazing to me that he could go out there and pitch in Yankee Stadium against the Red Sox and, sitting in a chair, I couldn't even watch him."
Nelson wiped out the first man he faced, Boston second baseman Tzu-Wei Lin, on three fastballs — 96, 97 and 98 mph — then walked Andrew Benintendi before causing both Kevin Pillar and Rafael Devers to fly out.
Nelson would go on to pitch two more innings. He would face 11 batters in total, surrendering no hits or runs, walking two and getting credit for the win.
Overall during 2020's truncated, regular season without fans, Nelson logged 20.2 innings, striking out 18 and posting a 4.79 ERA, a stat that was inflated by one bad outing in which he gave up six earned runs in an inning and two-thirds.
"The guys he struck out aren't exactly bad at baseball; they are the best hitters in the world," Kandler said, noting Nelson's highly respectable strikeout ratio.
Nelson went on to make two postseason appearances against the Tampa Bay Rays in the American League Division Series, working two hitless innings and striking out two.
Kandler texted Nelson after the first of those appearances, a one-two-three inning, joking that he had saved the best for last by throwing better than he had in the regular season.
"It was an entirely different level of intensity," said Nelson, "and I really wanted to prove that I could throw and be of value in the postseason."
That he did.
A Braves Fan First
Nelson grew up following the Atlanta Braves. Third baseman Chipper Jones was his favorite player.
"As a kid, I hated the Yankees," Nelson said, "but I love the organization now. I love being a Yankee. Everything they do is professional."
Nelson, open faced and strawberry blonde, was 11 when Kandler first told him that he would probably make his living playing baseball.
"That comment was maybe a little bit carried away at the time, but when he was in high school, he really started to develop," Kandler said. "He was actually a better hitter than he was a pitcher, even through his freshman year in college.
"Hitting came to him easily at a young age and that gave him confidence, but when he got to hitting against guys who were throwing 93, 94, he probably realized that this isn't real easy to hit, so if I throw that hard, it might be difficult for other people to hit me, as well. He has so much arm strength, pitching was just a matter of time."
Nelson, who was adopted and raised by his maternal grandparents, Maria and Ronnie Nelson, played three seasons at Rutherford High School for Coach Jon Hudson, who later moved on to Mosley High School. He was sidelined his sophomore season due to a hamstring injury sustained at a players showcase event in Pensacola.
"His junior year became his learning year on the mound," Hudson said. "He had to work on some control issues, but that was really because he hadn't pitched much. And hard throwers can be like golfers who drive the ball 300 yards. If you're a little off center, you can wind up in the next fairway."
For as long as he coached him, Hudson thought Nelson's best chance to make his way through the minor leagues would be as a hitter.
But Kandler, at Gulf Coast, further groomed him for the mound.
Today, Kandler said, Nelson is among a "new breed of guys who throw extremely hard coming out of the bullpen. Nick was a starter all the way through the minors, but I kind of thought he might find his way to the back end."
Kandler likened Nelson to Trevor Rosenthal of the San Diego Padres but said Nelson has arm action that is smoother. It's said about him that he throws "easy cheese," achieving great pitch speed without obvious effort.
"It's a clean arm," Kandler said of Nelson. "Mechanically, he's doing everything right. Some guys, their action is a little bit erratic, but he has a really pretty throwing motion that minimizes the stress on his arm. With just a little more refining of his command, he's gonna stay in the big leagues forever. The sky's the limit, really."
A Starting Role?
Nelson, a longtime Gator fan, had planned to go to the University of Florida after Gulf Coast to pursue a degree in sports management, but the Yankees got in the way, selecting him in the fourth round of the 2016 draft. New York and the Kansas City Royals had been serious about signing him.
Throughout his minor league career, Nelson was a starting pitcher, and he believes he may be returned to that role. Given a 2020 rotation that included the likes of Tanaka, J.A. Happ and James Paxton, the Yankees may need to reload.
"I have heard them hint that I might be a starter next year, and I had lunch with my agent yesterday and he thinks I'm going to be a starter," Nelson said in October. "I hope they will call me soon and let me know what the plan is."
Regardless, Nelson will be pleased to be part of a team that has embraced him.
"When I got there, everybody really loved me," Nelson said. "I got called up with one of my buddies, Brooks Kriske. They were very welcoming and offered us congratulations. Everyone was very helpful and told us how things work. Gerrit Cole was the player who helped me out the most. I thought that was pretty cool."
Yeah, that Gerrit Cole, signed by the Yankees in December 2019 to a nine-year, $324 million contract.
Nelson quickly learned to respect clubhouse leader Brett Gardner, whom he is comfortable calling Gardy. Yankees manager Aaron Boone tends to employ such diminutives. Thus, catcher Kyle Higashioka becomes Higgy and Nelson already is Nellie, reminding some like me of the great Chicago White Sox second baseman and chewing tobacco huckster Nellie Fox.
Nelson shagged batting practice with fellow reliever Adam Ottavino and often chatted up closer Aroldis Chapman in the bullpen.
"We are all really close despite everything going on in the world," Nelson said. "Boonie cares about everyone in the clubhouse, and everybody gets along. There are no cliques, no differences. It's an awesome atmosphere."
Yes, he said Boonie.
No one in New York, Nelson said, "gets on my ass like Coach Kandler used to, and I kinda miss that. Sometimes, I need that."
Let it be said about Kandler that he had four former players on 2020 postseason rosters: Nelson; Chicago White Sox pitcher Matt Foster; Atlanta Braves pitcher Will Smith; and Los Angeles Dodgers outfielder Terrance Gore.
This winter, Nelson is working out and throwing bullpen sessions at George Steinbrenner Field in Tampa and staying in close touch with Kriske and starting pitcher Michael King.
A Humble Guy
Kandler and Hudson offer similar assessments of Nelson, the person.
"He was never one to ever talk about himself," Hudson said. "He may have pitched a shutout and hit two home runs, but you couldn't get him to talk about that; he would just talk about what the team did. He is unassuming and doesn't ever seek the spotlight. He just wants to play ball."
In all of that, Hudson said, Nelson resembles his adoptive parents.
"They are really good people," Hudson said of Marie and Ronnie Nelson. "They were at every game. I think Nick has a lot of their personality. They never told anyone how to coach or how to play. They were there to support Nick and the team. I would go to them and say, 'Nick had a great game,' and they would say, 'He sure did, thank you,' and that was it."
"Nick is such a good person that you want to stay in touch with him," Kandler said. "We went down and saw him in Tampa last year. He's the same guy that he was when he was 9 years old. He never big-leagues anybody; he'd have the time of day for anyone who wanted to talk to him."
The further development of Nelson as a pitcher will largely be up to Yankees pitching coach Matt Blake, who, despite his station, never played in the major leagues. Nelson, 25, recognizes that he needs to work on consistency and command of his pitches.
He throws a fastball, slider, curveball and change-up. He considers his change-up to be his best pitch and said he discovered it — like Rivera finding his cut fastball — during his 2018 minor league season divided among Tampa; Trenton, New Jersey; and Charleston, South Carolina.
"I kinda just found it and started throwing it, and it became the pitch that it is today," Nelson said. "I didn't have much trust in my curveball this past year. I came to the conclusion that I really didn't need it coming out of the bullpen, so I focused on my other three pitches."
Among relief pitchers, many rely on two pitches, sometimes only one.
In 2020, Nelson's travels within the city were limited to trips between Yankee Stadium and the team hotel in Yonkers. He hopes that this year, he will be able to visit museums and the Statue of Liberty.
Now, as to the source of Nelson's calm. I think I have figured that out. Hudson put me on to the answer when he said about Nelson and his grandparents that they are grateful always for whatever they have. Yes, that's the key.
Gratitude can be an invaluable source of joy, humility and ease. In that, Nelson has a lesson to offer the most grizzled veterans of his game.