Panama City Creative Con Aims to Inspire Artists of All Stripes
The September event aims to educate creatives on how they can make a living pursuing their passion.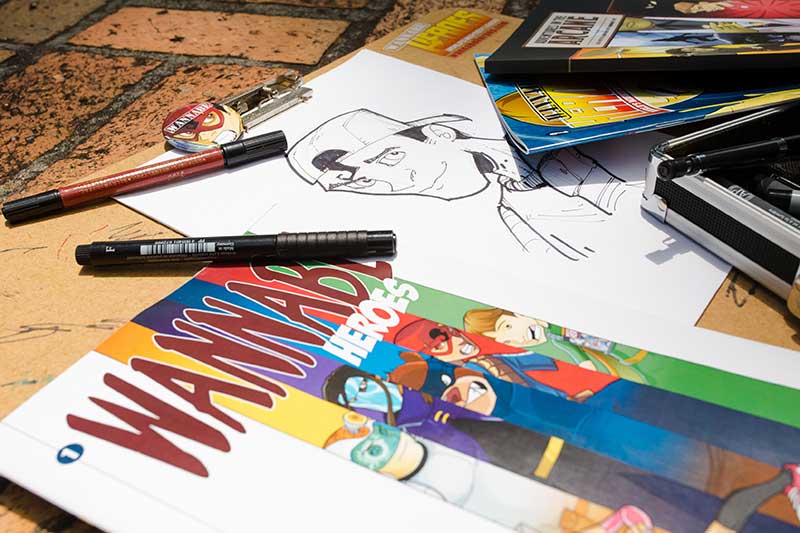 For a weekend in September, creatives will converge at the Marina Civic Center. Many will come in costume.
An annual gathering designed to celebrate, connect and inspire creative minds, Panama City Creative Con is changing its emphasis a bit, said Jayson Kretzer, who founded the event in 2010 with a group of artists doing free sketches in the foyer of the Bay County Public Library.
In its early years, Kretzer put on Creative Con with the help of the library's marketing director, Bettina Mead. He invited artists he'd met on the comic convention circuit. The event grew steadily over the years, and the ninth annual Creative Con plans to host thousands of attendees, both local and from outside Panama City.
There will still be illustrators. And there will still be cosplay and costume contests with prizes for adults and children. "We encourage people to build their own costumes," Kretzer said. Entrants are encouraged to reserve a spot for the Sunday contests online.
Children will have plenty to do in addition to the costume contest — from an art project with Floriopolis to building their own foam lightsabers or other geeky crafts.
In addition to comic book illustrators — a comic convention's typical draw — this year's Creative Con will feature a professional wig and makeup artist and an award-winning balloon artist, a comedy troupe, a crafter of handmade wooden wands and cross-stitchers, among other types of creative people.
"We're in a transition year," Kretzer said. "We're going away from the comic convention feel. We'll have panels and workshops, more of a conference feel. Our speakers are giving talks to inspire and empower creativity. It's not about comics, it's about whatever you do," he said.
Featured guests usually represent a balance of local and out-of-town. "We especially like to bring back guests who have lived here or graduated from here," Kretzer said. He and a committee produce Creative Con on a limited budget, with the help of presenting sponsor Bay Arts Alliance, Bay County Public Library Foundation and others.
In a format new to Creative Con, speakers will discuss paths to success and issues such as time management for creatives in a series of CONversations. Kretzer compares the series to TED Talks.
A head start
Sharing professional knowledge is a key component of the conference for its founder, who said he first met someone in his chosen field at age 26, when he went to a comic convention and showed his portfolio to Jimmy Palmiotti, a writer and inker for DC Comics.
Kretzer grew up in Gulf County and studied commercial illustration and design. Today he works as a comic artist, graphic designer and writer of urban fantasy fiction, a genre that encompasses popular stories such as Buffy the Vampire Slayer and Twilight. He is the author of Wannabe Heroes, a superhero action comedy that began as a web comic in 2010.
"Wannabe Heroes" led Kretzer to trading-card contracts and attending comic conventions in Orlando and other cities, which led him to want to start Panama City Creative Con.
As well as serving as Creative Con's president, he volunteers as the chairman of the Bay Arts Alliance board of directors.
"Creative Con is my community outreach," Kretzer said. "Any money we make, we pour into next year's show. We pay our creatives so that even if they're doing me a favor, it's not a financial burden for them to come."
He wishes he'd started working as an artist sooner. "My goal with Creative Con is to give 15-year-olds in this town a head start on their creative career," Kretzer said.
Pursuing passion
This year's Creative Con should be especially good for aspiring filmmakers, Kretzer said, explaining that he plans to bring in a number of independent filmmakers to talk about
cinematic arts. Oscar-nominated producer and writer Cori Shepherd Stern ("Warm Bodies," "Open Heart," "Bending the Arc") will return as a guest this year.
While the conference has shown films before, this year Creative Con will hold a large Saturday night screening. "Kedi," a 2017 Turkish documentary that made several critical top 10 lists, follows the story of seven stray cats in Istanbul, recording a changing city as well as the cats' individual personalities.
"The young talent in this town wants to do video game animation, anime, comic books, storyboarding. They want to make movies," Kretzer said. "We want to educate creatives on how they can make a living pursuing their passion."